​Americana dreams and the Cowboy Prince
by Sabrina Hornung | .(JavaScript must be enabled to view this email address) | Arts | December 21st, 2016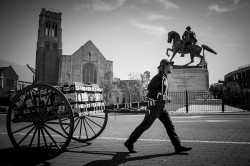 photo by Zach Gibson
When asked how he would describe his work, Richmond, Virginia-based artist Charlie Umhau says,"I'd say it's a functional Americana version of traditional Greek black figure painted vases married with Howard Finster's hyper productivity; the black and white gold framed color palate of Civil War tintypes, the sustainable but frenzied improvisation of African American scrap quilts, the talismanic tailoring of Old World shamans dressed for ceremony, spiritually sewn with European folk traditions, then sprinkled with a little bit of Transcendental trench art."
Umhau, also known as the Cowboy Prince, has had a lifelong fascination with American folk art. It all started with an original Howard Finster sculpture belonging to his parents as well as a copy of the self-taught visionary artist's book "Stranger from another world" -- which showcased his iconic Paradise Garden. Umhau says "I think even as a kid I couldn't help but fall in love with the raw homemade earnestness of it all. It just felt really sincere and I want very badly to be sincere."
Umhau works in a variety of media including two- and three-dimensional pieces, "endurance-based performance art" and even considers himself a folk tailor. The wearable art he produces consists of a mixture between hand-drafted patterns and already existing pieces that he deconstructs. Although he works in a variety of media it all shares the common thread of his unique vision and personal style, combining elements of Americana folk art influence, American mythology, a nod to our nation's past and a wonderful sense of optimism and energy.
"Making Art for me is an addiction—yes! But predominantly, it is my spiritual practice that gives me an opportunity to feel like I am a little kid sitting on a bathroom sink looking up and watching God smile at me as he shaves." Umhau says.
HPR: In regard to your performance art, I saw you had a Kickstarter project in 2012 in which you adapted the life of a 19th century peddler. You pulled a fully stocked Amish-style cart (that you created), 237 miles from Richmond VA to Washington DC. Can you tell us a bit about that?
CU: It was simultaneously the greatest year of my life while also the most maddening. Despite the physical challenge of pulling 300 lbs of self-expression out in the world, the psychological effects of how hard I pushed myself, combined with the culture shock of transitioning from a hermitic stay-at-home artist into a public figure, existing very raw and intensely for the whole world to see, certainly made for one hell of an experience.
The big catch phrase of the cart was "Why should we sip from a teacup, when we could drink from the whole river?" I did sell my wares with mixed success, but that was really just an excuse to be out there. The whole project was actually about being a living metaphor for splashing that river water on my generation. Needless to say I got very wet. Most of all though -- in the ambiguousness of modernity -- it was a self-constructed rite of passage that was an absolutely necessary thing for me to do for myself. It was the storming of my Bastille.
HPR: Where did your interest as a folk tailor stem from--do you have a theatre background?
CU: I originally started sewing in an effort to rewild myself in the midst of a transitory season, with intentions initially of self-sufficiency, rather than craftsmanship pushing me forward. I realized that every day I wake up and put on clothing--yet I had no idea how any of my clothes were made. Learning how to meet this basic necessity for myself felt very Thoreauvian and practically transcendental so it is no wonder that learning how to sew was this big turning point in my life, which basically shifted the entire trajectory of how I wanted to show up in the world.
After I started making my own clothes, I left college--where I was originally studying Outdoor Education at a small Quaker college in Indiana. I moved randomly to Richmond, Virginia to pursue sewing full time…all the other art that now pours out of me is a side effect!
I did dabble a little bit in studying Costume Design for theatre, but after a brief stint, I realized I'd prefer to make costumes for everyday life. I felt restless too in just researching costume history. I wanted to know more than just what was trendy in 1789, for example, but rather the meaty whys and hows and the so-what? -- larger pictures of "what-does-this-say?" But I think what I really wanted was to go out and make my own costume history, to take the traditional role of theatrical costume as story telling through clothing and apply it to my own physical existence on earth everyday.
HPR: On your instagram, I noticed that you post a lot of folk costumes and some military uniforms for inspiration--and make notes for study. What do you find most appealing about these designs?
CU: First off, for me the common thread between military uniforms and folk costumes is their functionality; they are clothes that are meant to be used, meant to be lived in and well worn. All clothing speaks a language, but I think they can speak it the loudest. For both there is also a gorgeous psychological component, a thrilling element of "dressing to kill," of clothing's functionality to protect its wearer in both a spiritual and physical sense.
My biggest obsession is the crossover between these ideals -- I find myself daydreaming about First World War soldiers with parts of their traditional folk costumes secretly worn underneath their uniforms in the trenches or the juxtaposition of a machine gunner wearing high-tops brought from home. While one "costume" blends the wearer in with the rest, the other signifies our individuality. We don't stop being ourselves when we put on a uniform, so I love finding the little aesthetic examples of this resistance.
YOU SHOULD KNOW:
Check out the cowboy prince on Instagram @thecowboyprince