​Beau Thiege, Guitar Man
by Sabrina Hornung | .(JavaScript must be enabled to view this email address) | Arts | October 18th, 2017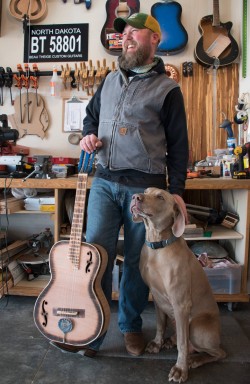 The High Plains Reader ran into Beau, master craftsman, who works with what the Minot Daily news called "junk repurposed into musical masterpieces."
High Plains Reader: How did you get into luthiery?
Beau Theige: I came across a guy on YouTube playing a 3-string cigar box and I thought it would be fun to make myself one. I ended up making 7 or 8 of them. The only place to buy guitar strings in Williston at the time was Books on Broadway, a local bookstore. My friend I was with at the time asked the lady that worked there if they might want to try and sell some of the guitars I made. They said yes -- this was November -- and we sold 20 guitars out of there before Christmas. I have been behind on orders ever since. This November will be 3 years since I started making guitars. I am working as we speak on my 214th guitar and have sold over 180 guitars to people all over the world since I started...
HPR: What was the catalyst for you to use salvaged materials?
BT: Cigar box guitars have been around since like 1860 or something like that, and there is some pretty interesting American history around roots music. I was drawn to the art form and the aesthetic of these old guitars. Since I have been making them it has turned into more of a search for the sound of the old blues guitars you hear on like a Son House or Honeyboy Edwards record, but still keeping that look that interested me in the first place.
I have worked with a lot of musicians to get the "playability" right -- not any easy thing to understand when you're not a musician yourself -- and to dial in my "tone and sound" -- also something foreign to me.
The hardest thing for me is explaining to people that these are real guitars. I also use pots and pans a lot, they remind me of helping out in my grandmother's kitchen when I was a kid. My cake pan guitars have a surprisingly awesome sound. My acoustics Plywood Parlor guitars have been my latest undertaking and I'm very proud of that design and the feedback I have been getting from musicians on them.
HPR: I read in another interview that your wife used to take you antiquing but you weren't a fan until you started creating instruments.
BT: (laughter) Very true, I hated it. Now I'm the one still digging around in shops when she is ready to leave.
I'm also very proud to be a North Dakotan and I love finding old items to use that represent our state. License plates have worked their way into many of my guitars. I also do a lot of custom work where people send me the plates off the old pickup on their farm and it makes the pieces very personal.
HPR: You don't just make stringed instruments, you also do soup can mics and stomp boxes. Can you tell us a bit about that?
BT: Sure. The stomp boxes are usually used in that one-man-band style where you play guitars and stomp the beat with your foot. I put electronics in them so they can be plugged into an amp. It's my attempt at the percussion side of this art form. The soup-can mics are usually made for the harmonica player to get that hollow haunting sound when plugged into your amp.
HPR: Do you make instruments full time? Before you made guitars you worked in the oilfields. What was that experience like? What was it like to transition from oilfield worker to luthier?
BT: I was laid off from my oilfield management job after 8 years with the company, because they sold out. I was already making guitars when that happened, but I took 8 months off of work to build guitars full time. I also spent a lot of time working on my website and social media platforms. I went back to work 4 months ago as a assistant manager for Acme Tools in Williston. My new job allows me to still work on guitars in the evenings and weekends, which is good because I'm still 6 guitars behind at the moment.
HPR: Do you have a favorite material to work with? What is the most difficult material to work with?
BT: My cake-pan six-strings are my favorite guitars to build and play, because the sound is so crazy when you finish them up.
My Plywood acoustics were my biggest challenge. I made a steam box to do all my side bends and also made all my own forms. It was a huge learning curve, especially since I'm self taught. Thank God for YouTube.
HPR: You had a booth at Fargo Blues Fest. How was that?
BT: It was awesome meeting everyone and getting my name out there in that area. This business has been growing slowly, so the more people I can get telling their friends about me the better!
HPR: Can you describe your work space?
BT: I have a bench against the wall in my garage that I have turned into my workshop. So it's usually me, my dog Blue, and Prairie Public Radio working away on the weekends. Nothing fancy, that's for sure, but it works for me.
HPR: Did I read that you have 3 children? Do they have any interest in music?
BT: Yes, my 9-year-old daughter Cora May has taken guitar lessons in school and is in band this year. My 8-year-old son Owen loves to sing and dance, and my 3-year-old daughter Sloane loves to sing. They all like to draw and paint.
HPR: What's the music scene like in Williston? Do you sell a lot of pieces locally? I see that you've sold internationally. What's your largest market?
BT: We have a few local bands, like Whiskey Rebellion, who have given me lots of input on my guitars. I sell most of my guitars via Instagram to people around the U.S. I have shipped guitars to London, Australia, and Switzerland.
HPR: How do you best promote your work? Do you mainly use social media platforms?
Instagram has been amazing for me. It would be great if you would mention my @beauguitar page in your article. I also have a website, www.beauguitar.com and a Facebook page, https://www.facebook.com/beauguitar/
I also currently have 30 guitars traveling the state, through the North Dakota Art Gallery Association. NDAGA also just picked me to sponsor for the Montana Art Gallery Directors Association exhibition proposal. I will find out shortly if I was picked to have a traveling exhibit in that state for 2019. I was told there were 8 galleries showing interest at this time...