Ben Rheault opens "Enantiodromia: Studies" at Rourke Museum
by Paige Johnson | .(JavaScript must be enabled to view this email address) | Arts | September 13th, 2017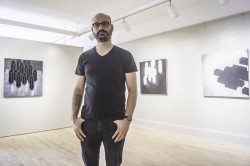 Enantiodromia: noun; a principle that states any force will inevitably produce its opposite. After stumbling upon this term in a book about psychoanalyst Carl Jung, artist Ben Rheault discovered the theme for his upcoming exhibit at the Rourke Art Gallery and Museum.
The pieces in the exhibit started when Rheault was approached by friends of his in a band to design cover art for songs they were releasing.
"Listening to their music, their themes were similar to what I was dealing with, what I wanted to express," Ben Rheault said. "My worries about gentrification in town and all that stuff. I worked on four paintings to match the songs and then from there I continued with that."
At the time, however, Rheault hadn't discovered Jung's Greek term, and therefore didn't have a name for the ideas playing around in his head.
"It was a theme that I was playing with all the time," he said. "When I came across the actual term, it was like that a-ha moment, where I had a word that kind of describes what I'm doing."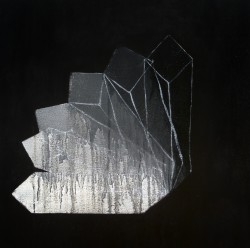 Jung used the term in relation to the rise of fascism in 1930s Europe, a phenomenon Rheault thought was tied to modern events. As Jung defined enantiodromia, Rheault realized it described his work and what he was trying to say.
"The term literally means when things get to their point when they turn to their opposite," he explained. "It's like a circle that goes around. One thing that I kind of equated it to is the Republican Party isn't the Republican Party that it was in the 1800s, it's way more extreme. The Democrats are different. Everything turns into an opposite version of itself."
In his exhibition statement, Rheault said the work is an "abstracted interpretation of the dual nature of humankind." His meaning, he explained, was, "Everybody's got two sides to them: there's the good side and the bad side. Most people are good, generally, I think, but there are ulterior motives to a lot of things. People try to do good work, but it ends up putting people out of homes, ends up putting people on the street. Good intentions have negative consequences, negative actions sometimes have positive consequences. It's just sort of a mental processing of that."
Earlier this year, Rheault also contributed to the Rourke's "58th Midwestern" exhibit. However, despite the similar Greek themes, Rheault said his paintings in that exhibit weren't related to his latest studies: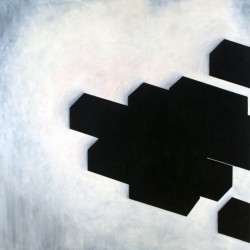 I was going with the Sisyphus theme of competition and trying to get the brass ring. Mountain shapes were kind of like the mountains that Sisyphus had to push this boulder up and kept on going down, like obstacles all the time."
Jonathan Rutter, the curator at the Rourke, described Rheault's work as "industrial abstraction." With its muted colors and simple shapes, Rheault's paintings have a "concrete feel."
"I just started using simple shapes," he said. "I had it as a reaction to the work that I see around town. People are still doing abstract expressionist stuff around town, or they're ripping off Banksy. I kind of wanted to do something that was my own symbol. I took these cube, building shapes, which I kind of equate with civilization, and just used different ways to manipulate them."
But Rheault has trouble putting stipulations on his work. He prefers the viewers to experience the paintings uninhibited, which is why many of the paintings don't include titles.
"You have your own experiences, so you will come up with your own conclusions," he explained. "It's interesting to hear what people have to say about the work. I have trouble describing it because that's why I painted it. I like to quote Francis Bacon who used to say, "If I could explain it, why would I paint it?" Seems like a cop out, but I like it."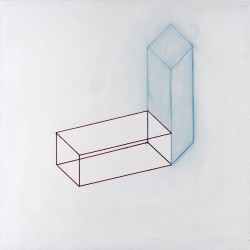 The paintings are deceiving from a distance: flat, untextured palates. In actuality, the final products are the result of Rheault painting over unfinished ideas or areas he didn't like, scraping off parts of the paintings or sanding down the canvas.
"I was working and just fleshing things out and painting over things and scraping stuff off, destroying stuff, repainting things," he explained, "until it reached a conclusion that I liked visually. I didn't come up with the whole concept until I read about it but it felt like it kind of described where I was going. You need evil in the world in order for there to be good. This whole concept of you need these two things, otherwise I don't think that the world would work."
Rheault took these paintings and edited them, something that contributed to the exhibit.
"I redid all of them, so there are bits of old paintings," he said. "In my statement, I think I said there's a history of destruction to create and create to destruct. It's sort of the process I use. I'd scrape things out that I didn't like and paint over them, sand things out. There's some depth in them. As flat as they appear, sometimes you can see other paintings underneath the colors that I paint over them. Not that it was intentional, but I like the idea that, even with old Renaissance paintings, you can x-ray them to see all the different underpaintings. I like that history."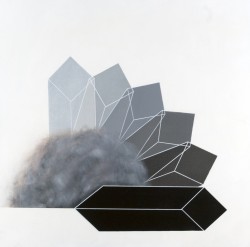 The official title of the exhibit is "Enantiodromia: Studies." Rheault is planning on continuing the series, adding more complexity to the designs.
"It's called studies because I still feel like I didn't have a chance to really sketch out a whole lot of ideas," Rheault explained. "I used the paintings in the exhibit as my sketchbook. I plan on continuing this theme until I don't think it has anywhere else to go. I'm kind of excited to see where it can go. I feel like it can get more complicated. Right now, it's very basic, simple shapes and clean designs. I want to see if it gets more complicated."
The exhibit will be at the Rourke until Sunday, Oct. 8. For more information, visit the Rourke's website at therourke.org.