​Brittany Anderson's landscapes: the contents of a void
by Paige Johnson | .(JavaScript must be enabled to view this email address) | Arts | June 28th, 2017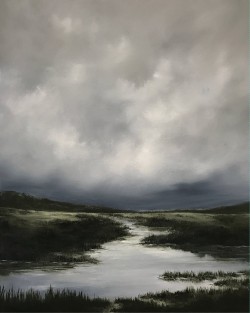 Brittany Anderson's travels have led her to many places, from Bismarck to Moorhead, Iceland to Switzerland and North Carolina back to North Dakota. Rather than documenting a place with a camera, Anderson chose to use her paintings to express the attitude and environment of the places she's stayed.
On view now at Ecce Gallery in Downtown Fargo is Anderson's exhibit "Temporary Voids," a dramatic, conceptual look at the landscapes Anderson's experienced throughout her life.
After getting her bachelor's degree from Minnesota State University Moorhead, Anderson moved to Chapel Hill, North Carolina to pursue her master's degree.
The move signaled a change for Anderson's landscape and, consequently, her art.
"The two-year program [at Chapel Hill] is heavily concentrated on conceptual art," Anderson explained. "It's extremely thrilling and fun. And it's a totally different region than I'm used to. My vision going down [to North Carolina] was to have the Midwest beauty impact them, but instead it's been creating weird stuff with my art."
Yet Anderson's work still has a firm base in her Midwest upbringing. Each of the paintings has coordinates attached to it, allowing the viewer to look up the exact place where the landscape was taken from. However, as Anderson says, her paintings are of a constantly changing place, something that's temporary.
"We think of voids as an empty space," she explained. "What it means being a space. None are permanent. They're always changing. The places I travel to aren't permanent."
Anderson says there are plenty of fantastic opportunities within the Midwest, but also in other places, to convey different feelings through landscapes.
The paintings are very dark, gloomy, something Anderson did on purpose to convey the "dramatic part of life rather than just the calm, tranquil parts."
Temporary Voids is also heavily focused on solitude, a personal experience. "It's personal when I expose myself to these conditions. And there's solitude for the viewer, too. There's memory, a reaction. It's a personal experience to get away from a busy life and enjoy what's in front of you, especially a pristine landscape that we usually go past."
As she wrote in her artist statement, "By exposing these temporal landscapes, I pose the question of what it means to be connected yet disconnected within the same place."
Her landscapes are fragmented, just giving the viewer a glimpse at a strip of land or an open sky. There's not a lot of detail; instead, Anderson wanted to focus on an emotional experience for herself and the viewer.
While many of the paintings in "Temporary Voids" are based on North Dakota, where Anderson spends most of her time, not all the paintings will involve landscapes seen in the Midwest. Many are from her home in North Carolina and landscapes from the West Coast, Iceland and Switzerland. Anderson said she wanted to "grasp the landscape, which was mountainous and different."
"They range a little bit," she said. "But they're all places I've stayed."
The show at Ecce marks Anderson's first solo exhibition and her final batch of paintings for the year.
While it was difficult being 1,500 miles away and trying to organize the exhibition, while also making the paintings and managing her time, Anderson is happy with the final exhibit.
"I've known Mark [Weiler] for a long time and knew I'd like to have a show of mine at Ecce," Anderson said. "I wanted to do a show for paintings, as this will be the last batch of paintings I'll be creating for the year, and I thought what better way to do that than at Ecce."
YOU SHOULD KNOW
Brittany Anderson, Temporary Voids
Now through July 9
Ecce Art Gallery, 216 Broadway N, Fargo
Tue-Sat 12-6; Sun 12-5
701-298-3223; www.ecc216.com