​Decent exposure at the Hodo
by Sabrina Hornung | .(JavaScript must be enabled to view this email address) | Arts | September 13th, 2017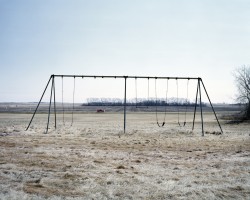 photo by Lew Ableidinger
High Plains Reader had the opportunity to chat with our very own J Earl Miller about Exposure 2.0, a group exhibition of photography curated by Miller, currently on display at the Hodo Lounge.
High Plains Reader: Can you tell our readers how Exposure got started?
J Earl Miller: Honestly, Lew Ableidinger is the main reason I started this show. I started following him on social media. I thought his photographs were next level but he lived in Harvey, N.D. I am pretty certain there is not a huge artist collective in Harvey.
This is the seed that started the idea. I have been lucky to have been included in a few Art Shows. I have many friends that are so busy working or who don't know how to go about getting involved in a show, and this was the perfect opportunity to create Exposure and give them the chance to do what we all wish we could be doing full time, which is making art.
HPR: Considering this is the second year of Exposure--what has changed and what is the biggest thing that you've learned from the first year?
JEM: Location has changed, last year Sazerac (Twist) was our host and we had a huge turnout. Dan Hurder and his team were unbelievable hosts but we did need a little more room. I approached the HoDo mainly for their large brick wall, perfect for this type of show. We'll move the tables away on the northern end of the building to create a space where people can get close and see each of the images unobstructed. This is really important to me because all the images are different sizes, and if you can't get close you can't see the detail of each piece.
Time was also a factor this year. The last show was up for a total of six hours. This year we are getting 10 days. For all the effort each artist has to put in, the more time it hangs the better. I want to make sure that all of our artists get recognition from doing this, and hopefully we have a bunch of sales.
I learned to take small steps on this and let it build on its own, hopefully in years to come this can become a recognized regional event, with more artists from around the state and in more than one location.
HPR: It's unique in the regard that the pieces are to be exhibited in the lounge of the Hodo--a rotating art show isn't typical for that space--how did that happen?
JEM: Well, I work with the HoDo quite a bit. I have some good friends working there now and over the years. But I truly like to think that this show was just the right fit to happen in that space. And honestly it is the only space at the HoDo I would have done it. I am a little picky when it comes to things like this.
HPR: There are 22 participating artists. Who are they and how did you scout them out?
JEM: Last year was invite only, just because I thought it was impossible to put out the word for something that had never been done like this in Fargo. I needed to gain some trust. This year there were invites to a few of the artists from last year, and next year we will do the same but rotate them.
As for scouting, I may have creeped on people's Instagram accounts to see if photography was something they are really into.
I did put out a Facebook post for a day or two and had to take it down because so many requests were coming in. I mostly went first come first serve. Everyone who has been a part of these two shows has really put their best foot forward, and the work keeps getting better. It makes me jealous.
IF YOU GO:
Exposure 2.0 opening
Thursday, September 14, 5-11pm
Hodo Lounge, 101 Broadway N, Downtown