​Diversity shines in Facebook project "The World in F-M"
by Brittney Goodman | .(JavaScript must be enabled to view this email address) | Arts | November 30th, 2016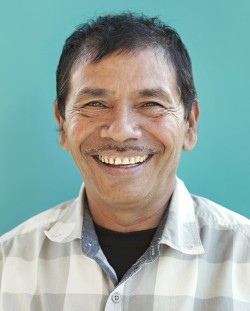 "The World in Fargo-Moorhead" is a community photography and story project featuring area residents who have come here from other parts of the world. Launched in September, 2016, the project is a social media-based collaborative effort, first envisioned by Meg Luther Lindholm.
New York native Lindholm is a freelance radio journalist working in Fargo-Moorhead. She is currently doing North Dakota-based work as part of a grant from the North Dakota Humanities Council, telling stories about substance abusers and the criminal justice system.
She also is a freelance journalist and radio producer for Prairie Public Broadcasting and National Public Radio. One of her previous projects was a photo documentary project focusing on immigrants, as she told stories about workers at a local Fargo window/glass plant, Cardinal Glass. These photos and stories were the focus of a 2005 exhibit at the Plains Art Museum.
In addition to her professional work, Meg is devoting time to a new Facebook site - The World in Fargo-Moorhead. Her current core collaborators are Ann Arbor Miller, Pamela Rezac, and Sean Coffman. Although these are the core people, Meg says that more people are coming into the project every month. They have even had some of the subjects they have photographed become interested and start working on the project as photographers.
The germ of the idea came to Meg in September 2016 during Welcoming Week, when she was attending the community picnic. Meg says she was "blown away" by "how many people there were seated at picnic tables in the park from so many different countries." She thought, "Wouldn't it be great to capture some of these stories?"
Meg envisioned the project as similar to the Humans of New York site, but focusing on people from other countries who are living here. From that vision came a Facebook site and a monthly meeting of photographers and photo enthusiasts every third Wednesday at the Fargo Public Library. She says, "We welcome people who love photography and who are curious and interested in profiling people from other countries, in telling their stories."
The goal of the site is to tell stories of diverse people and to "break down the 'group think' about who refugees and immigrants are and show that they have so many stories," explains Meg. She elaborates. "Some of these people have lived in our area for many years, and some are very new. They come here for so many different reasons. Many are pursuing higher education while others are absorbed into the economy because they want to work and they can find jobs. The stories on the site run the whole gamut."
One of such stories recently featured on the site is from Anne Denton, who emigrated here in 2000 from Germany, along with her Canadian husband. She finds the US system "more supportive of working moms." But, she mentions, in Germany, something like the Dakota Access Pipeline "just wouldn't happen. It wouldn't even be close. Considering climate change concerns, I think there is a point for that."
Another photo story is of Anja Milosavjlevic, a visiting scholar from Serbia, where she encountered war, and escaped from it. She is nearing completion of a Ph.D. and says "my parents are proud of me, which makes me really happy."
These are just two of many stories on the site articulating the unique stories of people.
Meg says that in February they will be exhibiting the photos at the Moorhead Public Library and they are completing a current exhibit at the Hjemkomst Center. For the future, Meg emphasizes that members of The World in Fargo-Moorhead are interested in speaking to groups. Meg also wants to organize some panel talks featuring the people who have been photographed on the site.
In closing, Meg asserts that the project is important because "we all have our own stories and experiences. Everybody's story is different."
YOU SHOULD KNOW
SOCIAL MEDIA: https://www.facebook.com/TheWorldInFM/ @The WorldInFM