Downtown gentrification: the good, the bad, and the unaffordable
by C.S. Hagen | .(JavaScript must be enabled to view this email address) | Arts | December 14th, 2016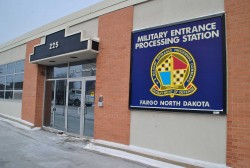 The art trade in Fargo is a cutthroat business. Photographers, painters, and potters struggling for local sales are now also fighting for spaces in the downtown area.
Recognized by many as the cultural avant-garde of Downtown's awakening and current revitalization programs, some artists are being forced out, while others are fearful of what future gentrification will bring.
Change doesn't come without casualties, artists recognize, they're simply asking not to be forgotten. The city has answered, but artists aren't sure it's enough. They describe a Cartesian Circle of artists bringing life back into rundown blocks, which spark investments, which then raises rents effectively kicking them out to start over again in a space they can afford.
Fargo's downtown, once filled with brownstones and brick-and-mortar grocery stores, taverns, and a sprinkling of brothels, fell prey to fires over the centuries and received a near-lethal blow during urban renewal programs of the 1950s. City policy makers offered incentives to landlords to tear down old buildings to pave parking lots, Kilbourne Group General Manager Mike Allmendinger said. And the mass exodus to the suburbs began.
It was a time many in Fargo wish never happened.
Now, as city investors and entrepreneurs turn their eyes once more to city center, rents are increasing.
"It happens in the Renaissance Zone, we've had buildings downtown go from a total of $150 million to over $600 million right now," Mayor Tim Mahoney said. "It's almost by association that we have that going on. The problem that we have is buildings in the center core that have not had a lot of changes or any money put into them, and they want to take a higher rent, and yet they haven't improved the building in any way."
He's in the process of figuring out spaces where lower-income rental spaces can be made available. One suggestion was to move across the Red River into Moorhead, but it doesn't have the space, Mahoney said.
"We're one of the top ten cities in the United States, and the arts is a very critical part of that," Mahoney said. "You have to have things that interest people. It's not the big chain stores. More often than not it's the smaller shops and stores for people to look at. That's what keeps us viable. We're going to try and do that."
The Downtown Study, an evaluation Fargo paid $400,000 to conduct, to be finished in early 2017, will help redefine what the Downtown area should be in the future, including issues of retail, parking, and housing for peoples of all incomes, Mahoney said.
Mahoney spoke of one instance where a Microsoft employee was on the verge of leaving Fargo, until the individual moved Downtown. The healthy interaction with different people and the Downtown improvements helped make him stay, Mahoney said.
"He hated Fargo before, now he loves it," Mahoney said.
City of Fargo Deputy Assessor Rob Harshberger said "The practice of landlords increasing rents because adjacent buildings have increased in value is inescapable and normal, and there's little my department can do about the situation."
Meg Spielman-Peldo
In recent years downtown areas across the country have demonstrated renewed interest as social and cultural centers vital to a city's healthy growth. Meg Spielman-Peldo, a Fargo artist, potter, and photographer who focuses on newborns, children, and weddings, shares the space along with other artists next door to the Red Raven espresso bar on Main Avenue, and although she has just signed a new lease, she worries gentrification will catch up to her.
"For one thing, the city is assessing buildings to standards of newly remodeled buildings when they're not," Spielman-Peldo said. "They're basing their assessments on costs per square feet, when my building is not anywhere near the level of a Kilbourne building. If the rent goes up, I will have to give it up. We would have to get rid of one studio, and that would probably mean we would lose one of our photographers, at least."
For her current lease, her landlord didn't raise her rent. "I'm really fortunate, but it's not going to stay that way."
The building where her 3,300 square feet of studios are located has character, but also has issues. In some places the floor is uneven. "It's a nice, old building, but the bathroom is in the furnace room. It's very beneficial to have other people to talk with. It's really great to walk down the hall and have a conversation. It's nice."
To prepare for the future, she has looked at other downtown locations, but the rents are ridiculous, she said. Gentrification has sent rents into orbit, even if a building has not undergone renovations.
"I value what Kilbourne has done Downtown, and they've heard us talking about this, and are doing what they can," Spielman-Peldo said. "It's unfortunate, and I know it happens in cities and everywhere, but just because gentrification is happening everywhere else doesn't mean that it has to happen here."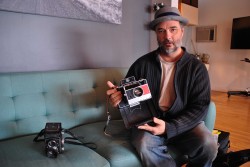 Kevin Taylor
Art runs in Kevin Taylor's family. He's a photographer who has recently stopped renting in Downtown Fargo and purchased an old grocery store built in the 1920s, a few blocks north. His son is a ceramic artist, who digs his clay in the Red River banks.
Before his purchase Taylor weighed the pros and cons. Rent had just gone up at his photography studio Taylor Made Photography, near NP Avenue, and because he works full time, his chosen career demanded he make a tough decision: leave or stay.
"It is important to have an office and storefront so you can walk in and really see the work and the place," Taylor said. Old cameras hang from the walls. His studio is well-lit, with natural light streaming from two large windows at the front.
Taylor Made Photography on 10th Street North was a grocery store in the 1930s. He tore up three layers of old linoleum to rediscover the floor is made from maple; ripped out a drop ceiling and found extra space.
Taylor and the photography business have both changed since the invention of iPhones and digital cameras, he said, and the price for photography services has gone up. Before digital photography, Taylor was a self-described "gigantic nerd" sporting a ponytail and wearing a photographer's vest filled with rolls of film, light meters, and filters. Twenty years ago he charged between $800 and $1,000 to shoot a wedding. Now, he can't charge less than 2,000. He once used television and radio advertisements to find customers, today, he relies on word of mouth and referrals for business.
The rise of digital photography in all its forms has heralded a rapid rise of "hobbyists," or people with little training and others who do not need to work full time, Taylor said.
"To tell the story you have to have experience," Taylor said. "Anyone can put pictures up on a website and say 'Hey, look at me.' When I started in town there were probably a dozen studios. Now you can't tell the difference between a hobbyist and a professional."
The difference though, is enormous, and most people can see a hobbyist's facade. Taylor finds light in all his frames, focuses on time efficiency and learned documentation for weddings, which make up a large portion of his business.
"I have to make a living, and I have to price accordingly," Taylor said. His studio is grandfathered into North Fargo's residential district as a commercial building, he said, which is an idea he hopes city leaders plan for in the future. The Downtown area should expand, mixing residences and commercial areas.
"We looked at places on Broadway, and it was really apparent really quickly that it wasn't going to work," Taylor said. "All over Downtown there are empty buildings."
His old studio wasn't the perfect working place for him. It was narrow, and was once a simple storage area. "It was the only place that worked for me Downtown because it was all we could afford."
Now that his studio is only half a block from Broadway, he still considers the area as a part of Downtown. "I love walking Downtown, I love living near Downtown. It's really my favorite part of Fargo, so I wanted to be here, and I didn't want to be in a strip mall. I would rather operate out of my home than in a strip mall."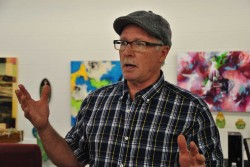 Steve Revland
Former owners of the Uptown Gallery, Steve Revland and Maren Day Woods, left their South Broadway studio due to burdening overhead costs in April 2016. They chose the old Goodyear Tire building further north on Broadway to open the Revland Gallery, a "pop-up" studio and in September initiated the START Project, an arts program designed to help students find confidence in their art.
The name START is a play on the words, combining student and art, Woods said. The gallery won't last long. The Kilbourne Group, the biggest revitalization company involved in Downtown gentrification work, plans to tear the building down this coming spring, making room for tiered "Dakota skyscrapers."
"We wanted this to be the first place where they sold their work," Woods, the gallery's executive director, said. The idea isn't lucrative, but it isn't about the money. "We want them to feel the galleries are approachable, and they're good enough. We're trying to build confidence."
New artists entering the Fargo art scene can feel intimidated, Woods said. Students chosen to participate in the START program currently have their pieces displayed outside the building, and their works will be auctioned off at a later date.
Revland's formative years as an artist were bittersweet; he survived on microwaved Prego and pasta, drank beer by the case, had a penchant for marijuana. He traded his first handcrafted chair for a root canal.
Revland's favorite medium is wood – curly sequoia – from which he designs tables, vases, and at one time chairs. Surprisingly, Revland flunked woodworking class twice in high school. He began work as a musician, singing and strumming 30 songs a night, but as a soloist his performances demanded perfection, and he grew weary of the stress. He bought a book on building birdhouses, which piqued his interest in woodworking.
Like Fargo's young artists today, Revland, now 64, said his early years were not without challenges.
"If I had a nickel for every time I heard a complaint, I'd have about five dollars," Revland said. He's not an engineer, but a businessman who happens to be an artist, and knew from a young age that he would have to blaze his own trail.
Fargo's downtown renewal projects have already forced him to move once, and although he walked eyes wide open into the Goodyear Tire building site, if he cannot find a third gallery next year in the Downtown area, his storefront may go digital, or he'll work from his home in North Fargo.
Currently, art sales are down, Revland said. Although his rent has gone down from more than $7,000 to less than $2,000 per month, business is tough.
Lack of adequate support for local artists drive many by necessity into commercial trinkets, or daytime jobs.
James Wolberg
Roberts Street Studio on North Broadway is an artist's dream, smells of fresh paints and wet clay. The 2,000-square-foot studio's floor is cracked cement. Paintings, ceramic hands, and years of artwork are piled high to the studio's lofty ceiling. It's warmed by a wood fire stove, is unfettered by creature comforts. A peacock decorates the front entrance.
"It's not guaranteed, it's a lot of stress," said James Wolberg, one of the owners. "Everybody is like 'if only I could make art all day and make my living off of that, it would be so relaxing. Life would be great.' Even if you go to school for whatever it is, it's a creative craft or art, and you're not required to take any marketing classes, and then they kick you out into the real world. Then you go get an application for Starbucks."
Wolberg's day job is as a studio manager for the Katherine Kilbourne Burgum Center at Plains Art Museum. He enjoys the work, considers himself fortunate, but to pay costs at his studio he makes sinks for companies, coffee cups for Christmas presents. A lone concrete sculpture stands behind him - a work in progress he sculpts when he has the time. Fargo is not a city that can fulfill an accomplished artist's dreams, but it's not entirely impossible either, he said.
Ten years ago, Wolberg used to run the Upfront Gallery, where the gold exchange currently is. It was an experimental gallery where artists displayed everything from erotica to pottery.
"We made quite a bit of noise, but it's expensive. Everybody also needed to be doing their own jobs as well as making their art."
After five years, he shut the gallery down.
He pays approximately $1,300 for rent and utilities, he said, which is fair, and split between the artists working inside. He's safe, for now, nobody is looking to purchase the building as he says most investors want historical buildings.
"A lot of them that have been taken over were fairly dilapidated and not taken care of by their previous owners."
Some buildings Downtown used to be considered nightmares, he said, like the Black Building.
"I think it's necessary if we want to maintain the historical presence of the structures, which I think it brings enormous character to the place. But once you put a lot of money into a building, they're not just out for to fix buildings and make things nicer, they're also out to make money. Obviously, it's a business. Can't throw a bunch of money into fixing a building and not expect rents to jump.
"It's jumping to a place where a lot of people cannot afford the place they've always inhabited."
At a projected price of $25 per square foot per year, Wolberg says the price is insanity.
The Downtown area is the cultural and musical scene of the city. With the exception of a grocery store, most amenities can be found in the Downtown area. Aesthetically, the area is pleasing; making new friends is easy.
In the suburbs, most people stay in their "boxes" and shop at chain stores, he said, but not downtown residents. Since his studio's inception 10 years ago, Wolberg has seen huge changes in the area.
As a ceramic artist, Wolberg's needs aren't cheap. He needs 220v electricity to run his ovens, vacuum chambers, and space to store his supplies.
Fargo's market depends on the medium, Wolberg said. Usually, the arts are the first to go when a city is experiencing difficulties, especially during election years. The price point for doing business is directly related to size and price.
"We're doing okay. The smaller items are doing well, but larger paintings and such are really difficult to place."
Most galleries in Fargo don't charge for an exhibit. Artists receive a portion of the sales and a commission or show fee goes to the studio. He doesn't depend on social media for advertising, and his website is "lame," he said.
"It's good to see this in a way, because it is driving in people who can afford luxurious items, if you can afford a $250,000 condo in the sky, you can probably afford to furnish it, and spread the money around a little bit. It's good to see the money coming in, but it also it raises everybody's rent. I think what has happened in a lot of different communities is that it ends up pushing the artists in different directions. Maybe it's got to be the industrial district next.
"That's the whole reason a lot of these downtowns get their flavor back, because it's been rundown for years and years and years, the rents are cheap, they don't care about the buildings, you can do anything to them you want."
If his rent increases beyond his price range, he will have to "roll with the punches." He would look into an industrial building, he said.
Dawn Morgan
Never judge a book by its cover or a storefront by its original red wood door, or so the ancient sages say. The Spirit Room in the middle of Downtown on Broadway is a labyrinth for yoga, meditation, line dancing, ballroom dancing, and cozy, individual studios rented by local artists.
Dawn Morgan, the owner, said the building was vacant for 30 years before she moved into it. A city rule would not allow upper floors to be rented if the company did not have proper access to the first floor, she said.
Built in 1904 as a general merchandise store by the Hancock Brothers, it was also home to photography studios and architects, and was "too far gone" by the time Morgan rented it approximately 20 years ago. She's fixed the place up, expanded, and renovated the additions, and has kept a close eye on Fargo's growth over the years.
"Everybody knew each other in those days," Morgan said. "The city was big enough where you didn't know everybody, but you knew families. When you come to Downtown Fargo talking about that [gentrification], there's a lot of interaction of people who know a lot about Downtown Fargo. There's a long history of almost like a large family, extended family, in downtown Fargo," she said.
Locals want the family traditions to continue, which can differ from the corporate blueprints, she said.
"The gentrification can be one part, but it cannot be the whole. The whole belongs to the people."
She has been involved in focus groups for years offering suggestions to the city for what the Fargo's downtown should be like. Places like the Plains Art Museum, the Fargo Theater, Theater B, and the Spirit Room are now household names, and have been vital to Downtown's growth, she said. Downtown should be a place for rich and poor, for artists and businesses, for singles and for families.
"How can we weave this all together?" Morgan said. "It's like an intricate fabric."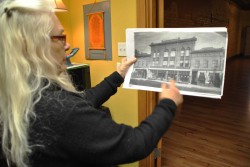 Although Downtown has improved in the last 10 years, there still isn't enough change yet. Why would someone want to build a million-dollar condo for a view of the sugar beet plant? Morgan said. "There is a misconception about what Downtown Fargo is, and what it wants to be. With the developers that are coming in, we want to make sure they're included in the view with the people who are here and have been here and what they want for their Downtown.
"It isn't right that one group of people should have an overwhelming say in what happens. I like to think of Downtown as being a hologram of all these luminescent beings interacting with each other, and that one individual isn't better than another."
Morgan is a self-described project oriented person, and guides her non-profit company through creativity and determination. Times have not always been easy, but entrepreneurs find a way, she said. For the first eight years of business she didn't pay herself. She works on projects ranging from Sanford's cancer patients to nationally organized "Listening Room" performances. Art bedecks her walls as well, but her company's survival doesn't depend on the sales.
"Don't be dependent on one single thing – diversify," Morgan said. "It's challenging to figure out how to make it all work, and really important to the long-term vibrancy of Downtown Fargo."
The Kilbourne Group and the Arts Foundation
The Kilbourne Group, founded by Governor-elect Doug Burgum, cut its chops on the Renaissance Hall, a building once slated for demolition, General Manager Mike Allmendinger said. The company's dream is "vibrant downtowns create smart, healthy cities," and so far, it is only investing in Downtown Fargo.
Urban renewal programs were still in effect in the 21st century, Allmendinger said. "Believe it or not, as late as 13 years ago there were still buildings being torn down," he said. "The attitude was for these downtowns to remain viable was that they needed surface parking lots to sustain them."
Old saloons and buildings along both sides of the Red River, brick houses surrounding city hall, and even where the Frying Pan family restaurant currently stands, were bulldozed to make room for development, Allmendinger said.
"Today that would never happen. Ten years ago, when the Kilbourne Group was starting, out nobody else was involved because it was considered too risky. Now we get excited when Broadway, our seven blocks of it, tells a story along the way."
During the company's research into downtown's history, they've discovered interesting "urban legends" or possibly half truths behind the sites. The building where Halberstadt's Men's Clothiers now stands, was destroyed by fire in the late 1960s when a devious previous owner burned the building down to escape an inventory check.
"We certainly feel that the best impact we can have in this region is to focus on projects in Downtown Fargo." Such as the Renaissance Hall, the old Woodrow Wilson School, the Roberts Street site, the area surrounding the Goodyear Tire building, the old MEPS building, and more. The company's project on Roberts Street is built on land that was once the Columbine Hotel, then turned into Carnegie Library, which was torn down in the 1970s due to urban renewal programs. During excavation, the company discovered six fuel tanks buried in the ground, and other treasures, such as soap dishes, teacups, and cigarettes wrapped in a cigar box.
"We start off from a spot that we value and recognize that having a diversity of people living and working in Downtown Fargo is really important to long-term vibrancy," Allmendinger said. Community planning began more than 20 years ago, he said, when the downtown area was falling apart, both physically and financially. The average price for commercial areas per square foot will rise from an average of $10 to approximately $20 per year, he said.
The Roberts Street building, when finished, will be more than a parking ramp; it will offer affordable apartments and commercial storefronts as well.
"Broadway is the downtown for Fargo, and there are many different groups of people that want to have experiences down here. Those experiences may be living, working, retail, food and beverage, parades, community gatherings…when we think about projects and renovation of them, we must think about who wants to be down here.
"Artists are a group that is experiencing changes down here, we do recognize that. We're looking for ways to partner with other organizations to find solutions to have spaces down here and be an active part of Downtown Fargo."
The Arts Partnership, a non-profit organization and an advocate for arts and culture, is one company the Kilbourne Group has partnered with to help local artists.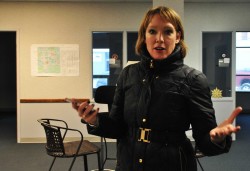 "The Arts Partnership is collaborating on a demonstration art incubation space with the Kilbourne Group for two years to just see what happens when we create a collective of makers and creators in one space," Art Partnership Executive Director Dayna Del Val said.
The Kilbourne Group recently purchased the old MEPS building for the experiment. No longer a site for military enlistment tests or urine samples, the building will be known as APT, which is short for "the idea of being able, and coming together, and having an aptitude for something," Del Val said.
Prices vary from $137.50 to $350 per space per month, which will range from approximately 200 to 500 square-foot spaces, Del Val said. Larger rooms will be available for galleries or small-scale performances, she said.
"Artists create the culture that make us want to live where we live. They're just a really important part of the economic and cultural piece that makes a community valuable. Mostly people can choose where they want to live today, and the arts are often what make anybody decide to either stay in a community or move to a community."
In two years the building will be torn down, but depending on the success of the experiment, Del Val and Allmendinger may have an idea for the future.
"Our hope is that this is so successful that we'll have a permanent home two years from now," Del Val said.
Wolberg said the experiment is needed, but might not be enough for local artists.
"It's kind of an experiment to see what you can do with a multi-use building," James Wolberg said. "It's a cool large maze of areas, which can be split up into nice-sized studio spaces."
"Their idea was, you can come in and rent this space and we'll give you two years, you can do whatever you want with this space. It's not bad if you think about it from certain perspectives, but if you think about it from a perspective of where a lot of people practice artwork, it could be out of range for a lot of people. Unless you have a really good professional job, or you're working a normal labor job, that's like a 150 bucks for a tiny little room. If you have to invest in infrastructure, it gets complicated.
"There is a lot of excitement about that development, but what they ended up doing was bringing their price down."
If the Downtown revitalization programs stumble, Kevin Taylor's worried that chain stores will walk in offering twice the price for commercial spaces. "That was one of the choices we had to make. We could be in this prestigious building so you could charge more or you don't have to charge more. Wedding photography is expensive, it costs a lot of money to be in this business. I'm not a wealthy guy by any stretch of the imagination, and if you double my rent, I will have to double my prices. And I don't want to do that."
Taylor also hopes downtown planners will cater to local entrepreneurs and small businessmen, and not chain stores like Walmart or Starbucks. Allmendinger agrees.
"The more projects there are in Downtown Fargo, the less the rents will increase," Allmendinger said.
Kevin Taylor believes in supporting local artists, no matter the cost. A coffee mug might be more expensive than a cup made in China and sold at Target, but the extra spent is valuable, not only to the artists, but to the spirit.
"It's an important part of my life and makes my life more whole and more complete. At a certain point in time – we're fortunate people and we all live in a beautiful city with beautiful things – and after you get to the point where you're feeding yourself, you find your soul. That's what art does for me: it fills in a gap where you can put things of beauty in your life."