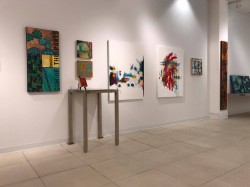 "Color is my strength and passion and it shows in all my paintings," said Emily. "Art is an involuntary movement for me – like breathing."
Her colors can be found in her exhibitions, commercials, and residential installations throughout the country and across the oceans, such as Santa's Whimsical Wonderland at West Acres. You would have noticed the powerful colors and playfulness in the installation as you passed by shopping.
Emily Williams-Wheeler is a professional fine artist and her paintings are expressively fluid and textural, with a variety of mixed colors, mood, motion, complexities, and mystery. Graphite and acrylics are her two favorite media.
Emily's encaustic paintings, also known as hot wax painting, become sculptural with heated beeswax and colored pigments. Naturally, you feel the texture of the wax and get familiar with its qualities.
"I engage the viewer by exposing only a few clues as to what is buried beneath encouraging the viewer to return to discover more. As an abstract artist, I do not want to reveal the complete image – that would be too easy. I like to make one ask 'Why did you do that?' It is just the beginning of the dialogue."
Additionally, Emily has been teaching private art enrichment and creative thinking classes for children and adults in her Fargo home studio for more than 10 years. She encourages her students to think creatively and provides training for development in problem solving,
"Art is a critical part of the whole. Problem solving becomes extremely difficult without a creative mind!" She is enthusiastic, educating the public about what she does, and considers instruction essential. She shares her process, explaining the history, and specific aspects of the media that she uses. She believes that creating and interpreting art make her a better thinker.
Emily began her professional career in 1992. She has exhibited her works extensively, including in the Plains and the Rourke. She debuted her encaustic art, titled Shift, at the Uptown Gallery.
At this moment, Emily's next solo exhibition is coming, titled 'Lint in My Pocket,' at the Rourke Art Gallery. The upcoming exhibit was selected as a traveling exhibition by the North Dakota Art Gallery Association (NDAGA).
'Lint in My Pocket' is a good chance to learn about her expressive colors and process.
Emily is currently incorporating her art into a new elementary and middle school workshop and master class in the Moorhead Public Schools.
You Should Know
Check the website: www.emilywilliamswheeler.com
Art enrichment and creative thinking classes: http://www.studioefargo.com