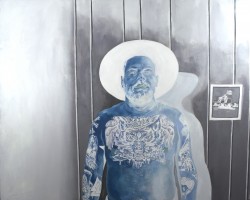 Beatrez has created a series of chromatically inverted negative paintings – abstract nude forms. The artworks are designed to be more approachable and Beatrez intended creating the style to engage audiences with form, color, and anatomy. The show that Beatrez is presenting is the work form that she has made from testing out a negative painting to having a nude portrait of her – the artworks are rejected from two different art shows because of the nudity – Beatrez hoped to combine these two divided worlds of painting to find a resolution to this problem. The style of paintings leads audiences to interact with the two dimensional works and these paintings are able to invert the pieces back to the realistic state of the image, "The paintings are not only restricted to this, but they can also be considered final in their original state as an abstracted image."
While growing up, Beatrez always had an appreciation for the art world and was constantly drawing, even from a young age. She mentioned, "I was pretty fortunate to have parents that knew I had an affinity for art and would take me to art museums and drawing classes." Surprisingly, Beatrez had never painted before starting college and she needed to take a painting class in her freshman year. She fell in love with painting, "I really felt at home with that medium." Currently, Beatrez is attending North Dakota State University (NDSU) and her baccalaureate classes are coming up next year. For the reason, she has been trying a lot of experimentation with painting for the project before graduation. Beatrez hopes that the negative painting could make an interaction with viewers and the style might be able to give new life to the paintings because of the digital route that gives technologically advance to the society we are living in.
Beatrez has inspired from the interactions that she has with the world around her. She does not only interact with people but an ordinary object in a certain type of light or situation that is interesting to her. She has writing a full description of the inspirations in her sketchbook throughout the day, so she could come back to those later. Beatrez's sketchbook has a few drawings but ideas and thoughts what she would like to paint and several photo references taken for one piece until she works it into a more defined composition/narrative.
The inverted negative painting is the imagery as a way of abstracting the pieces to allow audiences to be more approachable. At this point, nude portraits are one of the most classical types of art that need to be censored to protect people does not make sense to her, "Through this form of painting, the audience is able to study the works for color, form, and anatomy; in addition to the negatives they can invert the paintings on their phone cameras to see the realistic images as well and view it that way." Beatrez has still finding her own styles of art and trying a lot of experiments through the inspirations and this time, she is holding a show that is one of her representative artworks and her world in inverted negative paintings. The uniqueness of inverted paintings – against the censored classical type of art – the negative imagery comes up with a positive impact.
"Honestly, I am still learning this myself, so I am in no place to say what is right or wrong. I just do what feels right to me and hope it resonates with my audiences."
You Should Know:
Emma Beatrez Opening Reception
Ecce Art Gallery
216 Broadway N, Fargo, ND 58102
Thursday, May 11 at 5 pm – 7 pm