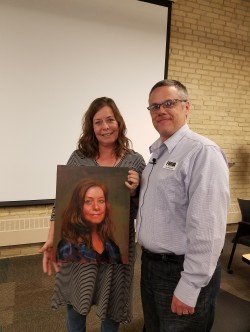 Since its founding in 2004, the Fargo-Moorhead Visual Artists has been creating opportunities for visual artists within the Fargo-Moorhead community. In 2011, the FMVA awarded its first Member of the Year award as a recognition of the great work members are producing in the area.
This year, FMVA awarded Member of the Year to Meg Spielman, a photographer and potter who has been a member of FMVA since its foundation. Spielman was the second president of the FMVA. Troy Pederson, the current president of FMVA, said Spielman was awarded Member of the Year for the roots and foundation she established for the organization and her long career in the arts.
Pederson, in addition to Jon Offut, Karen Perry-Anderson and Scott Seiler, gave the award to Spielman on Tuesday, May 24, at the Plains Art Museum in the form of a handmade oil portrait by Zhimin Guan.
Spielman was honored and surprised to receive the award.
"We do what we can to value the work of artists, enlighten organizations and the community about the value of artists," Spielman said about FMVA. "It's done a lot for artists and advocacy and raising awareness."
Not only has Spielman worked as an artist, but she's also been a strong activist for the arts. She was the chair of the development committee for FMVA for eight years, and was essential in teaming up with the Plains Art Museum and the Center for Creativity to create programs and exhibits for visual artists in the F-M community.
In addition, she has been working with public school districts to create elementary art programs and get art teachers into each classroom.
"It's important to value art and it's important to know people value artists," said Spielman. "Art class is not about being artists, it's about teaching creative problem solving. Without creativity, you lose innovation."
"FMVA creates opportunities for visual artists in the community through education, exhibition opportunities and socialization," said Karen Perry-Anderson. All of this, Spielman embodies.
Before photography, Spielman created unique pottery for 25 years. Her technique involved smashing her pottery, then putting it back together to create a broken but together piece.
In 2012, Spielman published an anthology entitled "No Lumps, Thank You: A Bra Anthology" that used everyday objects to interpret bras. 20 per cent of the royalties went to breast cancer charities. Currently, Spielman has been working on commissions for the Sanford Women's Center.
For more information on Meg Spielman's artwork, visit her website spielmanstudio.com. For information on the FMVA, including current exhibitions, visit fmva.org.