​Five years of compassion: Plants for Patients celebrates
by Brittney Goodman | .(JavaScript must be enabled to view this email address) | Arts | May 17th, 2017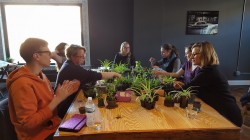 The organization Plants for Patients (P4P) is having a fifth birthday party and everyone is invited. The event is May 25, 7-11pm at Pounds, at 612 1st Avenue North in Fargo. The celebration is titled, "A P4P Celebration: 5 Years and Growing" and it will include the chance to participate in a group art project, eat delicious food, and check out new merchandise for P4P.
You can also purchase plants and watch local artist Kim Jore as she does a live mural painting. Music will be provided by Warren Christiansen and Kelsey Klug, and organizers are hoping that people are ready to dance and celebrate.
The mixologists at Pounds have created special cocktails just for the event. There will also be games to play and a photo booth. Participants will be given the opportunity to learn more about and potentially become a sponsor of the organization.
P4P was established on March 7, 2012 as part of Meg Roberts' baccalaureate project for her BFA degree at NDSU. Roberts had an emphasis in ceramics along with a personal focus on social practice and socially engaged art.
Roberts proposed it as a 6-week research project to Tammi Kromenaker, Director of the Red River Women's Clinic (RRWC). Volunteers hand-made small pots filled with a succulent plant and a note for healing. These were given to patients at the RRWC.
According to Roberts, there was "an overwhelmingly positive response from patients, staff and the community," so they then established the first board of directors and "began cultivating a community of support." And now it is five years later and time to commemorate and celebrate.
Currently P4P has a very active board of directors, a core team of twenty dedicated volunteers, and a revolving cast of more than 100 community members. The organization also has several partnerships with community organizations including a local nursery, student groups, churches, the Arts Partnership and the Katherine Kilbourne Center for Creativity. P4P and the Kilbourne Center co-authored a residency program and community clay classes.
The mission of P4P is: "to bypass the inherited, dogmatic, and divisive cultural conversation around abortion and reproductive rights by assembling a Pro-Compassion community to engage open-hearted conversations that honor our shared humanity and need to connect meaningfully with each other."
Moreover, behind the organization is the belief that "one-to-one offerings of art, compassion, and ecotherapy can counteract the cultural stigma around abortion" and that "everyone has a gift to offer, so we collaborate with organizations and individuals to create, assemble, and offer handcrafted planters, plants and a handwritten note of support to women who have had abortions to offer support, understanding and love as they travel their unique healing journey."
Monica Gelinske, the Director of Operations for P4P says that the purpose of the upcoming celebration is indeed to "celebrate the folks who have made P4P what it is today by throwing a really fun party."
She hopes that the event "facilitates mingling and connection between the many people who are interested in and engaged with the different facets of P4P." Gelinske continues, "I hope that the event builds empathy and compassion by highlighting the connection between the supporters who contribute their time, funds and care to P4P and the women we support."
She wants the celebration to be an opportunity for the community to be a part of P4P's continued growth. Everyone is invited.
IF YOU GO
P4P Celebration: 5 Years & Growing
Thursday, May 25, 7-11pm
Pounds, 612 1st Avenue N., Fargo
www.facebook.com/events/1671730816177243 www.plantsforpatients.com