Forbidden Fruits
by Ben Haugmo | .(JavaScript must be enabled to view this email address) | Arts | February 8th, 2017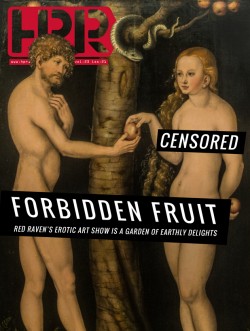 Many of our actions are driven by a basic need for love, sex, and intimacy. Some people will try to bury these drives, or treat them as something to be ashamed of, but what's the use in denying something that's so innately human? Rather than concealing it, the erotic is something that should be celebrated.
Celebrating the erotic is a principle that the folks at the Red Raven Espresso Bar definitely understand, as seen with the return of their annual Erotic Art Show this Friday. Area artists will have their most sensual offerings exhibited on display for patrons to appreciate and enjoy.
The event will feature live music by the Max Johnk & Conor Lee duo, desserts, and a raffle benefitting the local Planned Parenthood chapter. The raffle will include some of the art featured at the show, coffee products from Red Raven, and contributions from the Fargo Theatre and The Aquarium.
Red Raven has hosted the Erotic Art Show since 2008. After the event's hiatus last year, organizers Petra Gunderson-Leith and Cydney Berlinger are looking forward to seeing it return.
"We've had a long tradition of having the Erotic Art Show here," said Berlinger. "We didn't have it last year for whatever reason, so Petra and I were both like 'We should bring this back, it's a cool thing, it brings the community together.'"
Submissions to the Erotic Art Show undergo a juried exhibition process. A request is sent out, after which artists are welcome to provide pieces that are judged by the panel at Red Raven. This year, the judges were given the challenge of narrowing down the best of many pieces on offer.
Gunderson-Leith, who manages Red Raven's gallery space, always looks forward to seeing how local artists interpret the request for erotic art.
"My favorite part is seeing how people perceive that idea of an erotic art show. Some people go more subliminal, and some people are more outright with the nudity, some people go for more of the symbolic approach."
Some of the art featured approaches the erotic from an unexpected angle. Lauren Howell's piece, "Taste," features a person bound with ropes while another person licks at the open and bloody gash in their side. The minimalist technique Howell has adopted aids the visceral subject matter.
"It's ink and marker--I usually use ink and marker, it's very easy to deal with. I do a lot of drawing, so I really like that. There's not really a lot of shading, there's not really a lot of detail in certain parts of it, and the colors are really flat, because I'm really influenced by comic art and woodblock printing. I do a lot of printmaking too. I do screen prints, woodblock, and linoleum."
Howell is inspired by the Japanese ero-guro art movement, which, though it often features violence and gore, is largely about themes of sexual corruption and decadence.
"It's sort of been a low-brow movement," said Howell. "My favorite artist has been doing it for thirty to forty years. It all dates back to the 1800s, ukiyo e block prints and stories. It's all sensationalist and kind of shocking."
The combination of violence and eroticism also acts as an expressive outlet for Howell's trans identity.
"The reason I got drawn into it and the reason I do it a lot -- body horror -- is because I always had struggles with my own body image. Being trans and growing up, sort of living in a space where we never talked about it, and being into the punk, horror movie, and comic book scene, it really spoke to me. It's not only a lot of fun for me, but it also gave me a place to think about what I felt was violence against my own body. I think about it in a positive light; all the dark, gory content really helps me out."
Artists among Red Raven's staff aren't left out of the showcase. Cydney Berlinger's submission, "Sweet Cream," is a screen print depicting two ice cream cones stuck close together to form some highly intimate imagery.
"While the human body itself can be erotic," said Berlinger, "I think there's a lot of erotic symbolism present in our day-to-day lives, so I tried to focus on that in my print, by taking an ordinary object and showing the viewer it's erotic potential."
The Erotic Art Show is largely about helping local artists receive exposure, but the raffle gets community members to become a bit more involved.
"I'm probably most looking forward to the raffle," said Berlinger. "All the proceeds are going to Planned Parenthood, and we have some really cool stuff. It'll be a good way to tie it into being more about the community than just community artists."
Reception of the Erotic Art Show has been predominantly positive over the years. The staff at Red Raven is always sure to select works that, while sensual, are also tasteful.
"Reactions have been mostly positive from people coming to see it," said Gunderson-Leith. "We're one of the few places in town that has something like this. Obviously, there are people who don't always like it, but we try to choose art that doesn't offend people too much."
A unique opportunity to appreciate some passionate artistic works (and possibly take one home) is coming up this Friday at Red Raven.
IF YOU GO
Erotic Art Show Opening Party
Friday, February 10, 7-10pm
Red Raven Espresso Parlor, 916 Main Ave, Fargo
https://www.facebook.com/events/1241262302628863/