Fritz Fest, celebrating the life and work of Fritz Scholder
by Brittney Goodman | .(JavaScript must be enabled to view this email address) | Arts | October 4th, 2017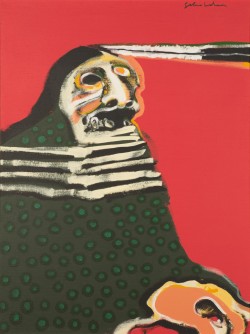 The Plains Art Museum, the Rourke Art Museum, NDSU, the Red Door Art Gallery (Wahpeton, ND) and the Fargo Theatre have teamed up to bring Fritz Fest, a three-day event, celebrating the life and work of influential 2oth century painter, sculptor, printmaker and poet with local roots, Fritz Scholder.
According to Andy Maus, Director of the Plains Art Museum, the impetus for the event came from a meeting with Rourke Art Museum board member Peter Schultz and the need to "have a more collaborative relationship" between the two museums: "We feel that it is time that we moved forward more proactively. The idea of a collaborative Fritz Scholder exhibition came from that, and it grew from there to include programming tied to what would have been Fritz's 80th birthday…and from there the engagement of more partners that helped make Fritz Fest."
Maus describes Scholder as "one of the 20th century's most celebrated artists and provocative figures, and his roots are in Fargo-Moorhead and Wahpeton-Breckenridge. The Smithsonian and the Denver Art Museum recently celebrated Fritz with major exhibitions and catalogues, so we felt it is time Fargo celebrated him as one of our own! He was influential on artists of all backgrounds, but his presence can especially be felt in the lineage of contemporary work by Native Americans. Fritz expanded people's ideas of what Native artwork could be and strongly pushed against the romantic notions of Native identity that are perpetuated by artists and others that are mostly of European descent."
Scholder, born in Breckinridge, MN, went on to live in Wisconsin and then Sacramento, CA. He taught at the Institute of American Indian Arts in the 1960s. He was one-quarter Luiseño, a California Mission tribe.
But despite where he has lived and taught and his frequent Indian subject matter, he has often been said to not identify as Native American. As he states in an Archives of American Art oral history interview: "Identification is certainly important for any human being, and I guess this is why I am probably ultra-sensitive to the fact that I was mislabeled an Indian artist in the seventies—with good cause, because here I was part Indian, teaching at an Indian art school, starting a new series based on Indian subjects. There was reason for confusion. But I have never been confused simply because I know who I am."
Scholder's work has been called "provocative" and "controversial." According to the Smithsonian's National Museum of the American Indian, Scholder is most famous for his "energetic and unsettling paintings of the 1960s and 1970s," featuring "unconventional use of color and distorted perspective." The official web site for Scholder describes his work as using "distortions, explosive brushwork and vivid colors."
In 1967, his new series on the Native American, depicting the "real Indian," featured paintings of Native Americans with American flags, beer cans, and cats, exploding cultural myths and cliché. A miniature book of Scholder's poetry was produced by Stinehour Press in 1979. In 1980, Scholder was featured in a PBS film documentary, American Portrait. He also received a Humanitarian Award from the Norsk Hostfest in 1991. He is a member of the California Hall of Fame.
In 2015 the Denver Art Museum opened a traveling exhibition of his work, entitled "Super Indian: Fritz Scholder, 1967-1980." In popular culture, Scholder's Future Clone sculpture was included in a scene in the 2010 Aronofsky film, "Black Swan."
An important part of Fritz Fest will be a free, public symposium at NDSU's Renaissance Hall at 650 NP Avenue on October 6 from 1 to 4pm, featuring noted Scholder scholars Jessica Horton, Dr. John Lukavic, and Truman Lowe. Coffee and refreshments will be served.
On October 5 and 7 there will be a gallery talks at the Plains Art Museum and Rourke Art Museum.
October 6 includes a "progressive reception" from the Red Door Art Gallery in Wahpeton from 3 to 5pm, then to the Plains Art Museum from 6 to 8pm, and finally the Rourke Art Museum from 7:30 to 9:30pm. The reception is free for members of the Plains or Rourke museums, students and Native American community members. Tickets will be $10 for nonmembers.
As part of Fritz Fest, an internationally-known comedy troupe, The 1491s, will perform at the Fargo Theatre at 7pm on October 7. The 1491s recently performed on television's The Daily Show. Tickets are available for $15.
Maus gives reasons for attending all or part of the three-day fest: "People should attend the reception to have a good time with friends, come to the talks to learn about Fritz and other artists, and get tickets to the 1491s to laugh!"
He adds, "All of the events are free or low cost thanks to supporters – NOTHING in our community happens without generous people. Having two exhibitions with free admission, a free symposium led by scholars from across the country, and being able to see the 1491s for only $15 are all amazing opportunities. It is the members and donors of the Museums, the Fargo Theatre, and NDSU that make everything possible."
A complete roster of Fritz Fest programs, exhibitions and events can be found at www.plainsart.org.