Gardens Galore!
by Sabrina Hornung | .(JavaScript must be enabled to view this email address) | Arts | April 27th, 2017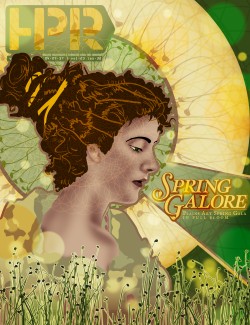 After months of planning, a theme was chosen. This year the Plains Art Spring Gala totes a decadent Art Nouveau-inspired theme with Gardens Galore. Art Nouveau imagery is known for its flowing, organic, nature-inspired forms as it found its way into commercial art, architecture and fashion from around 1890 to 1910.
Thematically, think elegant flowing dresses and floral embellishments in the hair of the ladies; and top hats, well-tailored waistcoats, tuxedos or tails for the men straight out of a Henri de Toulouse-Lautrec print or Alphonse Mucha painting.
"We went through several brainstorming sessions between myself and the development office and marketing. We looked at what we've done in the past -- and we have developed these garden spaces like the pollinator gardens around the museum and the heritage garden which just opened up last year and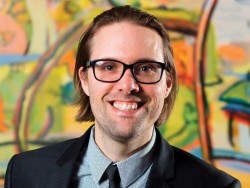 we have our Buzzlab programs -- so we're thinking about mission related things." Says Andy Maus, museum director and CEO of the Plains Art Museum.
He continued, "The real big breakthrough in this year's theme came from Raul Gomez. internally we knew that we wanted a garden theme. The Art Nouveau theme stemmed from Raul and his inspiration from the language."
If the ultra-romantic Art Nouveau isn't quite your bag, there are a number of ways to interpret the theme "Garden Galore." Take inspiration from your own garden and find your best floral frock or dust off your favorite cocktail attire.
The gala also features one of the area's largest wine tastings. One thing that has changed this year is rather than just featuring one caterer, the Plains is featuring seven, including Luna, Usher's House, The Toasted Frog, Chef's Table Catering, Catering by Concordia, Holiday Inn Catering and Nichole's Fine Pastry.
"We wanted to be more inclusive of other chefs. It's an opportunity for them to experiment and create things that they otherwise wouldn't be able to do." said Maus. Though seven cooks in one kitchen sounds entertaining enough in itself, Fargo-based Heart & Soul will be providing their killer grooves as they fuse jazz, funk, reggae, and blues to keep guests dancing throughout the night.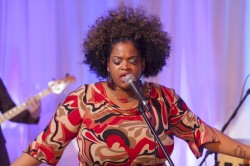 The auction features 72 pieces of original art in a variety of mediums. The museum staff had the arduous task of selecting from a pool nearly double that. I had the chance to view the pieces with Andy while he noted a few highlights that he considered of particular interest.
The first piece that we looked at was a colorful abstract acrylic painting by contemporary Native American artist David Bradley, whose work is currently featured in the "Indian Country" exhibition.
German artist Mario Reis's contribution to the gala auction was created with river sediment on canvas. Each piece varies due to the ebb and flow of the riverbed. The aforementioned work was created by Reis and the Red Mountain Creek in Colorado
One piece instantly caught my eye. It's subject bright eyed, youthful and almost timid: a silver gelatin print from photographer Robert Whitman, called "Prince kneeling in his studio, 1979."
"This is Prince before he was really famous, so this photographer got to know him and got these really personal photographs of Prince. They're not particularly well known so they haven't been exhibited a lot." said Maus.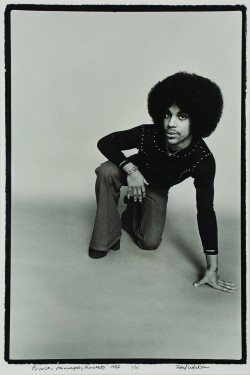 Viewers can also anticipate a ledger drawing from Monte Yellow Bird Sr., a dynamic kaleidoscopic collage courtesy of Andrea Stanislav, collaborative sculpture created by Marjorie Schlossman and her son Herb Ludwig Jr. and many more.
Bidding will all be electronic this year. Art buyers, be sure to have a smartphone in hand!
The sculpture outside of the museum will be installed by them too. The concept for the sculpture was open to a public vote earlier this year, with an overwhelming response. The popular vote chose a nest and eggs by Dwight Mickelson and his students from Concordia.
"We have a lot of modern ecologically based work right now which is fitting." Said Maus. There is currently a stellar installation in the skybridge connecting the museum to the Starion Gallery, created my MSUM printmaking students depicting prairie grasses, flora and fauna.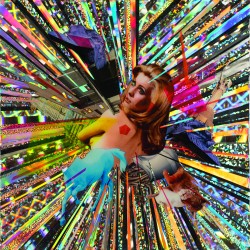 "The gala comes at an interesting time because we're also in a campaign to make the plains a free museum, so how we do that is through growing our number of members and annual donors and gala attendees -- so those three, that's the community support that comes to the museum," Maus continued.
"So we're creating an annual fund that's going to make the museum a free museum. What that means is it's not just a good party. It's a party that does a lot of good."
IF YOU GO
Spring Gala: Garden Galore
Saturday, May 6, 7pm-midnight
Plains Art Museum, 704 1st Ave N, Fargo