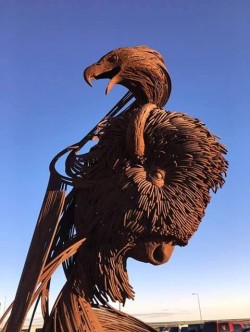 This year marks the 50th anniversary of the North Dakota Governor's Awards for the Arts. Recipients of this year's awards include a wide range of different artists working in a variety of different methods of expression. A reception and ceremony will be held in Bismarck on March 28.
Recipients of the Governor's Awards are Paul Noot of Bismarck for Arts in Education, The Arts Partnership in Fargo for Arts Organizations, and Deb Belquist of New Rockford, Bennett Brien of Belcourt, and John Offutt of Fargo for awards in Individual Achievement.
Before becoming an art teacher at Bismarck High School, Paul Noot worked at the North Dakota Museum of Art at UND. There, he founded the Child-Parent Workshops, allowing children and their parents to make art together in the museum galleries.
Noot mainly works through painting, but also enjoys drawing and ceramic sculpture, though as a teacher he emphasizes the importance of being diverse in all media.
Noot is always sure to allow his personal pursuits as an artist to intersect with his work as a teacher, and encourages students to continue to be creative even if they don't make art their focus.
"I believe that art teachers should practice their craft and inspire students by example. I usually have some piece at school that I am working on so they can see first hand what I am doing. I often humor my students by telling them I steal their ideas and make them my own. We talk about how artists influence each other and inspire each other. I always tell them to follow their passions and they will succeed in their goals. Even if they do not chose art as a career, they can still make art on the side or a hobby."
Noot believes that demonstrating one's passion for art is important when it comes to teaching, and asks that anyone thinking about teaching art keep that in mind.
"My advice for young educators is to believe in yourself and students. Be a motivator and innovator, lead by example and be passionate to your art and the young people. It is also important to keep yourself current on trends and what is happening in the education and art world."
The Arts Partnership in Fargo represents over 150 non-profit arts-related businesses and artists and seeks to cultivate arts in the community through communication, networking opportunities, arts advocacy and grant distribution.
Dayna Del Val is the Executive Director of the Arts Partnership. One thing that she thinks has allowed the organization to stand out is its annual Chalkfest where community members and artists come together to engage in chalk drawing. Around 5,500 people attended last year's ChalkFest, growing from the 3,000 attendees in 2015.
Another way The Arts Partnership has proven itself is with the Fargo APT arts incubator created with the help of the Kilbourne Group. "It's the only one of its kind in the state," said Del Val. "It's a two year opportunity for us to see what happens when you create a community of artists inside a space, and you bring the larger community in to collide with the arts. For example, we had a big event a few weeks ago called Pastry Palooza, where we did a big family style breakfast. The artists opened up their studios and people got to come and eat and meet artists. Some of the artists had projects that people could work on, so they got to make some art, they got to see some art, they got to eat some art and they got to buy some art if they wanted to."
The Arts Partnership plans to continue to advocate for the arts in Fargo with plenty of upcoming events, such as Pi Day on March 14. While the event is named after the commonly-known non-repeating mathematical constant, it is also very much about allowing community members to enjoy actual pie.
Deb Belquist is being recognized for her achievements in theatre. Much of her work has been with the Dakota Prairie Regional Center for the Arts in New Rockford. She has been directing for over 25 years, and has by now directed over 100 shows.
Belquist is inspired by the reactions of her show's patrons, not just to what's on stage, but to the warm atmosphere she works to create among the crowd. She does whatever she can to push for an excellent theatre experience.
"It's been one of our goals, when people come to our shows, that they feel welcomed and hugged and that they feel that it's a unique experience. Sometimes we provide food -- we do all sorts of things to make the experience really top-notch."
One of Belquist's favorite experiences with directing so far has been her most recent production of "Life Could Be a Dream."
"People just loved the show. It was a cute little story, and was purely entertainment. Of course, that music genre is really well known by the people that go to theatre nowadays, the people that are real patrons of the theatre, and it just hit their pleasure zone and was total entertainment."
Belquist has advice for both up-and-coming young actors and for anyone hoping to pursue directing specifically.
"Be well-rounded. Sing, dance, be a triple threat, because I think that that's where the jobs are. Make yourself versatile. Being in the profession is difficult and that's why you find most actors doing side jobs that allow them to audition and perform. It's a pretty tough business and it's not a great paying job, unless you make it big time. I think being versatile is important. As far as directing, I think having some education is important. You can't just be a director, there's a process, and having that education is good."
Bennett Brien's focus was originally on drawing, which he began engaging in at six years old. In college, Brien discovered sculpting using metal rebar and has since produced several life-sized works inspired by nature, including a bison, a stallion and an eagle.
Many of Brien's sculptures take over a year to create, but the incredibly detailed and lifelike results are worth the effort. Before settling on rebar as a medium, Brien considered using plaster, wood and ceramics.
Much of Brien's inspiration comes from his Native American background. "I always just liked Native imagery, from my people, growing up; Seeing pow-wows when I was a kid, then you've got Métis, that's the jigging and fiddling, so that kind of influenced me."
While growing up, Bennett admired Native American artists such as Paul Warcloud Grant and Oscar Howe. "I went to college out of high school in Grand Forks, and I saw an Oscar Howe painting hanging right beside a Rembrandt painting on this art train that came through town. And that just stoked my fire, man -- a Sioux painter, you know, full-blood Sioux painter, hanging out with Rembrandt."
Jon Offutt enjoys glassblowing for the freedom it affords him. He is able to work from his studio at home, and has enough free time to also fit in working as a director for the Fargo Moorhead Visual Arts Studio Crawl.
However glassblowing, like any creative trade, is not without its challenges. It takes a lot of money to maintain the studio, so Offutt has to create a lot of output to continue to engage in the craft that he loves. He estimates that he makes 2,000 glass ornaments and 500 vessels each year.
Offutt has also found that, at least in North Dakota, there isn't a lot of competition for glassblowing. While this is good for business, it also means that he has to work extra hard to educate people about his work and foster an appreciation for glass in his neighbors.
"I'm not the big fish in the pond, I'm the fish in the pond. Since there's not a lot of competition up here, there's not a lot of appreciation, either. They haven't been exposed to it. That's one reason I built a whole glass studio on a trail, and I go around and do demonstrations of the process. In order to have meaning, you have to have an audience. To have somebody singing, you have to have somebody listening."
Offutt says that a lack of financial security and lack of a glassblowing community doesn't necessarily diminish the other rewards that glassblowing affords him. "I get to be creative and respond to what I made yesterday every morning. I have to choose what I make every morning, and I'm looking at what I made the day before to make those decisions. It's personally really satisfying."
Attendees of the Governor's Award reception (and even those not in attendance) are encouraged to have a legislator come to the event by sponsoring them, in order to get state officials even more involved in recognition of the arts.
In a time where arts appreciation is more important than ever, North Dakota is proving that its priorities are in order. This year's group of recipients shows that the state values art in its many forms, and will no doubt continue to support the arts for years to come.
IF YOU GO
Governor's Award Reception
Tuesday, March 28, 5pm
ND State Museum, 612 E Boulevard Ave, Bismarck
http://www.nd.gov/arts/programs/governors-award-for-arts