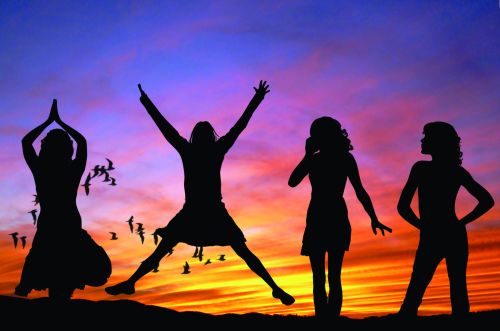 hanhe@mnstate.edu
There are a variety of types of events and groups in our communities that encourage and support women. Robin Swanson, organizer of Her Story, wanted to create another special event for herself and other women. "I was hungering for something that was really authentic-feeling; kind of like a bunch of girlfriends sitting around in a comfortable space and sharing from their hearts and gut," and, "With all due respect, I hadn't experienced this level of sincerity and intimacy at the other events."
Swanson was not alone in developing the event and making it come true. She explained, "I asked a few fabulous women I know if they would be willing to help grow my brainchild. I selected these women strategically; an extrovert, an introvert, a 20 something, a 60 something. Teresa Lewis, Karen Skjold, Marilyn McMurray, JoAnn Fazekas, Alison Monke, Andrea Paradis, and Linda Johansen."
Swanson explained the purpose of Her Story. "This is for women. The Women who 'get it,' realize that even if the story doesn't resonate with THEM, personally, it may with a client or colleague with whom they meet or work. They now have a resource in the community on whom they could call, if an experience would arise for them or for a person in their world.
She added that, "I do have 'His Story' registered with the State of ND and have had a couple requests by men to do the same for them."
Her Story started in September 2015, and it has been settled as a monthly meeting for women. The event is held 11 months of the year, except July. Event proceeds are donated to the storyteller's charity of choice. Stories are Labels, Forgiveness, Leadership, Recovery, Best Day Ever, Defiant, and Forgetting.
Swanson provided the format of Her Story: "There is no lunch served as I want as few distractions as possible. We serve a sparkling cider or sparkling water in fluted glasses, some sort of treat and often there is a small give-away."
"Attendees are escorted to a table based on their answer to a question which pertains to the storyteller's topic, which we ask at the door.
We only seat five people at each table. We don't want anyone's back to the front AND we want there to be time for each person to contribute at their table.
Women are given an 'insert/chapter' for their storybooks, each time they attend. I've included one as an attachment. The book grows as people attend.
At 11:11 AM, we welcome everyone and share a short bit about who we are and our purpose. There is one minute of silence, to leave the outside world behind; eleven minutes of 'connecting' as each table discusses a question the storyteller has provided; twenty-two minutes by the storyteller; eleven minutes of 'connecting' as each table discusses a second question provided by the storyteller; announcement of the next event and who will receive the charitable donation; one minute of silence before we go back out into the world.
The entire event finishes at 12:41 or thereabouts.
One of attendees, Andrea M. Berg, was impressed and shared her feeling. "I was blown away. This is truly a 'connection' rather than a networking event and that is one of the things I LOVE about it. Kathy Llewellyn's talk on 'Labels' was simply amazing – the conversation we had at our table; the challenge to embrace, respect, and honor our labels. I know it sounds cheesy, but this day was life-changing for me."
IF YOU GO
Her Story: December Panel Event
Tuesday, December 12, 11:11am-12:41pm
Boy Scouts of America, 4200 19th Ave S, Fargo
Tickets: $22, eventbrite.com