Holiday Art Market opens at APT, a creative incubator Saturday
by HPR Contributor | .(JavaScript must be enabled to view this email address) | Arts | November 24th, 2017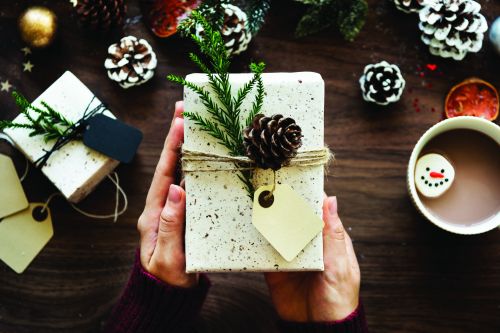 By Lauren Richardson
lrichar3@cord.edu
Despite the temperatures outside, warm memories are made every year when it comes time to shop for the holidays, and this season you can make gift shopping fun while supporting local art in the process, at the APT Holiday Art Market, opening November 25 at 225 4th Avenue North in Downtown Fargo.
The APT Holiday Art Market, hosted by The Arts Partnership, is open to the public 4:30-8pm Thursdays and 10am-2pm Saturdays, from November 25 to January 6 (except for Dec. 23, 28 and 30).
At the market, community members of all ages are invited to shop from APT studio artists and other area artists, listen to live music, grab coffee with friends or even create art of their own.
Each week of the market brings different experiences and activities. For example, on the first day of the market on Small Business Saturday, attendees can enjoy Christmas carols by the F-M Choral Artists, explore a Livewire Winter Wonderland light show, eat goodies by pastry chef Nancy Olson, or drink Stumbeanos coffee while they shop.
The Arts Partnership President and CEO Dayna Del Val says Thursdays are more for "grown-up" activities (hint: there's wine); and Saturdays are more family-friendly, with art and craft activities for children -- but anyone is welcome any day the market is open!
"It's such a treat for us to have a physical space to showcase the arts in this new way," says Del Val.
Other activities going on at the market are a mindfulness workshop from Susie Ekberg Risher (November 30), a make your own gift wrap station (December 9), a private cooking class with Nancy Olson (December 14), a fancy dress-up party (December 16) and much more in addition to the art market.
The Arts Partnership is also doing a special market for families with members on the autism spectrum, from 3 to 4:15pm on December 16.
A full list of participating artists and activities planned is available at aptartmarket.com.
"We are thrilled to be providing this platform to the community and look forward to meeting many new people from inside and out of the metro through the arts," Del Val says.
APT, a Creative Incubator in Downtown Fargo is space for the thriving local art scene, owned by Kilbourne Group and operated by The Arts Partnership. This includes studio spaces, gallery walls and rental spaces for art workshops, classes, rehearsals, performances and more. For more information on APT, visit theartspartnership.net/apt.