​Holiday Art Sale by the Fargo-Moorhead Visual Artists
by Birgit Pruess | .(JavaScript must be enabled to view this email address) | Arts | November 8th, 2017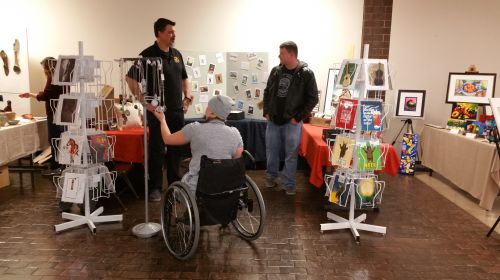 Would you like to escape your stressful daily life with a relaxing arts event? Do you like to meet with old friends and make new ones? Or maybe you would like to start your Christmas and Holiday shopping early. FMVA has the event for you.
Visit the Holiday Art Sale by the Fargo Moorhead Visual Artists at the Moorhead Center Mall this Veteran's Day weekend. They are open from 10 am to 5 pm on Saturday, November 11 and from noon to 5 pm on Sunday, November 12. 22 artists will take you on an exciting tour through the two-dimension and three-dimension landscape of the visual arts, to include watercolor/acrylics/oil painting, photography, ceramics, glass, jewelry, and much more.
The price range is similarly broad, to address the diverse needs of their customers. You will be able to talk to the artists. Some may have demonstrations or be willing to create a custom-made piece to the individual's specifications.
Sometimes people wonder why the arts are important. Others ask me, personally, "What is a scientist doing in the arts?"
There was a time in my life when I came to the conclusion that spending close to 24 hours a day thinking about work was not the life I could envision for the years and decades to come. I began to engage in the arts as a way to generate balance in my life. I have been a very happy hobby artist since and started to share this happiness with friends and neighbors.
The Holiday Arts Sale is a platform where the best visual artists of the Fargo-Moorhead area come together to share their creativity with you. If you buy a piece of art from a local, you purchase a piece of the heart and the soul they put into it. In addition, you support one of your neighbors, and often someone who is already your friend. You may make new friends. Or you may find an inspiration, something you are willing to try in your own home, having seen that it can work.
If you are interested in this organization, the Fargo-Moorhead Visual Artists (FMVA) are a non-profit organization which provides opportunities for the community to gain exposure to local artists; and promotes a culture of having more fun with art through social engagements.
We do all this through numerous events throughout the calendar year, organized and run by volunteers. For more information, we have a brand new website at https://fmva.org/. We will also have a membership table at the Holiday Arts Sale where you can talk to us about opportunities for involvement.
Artists: Char-Marie Flood, Barbara Benda Nagle, Barry Kutzer, Connie Riedman, Brenda Luthi, Prairie Pauls (Theresa and Don), Birgit Pruess, Trygve Olson, Elizabeth Schwankl, Gordon Court, Judi Koehmstedt, Michelle Sailer, Dennis Krull, Debra Griffey, Jon Offutt, Ashley Nordberg, Sean Coffman, Cheryl Cassman, Britt Dalice, Bruce Crummy, Bracken Rourke.
Sponsors: North Dakota Council of the Arts, The Arts Partnership
IF YOU GO
FMVA Holiday Art Sale
Sat, Nov 11, 10am-5pm; Sun, Nov 12, 12-5 pm
Moorhead Center Mall, 510 Center Ave, Moorhead