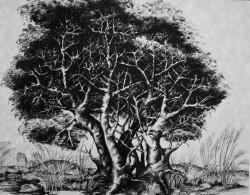 Art is complicated. It is not only about drawing or painting, but of putting the soul into the artworks. In a variety of art forms, the maker can fix it until it satisfies them.
Rarely, with ink drawings, can you go back to fix your piece. Ink drawing artist Milena Marinov called the form "a very unforgiving medium." She picked up this fact as her most challenging part in creating art; there is no going back in ink drawings. "You cannot erase it and it takes a lot of time and patience. But I love the purity of it – like black and white photography – it is not chatty!"
Marinov selected ink as her medium because she used to study ink drawings when she was a student. For some reason, she had forgotten about this art form but one of her friends recently sent her an article about calligraphy -- also using ink -- and it reminded her.
For now, Marinov is working with oil – nudes, seascapes, or any other kinds that captivate her. Marinov believes that artists need to have their clear intentions, purposes, and ways how the artworks would be expressed through their art, "You need to have something to tell and you need to find a way to express your visions and ideas through your art in a way that excites and engages others. At its best, it is a dialogue between the audience and the artist."
"No special circumstances brought me to art – it is just me. Everyone tries to find their place in life and this is mine."
Marinov uses iconography as medium as well. She explained that "Ink drawings and iconography are very old mediums, and popular in classical times. Iconography literally started with Christianity and it has changed very little over time. It is a conservative and dogmatic art form. Ink drawings have much more freedom of expression – not dictated by canons or strict rules of religious art."
She is inspired by religious art, the Bulgarian heritage, and Elena Kanterva, who was her friend, neighbor, and colleague. Especially, Kanterva has an influence on Marinov's iconography.
Before Marinov met Kanterva, she had focused on graphic art. Marinov said, "She was a talented artist and she shared her experience and knowledge of icons with me."
Marinov was an artist in residence at the National Institute of Cultural Heritage for a decade. She has restored original frescos and icons in synagogues, churches, mosques, public buildings, houses, and ancient tombs.
Marinov remembers those times as the happiest of her career. She worked with teams of artists and archeologists, "it was very exciting to be part of revealing beautiful frescos, sometimes multiple layers of them that had not been seen by anyone for hundreds of years, and "Each project was different, the process of rediscovering a hidden fresco or icon, often blackened by soot and restoring and preserving. It was very gratifying. The restoration and preservation of such beautiful art made us feel like warriors in a fight against destruction brought on by time and vandalism."
For years, Marinov has worked on history that cannot be changed, like her ink drawings. She will have an exhibit called "Roots" at the Spirit Room. The exhibition is from April 18 through June 2, in Gallery II. Come and view her fascinating artworks.
YOU SHOULD KNOW
Milena Marinov: 'Roots' Reception and artist talk
Thursday, April 27, 7pm
The Spirit Room, 111 Broadway N, Fargo