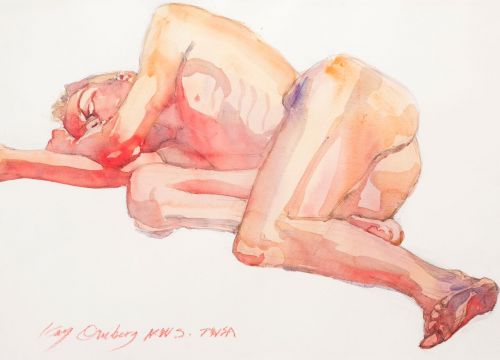 "With the human figure, it would be capturing the figure with a medium (watercolor) that is very difficult to control," Kay Ornberg said.
"The Human Figure and My Rural Surroundings," an exhibition of watercolor paintings by Kay Ornberg, will open on Sunday March 25, from 1:30 to 3:30pm at the Rourke Art Museum. Admission fee is free, and it is open to public. Ornberg's gallery talk will start at 2pm.
Ornberg started with oils and acrylics for her first journey as an artist and then switched to watercolor, as that medium was "safer with children." She explained it was also new and challenging to her. With the medium, Ornberg is featuring "The Human Figure and My Rural Surroundings" at the Rourke Art Museum.
Ornberg explained why she decided to choose a human figure theme this time. "The human form was the last challenge for me as a subject matter. I was offered the opportunity to paint human models by Carl Oltvedt, who was teaching life drawing classes at MSUM. The photographs in this show are of my beautiful rural setting."
Ornberg has been dreaming of being an artist since she was little. "My father was very interested in art and used to draw cartoons on the back of envelopes," and that is when she decided to become an artist.
"When I was in preschool, my parents enrolled me in an art class. In first grade, my English teacher scolded me for drawing in the margins of my papers. In Junior High, I had the choice between home economics and art, so I took art. From then, I took as many art classes as I could. I enrolled at Concordia, the only college at the time to offer an art major."
Over the years, her painting style has changed. "I switched from painting still life in college and added in landscapes, and then painted flowers, as my father had an Irish nursery. From there, I went to human figure. In between all that I added in Kaleidoscope/repeated images, both floral and form; and also airbrush work. My painting style continues to evolve."
While establishing herself as an artist, Ornberg has been through all the challenges. "Copying what the human subject looked like, by controlling the watercolor and showing the medium's capabilities. My whole life seems to have dealt with art from our beautiful surroundings. I have traveled all over the US painting and photographing the beautiful scenery."
Ornberg was also selected to display several of her artworks in the National Watercolor Society Exhibition in California, one of which was chosen to be in their archives.
YOU SHOULD KNOW
The Human Figure and My Rural Surroundings
Through May 6, Friday, Saturday, and Sunday, 1-5pm
Rourke Art Museum, 521 Main Ave, Moorhead