​Living legend
by Jacinta Macheel Zens | .(JavaScript must be enabled to view this email address) | Arts | July 12th, 2017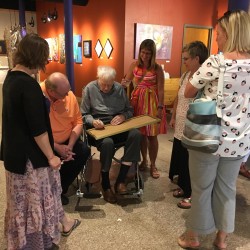 At 94 years old, acclaimed regional printmaker Charles Beck continues to work on artworks every day. Although he has had to stop his daily printmaking practice and now lives in a nursing home, Beck has not been detoured from continuing to create art.
Instead of printmaking, Beck now uses acrylic paint and ink to create colorful images of nature that are inspired by his memories of places in Otter Tail County and the Red River Valley.
Before his stroke several years ago, Beck would routinely drive around the winding, hilly roads that crisscross throughout Otter Tail County. These back roads provide breathtaking views of the landscape around every bend, as anyone who has been to Otter Tail County can attest. Charles relies on his memories of those countless county highway drives for his creative inspiration.
Born in Fergus Falls in 1923, Beck knew early on that he wanted to be a professional artist. From a young age, Beck would spend innumerable hours drawing cowboys and Indians. This love of drawing is what led him to pursue his career in art.
After graduating from high school, Beck joined the Navy where he served as a fighter pilot in WWII. After the Navy, Beck took advantage of the GI bill and went to Concordia College, where he studied under American regionalist painter Cyrus Running. Running exposed Beck to the concepts and practices of the American Regional modern art movement, in which regional landscapes were used as subject matter for artworks. After his time at Concordia, Beck went to the University of Iowa where he received his MFA.
Unlike other artists of the era who flocked to New York to be part of the international art scene, Beck returned to Fergus Falls to continue his art practice there. He began work as sign painter upon returning home. Due to a lack of art gallery space in Fergus Falls, Beck would hang his fine art paintings on the walls of his sign painting studio to create a gallery of works for visitors to see.
After several years of experimenting with different styles of painting, Beck felt that he had reached a point where he could no longer evolve as a painter without further training. He then did postgraduate study at the University of Minnesota. There he worked with Post-Impressionist landscape painter Cameron Booth, surrealist illustrator and painter Walter Quirtand,and master printmaker Malcolm Myers.
It was at this time that Beck began to produce his first woodcut prints. He amalgamated all of the styles and techniques that he learned from all of his art teachers and began to produce the modern abstractionist prints that he is now widely known for.
Around this time Beck began work as a part-time art instructor at the Fergus Falls Community College (FFCC) where he worked for nearly 30 years. One of Beck's legacies is his time at FFCC where he taught classes to regional artists such as painters Chuck Christianson and Scott Gundvaldson. The classes he taught ranged from art history to hand lettering.
I was able to speak with Gundvaldson about his relationship with Beck and it was clear to me that he and Beck are still very close. Scott visits Charles regularly in the nursing home and talks to him weekly.
When speaking with Scott about his relationship with Beck, he is quick to tell you one story after another about humorous antics the two would share. After speaking with Scott for a while, it was clear to see why he once told the HPR that, "Charlie has been my teacher, mentor, and friend for 45 years. It's not out of line to call him my artistic father. When someone compliments me on my own art, they should really be thanking Charles Beck."
Reverence for Beck is not something that is relegated to his former students. His works have been shown at galleries from the Plains Art Museum in Fargo to the Metropolitan Museum of Art in New York He has sold work to patrons around the globe and continues to sell work through the various galleries nationally.
Beck is widely considered to be of the "godfathers" of the Arts in the region. Fergus Falls has grown to be a town that puts great importance on the arts thanks in no small part to the influence of Beck. Fergus has multiple arts organizations including the only satellite office outside the Cities of the St. Paul non-profit Springboard for the Arts -- an economic and community development organization for artists and by artists.
Fergus Falls also houses the Lake Region Arts Council, which is the largest arts granting institution in the region, the Fergus Falls Center for the Arts which hosts performing art series in a revamped theatre, in addition to the Kaddatz Gallery.
The Kaddatz Gallery's mission is to foster visual arts education and appreciation, and to maintain a gallery that celebrates the work of area artists and honors the legacy of Charles Beck. You can ask anyone in the Fergus Falls art community how they were able to build such an art-centric town and everyone will tell you that Fergus Falls would not be where it is today without the foundations that Charles Beck created. His legacy lives on in all of the arts programming coming out of Fergus Falls, just as much as it does in each of his works.
Beck greatly influenced the art scene in Fargo-Moorhead as well. Art patron James O'Rourke and Charles Beck were close friends and collaborators for many years.
The Rourke Art Museum has published several books on Beck's work and has several pieces of his work in their permanent collection.
The Plains Art Museum held an exhibition of his work in 2012 which honored his life as a regional creative catalyst and also has several of Beck's pieces in their permanent collection.
To see Beck's newest works, visit Kaddatz Gallery in Fergus Falls. An exhibition of his newest works runs through July 31st. For more information about the exhibit, please contact the Kaddatz Galleries at 218-998-4405.