​Local designers collaborate to create Fargo tribute
by Marisa Jackels | .(JavaScript must be enabled to view this email address) | Arts | February 15th, 2017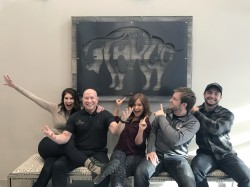 Before Dak the Bison was adorning the walls of local shops, he was a rough sketch on a pad of paper. Kayla Cote van Rensburg, a designer who started Cote Creative LLC, was brainstorming her next piece. As a Minot native who moved to Fargo and fell in love, she wanted it to be an elegant homage to her new home.
So, she took the most Fargo thing she could think of -- a picture of a Bison -- and designed the word "Fargo" to fill the shape. It worked.
"I just had that good gut feeling that I was onto something," Cote van Rensburg said.
The bison design, christened "Dak" by a Facebook name contest, now needed a way to come to life. Inspiration hit when Cote van Rensburg saw a steel-wood composition done by Grain Designs.
Grain Designs is a local company that specializes in reclaimed wood furniture, home goods and art. Grant Koenig of the Grain Designs team said they have been recently looking to collaborate with other local artists.
"This community has so much talent," Koenig said. "The more we can help get that out, the better."
When Cote van Rensburg approached them with Dak the Bison design, they saw it as the perfect ode to Fargo. The challenge, then, was turning a 2D design into a 3D composition. What resulted was a multi-dimensional art piece made of hot rolled steel and reclaimed cedar with a white wash.
Both Cote van Rensburg and Grain Designs expressed that as artists in different mediums, collaboration is a perfect opportunity for growth. And, they added, the Fargo community is a particularly friendly place to build those collaborations.
"It's the creative exploration," said Grain Designs' Blain Mikkonen. "You grow whenever you have conversation with other artists in the community."
Dak made his first debut at Altaire Medical Spa, after owner Rick Schue fell in love with the piece. He had the first and largest Dak the Bison installed in the entryway of their new company building, which was built last September. Other local artists, such as Dan Francis Photography, decorate the walls of the spa.
"People here sometimes think that they have to go a special place to buy quality art," Schue said. "But local talent is amazing." He and Cote van Rensburg share a similar dream to support local art. As Cote van Rensburg continues to build her studio and make a life in Fargo, the success of Dak the Bison has only inspired her to continue in that mission. "I want to fill the walls of Fargo with good design," she said.