​Make room for lost arts at Make Room
by Sabrina Hornung | .(JavaScript must be enabled to view this email address) | Arts | November 30th, 2016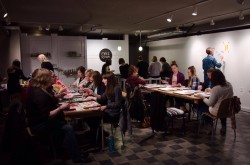 "Make Room has seen a resurgence in the lost arts. There are a few reasons people come to us with the need to create. One catalyst for the revival of dying skills is the disconnect between the products we buy and how they were made." says Chelsea Thorson, owner and director of Make Room Gallery in Fargo. "There's something comforting about knowing exactly where a handmade item came from and how it was created."
Make Room Gallery will be presenting a "Lost Arts Workshop Series". According to Thorson, Make Room has been communicating with the guest instructors for the past month, but the thought has been there for nearly a year. Topics and activities covered will include lefse making, using natural dyes, making cold-process soap; and countertop fermentation, in which participants will learn to make old-fashioned brined lacto-fermented pickled vegetables, courtesy of guest instructor Joleen Baker--who learned the process so she could preserve the fruits (and veggies) of her labor from her organic farm.
Crystal Nicklay is a local herbalist and will be leading a class on basic herbal medicine. To accumulate the herbs she uses, she either forages or grows her own. She has been growing and studying them for nearly 14 years. Her fascination blossomed once she started working at Swanson Health. Her first plant creation happened when she was 10 years old, when she used the leaves from her grandmother's lilac bush in a recipe sourced from a book found at the local library.
" I have been making my own tinctures for several years now and this past spring I took a class on Herbal Medicine Making through Chestnut School of Herbs." Nicklay says. She adds that making a tincture is one of the easiest things a person can do."Tinctures are great because they are easy to take, absorb quickly and are also easy to transport."
During her workshop, participants will learn to make a Holy Basil tincture.
"Holy Basil, also known as Tulsi, is a sacred plant from India. It is an adaptogenic herb that helps to bring balance by reducing the effects of physical and psychological stress," Nicklay says. "I also really love Holy Basil for immune balance, digestive support and energy."
"Make Room is all about connecting the community through creativity. Often, the skills highlighted in this series were the type to be passed down generation to generation within families. It would be common household knowledge to use local plants as medicine, or to render soap from resources on the homestead." Thorson continues, "Make Room curated The Lost Arts Workshop Series to create a way for these skills to continue on to the next group of makers."
YOU SHOULD KNOW:
Classes start December 5
Register at: www.makeroomfargo.com