​Makers making a mark: seven years of Unglued Craft Fest
by Brittney Goodman | .(JavaScript must be enabled to view this email address) | Arts | February 22nd, 2017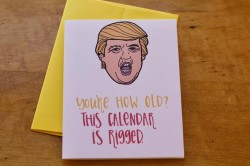 On February 24- 25, Unglued Craft Fest returns to the Plains Art Museum in Fargo for its 7th annual event, to give us all a chance to see, touch, enjoy and purchase items from local, regional and national makers while enjoying local beer, food and music.
This year promises the return of some old favorites and the addition of many new artists and makers.
As in years' past, Friday, February 24 is a Craft Gala from 5-9 pm, which is a sneak preview with special perks and a $25 in advance, $35 at the door ticket cost. The ticket price gets Craft Gala goers live jazz, appetizer and dessert bits from Chef's Table Catering, a drink ticket, $5 in "Unglued Cash" and printmaking. Then, on Saturday, from 9 am until 4 pm the fest is free and open to the public. At both events there are 70 vendor booths with a variety of handmade items.
New products being featured include fish leather wallets, natural cork clutches, clay monsters, plaid kimono wraps, dog collars, succulents, hoop wall hangings, beer flight paddles, mini cupcakes and extra snarky greeting cards.
Returning features of the Fest include the Young Maker's Market, highlighting eight makers ages 13 and under. The popular Craft Beer Garden will include three local breweries, fresh flowers, gourmet hot dogs and a new Pop Art Coloring Lounge.
Ashley Morken
The founder and director of Unglued Craft Fest, is proud of this year's Craft Fest offerings. On Saturday, Ashley wanted to get people to explore the whole Fest, as it has expanded into the Center for Creativity, so a scavenger hunt was designed.
"We really wanted to find unique ways to help attendees explore the entire Fest and also the museum galleries. So this year we are trying out a scavenger hunt for both kids and adult to find up to 15 areas or items from places inside the museum galleries (which are free to walk through during the Fest on Saturday!), vendor items, our selfie booth and more. They can grab these at our info booths and turn them in at the main info booth by the end of the Fest for a prize."
Let there be music! On Friday night at the Gala, live jazz is provided by a line-up headed by Nike Gruber from Gruber Guitars. On Saturday at 11am, The Shuttles perform and at 2pm The Cropdusters take the stage.
And now for the heart of the event -- the 70 vendors at the Fest. Ashley explains that each year makers apply to the Fest regardless if they are returning makers. She adds, "Returning vendors are required to snow 'newness,' progress or growth in their work for our jury to see. This means that a majority of booths will have all kinds of new products."
Thirty of the seventy vendors are new and some are traveling from Kentucky, Missouri, South Dakota and Wisconsin, although the largest contingency is local. Ashley elaborates: "We hear from a lot of returning vendors that it's our Fest (and applying for it) that motivates and inspires them to pursue this growth and progress in their handmade business and art, which is really exciting to hear. We now even hear about attendees scheduling their winter vacations around this weekend!!"
Lori Ferguson
Lori, with "B. Gatsby," is making her first appearance at Unglued Craft Fest. B. Gatsby makes and sells a "line of hand screen printed apparel for both children and adults," according to Lori. "All of the designs I create are inspired by my three-year-old son, our baby girl on the way and all of the hardworking moms out there," she explains.
She began making clothing because when she was pregnant she was "beyond frustrated" with "the lack of gender-neutral clothing" and was "tired of feeling forced to buy yellow duck-printed baby items." She named the company after "our sweet baby boy, Beau Gatsby."
Lori's focus is on creating "gender-neutral, fun, high-quality clothing for every child." Lori stresses that the children's clothing is "super comfortable" but also very fashionable and will make your child "stand out from the crowd." B. Gatsby's adult shirts are geared towards moms who "want to be stylish and show off their personalities with fun sayings on insanely comfortable tees."
Lori is relatively new to Fargo and is excited to be a part of Unglued Craft Fest, saying the people behind it were "unbelievably welcoming" and that she is "truly excited to dive head first into all of the shows and events" in Fargo that she can manage.
You can see more about B. Gatsby at http://www.bgatsby.com and you can also find her items on Facebook, Instagram and Etsy.
Keli Spanier
Keli traveled all the way from Kentucky, near Cincinnati, to bring her "super snarky greeting cards" to Unglued Craft Fest. Keli Spanier with Colette Paperie is a returning vendor who many people have asked to come back to the Fest.
Keli says that Colette Paperie has been "making snarky greeting cards for over nine years" and "likes to think they keep getting better." Colette Paperie has over 300 designs that come from the "plethora of comedic relief ideas out there," particularly with the current President, says Keli. Donald Trump is frequently featured on her cards.
Keli lives with her husband and two "adorable fart-knocking stepdaughters" whom she hopes to bring into this fun business. She also does custom calligraphy and says she is "obsessed with hand lettering." She designs, cuts out, folds and packages every single card by hand.
You can see more of Colette Paperie on Instagram at Instagram.com/colettepaperie and Facebook.
Pam and Joe Manthei
Joe and Pam of Mora, Minnesota, are first-time Festers bringing their fish leather products to Fargo. They heard about Unglued and thought it was a good fit for the slower winter months and was a good creative match. Joe thought Unglued Craft Fest sounded both "edgy" and "outside-the-box" and especially fun, so they applied and were accepted.
Joe says he enjoys "the challenge of plotting and designing something on paper and transferring that idea to fish leather and then creating it with my own hands." He hand-stitches all of his products. If you are lucky, when you stop by the booth, he will demonstrate his hand-stitching: "It is intriguing for customers and generates interest and questions." He says that fish leather is "very strong" and he enjoys creating things like wallets that "last a lifetime:" "it is very satisfying." The fish leather wallets are a very popular product.
Pam likes creating things that are "practical and beautiful." The discovery of fish leather as a medium is a welcome challenge for her. She designs her own products, does not follow a pattern: "I have gone beyond those limitations." Pam adds, "One of my great joys is seeing people get a vision for the product and how they would use it in their own studio or home. I expect people will go beyond where I've gone."
You can see more about Fiskur Leather at: http://www.fiskurleather.com
IF YOU GO
Unglued Craft Gala and Unglued Craft Fest
February 24 5-9pm; February 25, 9am–4pm
Plains Art Museum, 704 1st Avenue N, Fargo
Craft Gala: $25 advance/$35 door; Craft Fest is free.
WEB: http://www.ungluedmarket.com/fest
Ashley Morken, ungluedcraftfest@gmail.com