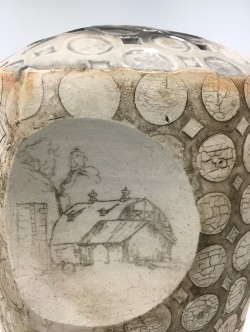 She has been studying painting, printmaking, and ceramics throughout her academic journey and has become an amazing ceramic artist. Megan Mitchell, ceramic artist, is having a gallery talk at the Plains Art Museum in Fargo.
While growing up, she enjoyed creating artworks but she did not consider herself an artist because she thought she was not talented in the field. But, making art challenged her and made her curious about what she was capable of and what was around the next corner. The sense of curiosity and adventure that has kept her in arts made today's Megan Mitchell what she is.
Megan is inspired by landscapes, architecture, and interior décor, including furniture and textiles. She makes both functional and sculptural ceramics and applies printmaking processes to ceramic surfaces that have a layering of patterning, texture, and imagery.
Megan is currently ready for this exhibition with a new piece that is a series of five hand-built fragments which together form a larger piece. Megan said, "It is an incredibly versatile and sensitive material. It has a responsiveness that makes it often feel like an active participant in the making process."
Megan majored in printmaking and painting as an undergraduate, and her interest in ceramics brought her into the field as a graduate student. She recalled the experience of participating in a wood firing that caught her attention.
"Certainly there is a level of risk involved, particularly in the firing process. One can invest a huge amount of time and effort into a piece, only to have disaster strike in the firing. It has happened to me. It is frustrating, but it helps to try to see it as a learning experience." She mentioned that the key elements in creating good ceramics artwork are time, effort, and risk. She believes that understanding the nuance of ceramic material requires a significant investment of time.
Megan's art style has been changing slowly over the years and is expressed through different forms. She loves to explore different processes and techniques. Her creative process comes from the act of making.
"If I am outside of the studio and try to brainstorm, inevitably very little actually happens. Once I get started on something, then a dialogue begins and more ideas come forward. It is often hard for me to remember where specific ideas come from because they seem to organically manifest while I am in the studio. I do however frequently take photographs and use these in the studio."
Megan conveys a feeling of both intimacy and spaciousness in her ceramics. She created the intersection between conflicting feelings or spaces such as inside and outside or public and private through the forms and surface.
"In my own life, I have often faced tension between freedom and belonging. My hope is that viewers can find the space for the contemplation and possible reconciliation of these ideas." She expects the gallery talk will open up a path of dialogue between the viewers and her works, "My work is fairly quiet, but I believe it provides room for discovery."
The gallery talk is on March 9 at the Plains Art Museum from 6pm to 7pm. The admission is free and open to the public. Apart from this exhibition, Megan will have work on display in August at the Peninsula School of Art in Door County.
The Plains Art exhibition and gallery talk will be a great chance to get to know her art close-up.
YOU SHOULD KNOW
Gallery Talk with Megan Mitchell
Thursday March 9, 6–7 pm
Plains Art Museum, 704 1st Ave N, Fargo