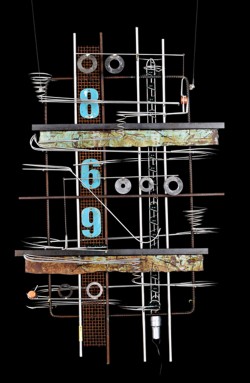 The Rourke Art Gallery Museum is pleased to announce two artists, Jeffrey Zachmann and Carl Zachmann. They are holding an exhibition of kinetic sculpture.
Jeffrey and Carl collected their childhood memories, adulthood curiosities, and recreated them as visible art work. Jeffrey and Carl's work is not only about creativity: their actual lives are melted down into each piece of sculpture. In this exhibition, we can time travel into their lives and appreciate how one's life would become such an amazing piece of artwork.
Jeffrey's artistic journey began when he was eight years old. He would climb a large pile of dirt in a construction area with curiosity, and started making kinetic devices from anything he could find in the area, such as hoses, cardboard, and boards.
Jeffrey's sculptures stem from his love of old metal. He loves the patina of old metal that comes from sun, rain, abrasion, and fire. The look of painted metal that only natural weathering can achieve. He tends to make people look at a smaller piece of metal because the juxtaposition of the new and old metal highlights the age and patina. He is fascinated by how his art naturally flows in its way and sees how it doesn't develop from a specific condition.
"If it was an identifiable object, they tend to just identify the object and not look at it," he said, "I enjoy watching the transition that transpires in front of one of my sculptures. I think there's way too much stress and darkness in people's lives and if I can bring a short respite to this, all the better."
Jeffrey encouraged audiences, "Join me in my childhood. Adults go through life with a lot of weight on their shoulders. These sculptures remove that weight, at least for a while. With a blend of old and new materials, physics and art, my work is a reflection of my childhood, and some say, childlike curiosities. You will find them infectious. Watching the viewer, this transformation is apparent. As children, people are more at ease, adult tensions drop away, they are more open to laughing, pointing, and talking with strangers. After watching the sculpture for a while, stand back and watch the people near you," he said, "Wanna come out and play?"
Carl Zachmann was exposed early to historic and artistic museums as the artist's son. He used to spend his time taking things apart to see how they worked. When he was sixteen years old, he had a small pickup truck to explore his surroundings. He would bring a variety of potential materials, a collection of artifacts that would affect his studies and artistic work. He was also in a group that restored vintage farming and industrial equipment.
Carl was fascinated with history, industry, and art. His various interests were transformed into machine art -- kinetic sculpture and its design and texture, highlights of America's industrial past.
"Using my background in archaeological research and my knowledge of historical mechanisms, I studied old archives and drafting books to learn how to recreate many of the curved spokes and odd shaped gears made from before the Civil War to the early 1990s. The steel gears are put in motion and accented with period technical drawings, paying homage to the Industrial Revolution in an increasingly electronic world," Carl said.
YOU SHOULD KNOW
Metal that moves public opening
Sunday, January 22, from 1:30 to 4pm, with a gallery talk at 2pm
Rourke Art Gallery Museum, 521 Main Ave. Moorhead