​Mixing it up
by Sabrina Hornung | .(JavaScript must be enabled to view this email address) | Arts | December 21st, 2016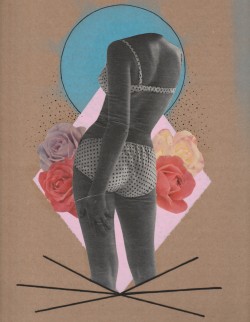 "I was never a fan of non-objective and abstract art. I just didn't have that perspective, I was too literal. Towards the end of my stay at NDSU I took sculpture classes and got into making assemblages and trying to utilize the repurposed look in a more contemporary fashion. I carry some aesthetics from this phase into the work that I create now." says mixed media artist Alison Buecksler.
You may have seen her demonstrating at Corks and Canvas events in Downtown Fargo,or her show at Atomic Coffee, at an art show at Hawk's Nest or during a Wandering Ghost pop up show. She also participated in the Albino Buffalo sticker series. You might have also seen her as one of the contenders for the 2016 Bartender's Battle or enjoyed a drink she poured at Dempsey's.
Mixed drinks and mixed media. Alison Buecksler does it all.
She started experimenting with collage about six years ago while taking a mixed media class during her last year at NDSU. She was surprised by the number of ways one could apply an image and she fell in love with the process of layering. Her pieces incorporate not only collaged images of vintage ephemera. Some showcase her drawing and painting talent. She hand embroiders some of her pieces. They have a great sense of texture and a warm patina that only aged paper can produce.
HPR had the opportunity to chat with Alison about her style, process, and inspiration.
HPR: I see a lot of vintage ephemera in your pieces--what inspires you and what informs your work?
AB: The vintage ephemera in my work ties in with my home roots--My grandpa collected and hoarded many things on his farm, he was big into refurbishing antiques. So I ended up having this standard of sentimental value towards objects, images, notes, books, old magazines, thrift stores, flea markets, the overlooked and torn. I'm attracted to anything that has a patina to it. I have very selective triggers, and am heavily influenced by my surroundings, peers, and social media. I also follow a variety of work from artists such as Hollie Chastain, Joseph Cornell, Anthony Zinonos.
HPR: Can you describe your process?
AB: My process is pretty simple, I keep an open mind and look through my endless supply of old magazines, books, and scrapsç and let my ideas and imagination go from there. If I see an image, object, landscape, word, or something that captures my attention I use an X-acto knife to cut them out. I seem to stick to certain imagery depending on what mood I am in.
In a way it's like I'm slowly building a story that hasn't been written yet, this process seems to help a lot when I run into artist blocks. I also work well when I have multiple art pieces going on at the same time--that way if I lose interest or get stuck I can refresh with something else. I have plenty of material to look through so I never seem to run out of ideas! I use Mod Podge to apply my images to the surface and spray paint, thread, ink and other scraps as a filler and layer for when it is needed.
HPR: On one of your pieces, I noticed a bit of hand embroidery--do you do a lot of embroidery--will we see more of this?
AB: I love adding the embroidery to my pieces, it makes a great space filler and gives the image some depth. Recently I have been utilizing it more into my artwork, but I'm definitely not experienced with thread and needle...that's why I like keeping it simple. Growing up my mom always was sewing and doing embroidery, so it would be nice to keep that tradition alive. Maybe I need to practice a little bit more!
HPR: How would you describe your style?
AB: I feel like anyone can relate to my style, I challenge myself to find different ways to connect to people. I love making people laugh and also creating work that challenges your emotional side. I use a touch of sarcastic tones, mixed with flowing feminine forms, balance, symmetry, old-fashioned mentality, color, isolation, modern-day struggles, the list goes on. I'm a pretty easygoing person so I try and promote that message into my art.
Everyone is creative -- it's just a matter of finding that connection and having an open mind.
YOU SHOULD KNOW:
Check out Alison's work on Instagram @alistache