​Peter Yuenger and the daily grind
by Sabrina Hornung | .(JavaScript must be enabled to view this email address) | Arts | December 27th, 2017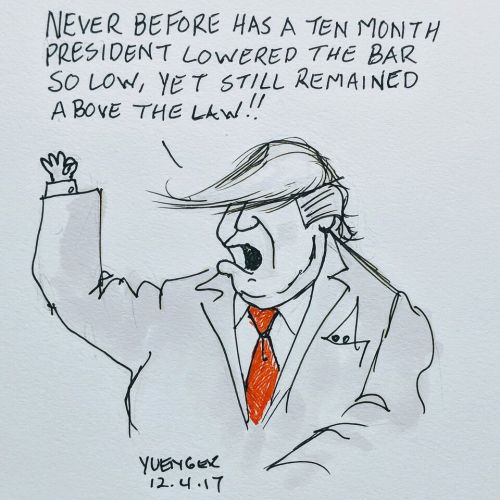 High Plains Reader: How did the idea for Daily Trump Cartoon come to you -- what was your call to action?
Peter Yuenger: It wasn't really a call to action, It was more of a New Year's resolution to get back in the habit of drawing or doing some sort of art every day. The first few days after the election I realized that we would be dealing with "crowd sizes" and "alternative facts" on a daily basis, so I started drawing the ridiculousness.
The first few were just in my journal, but upon insistence of a friend, I started an Instagram page to share them, so I dedicated myself to lambasting 45 to the best of my abilities. It's become a sort of therapy for dealing with these exciting times. What a time to be alive! Haha!
HPR: What is your news source of choice? In this day and age it's more and more difficult to find a news source you can trust.
PY: Well, I don't have cable, thank goodness. I rarely watch TV. I can't believe how anybody can watch those inane 24 hour news channels. I enjoy The Daily Show and Last Week Tonight. That's not real news though I do believe there's truth in satire. It's more real than the 24-hour channels.
For cartoon ideas, I rarely need more than his Twitter or an oddball quote. If I am going to watch news it's most likely to be the TYT network on YouTube, or other independent news.
HPR: Is there one cartoon that resonates within you more than others?
PY: I like most of them, There's a handful that have been pretty clever, in my opinion. It's hard to single one out, of the 335 I've made so far, but most recently I really liked my "all in the family" theme song parody, with 45 and Roy Moore singing at the piano, reminiscing about how "gee, the slave trade sure was great, those were the days!"
HPR: Is there a cartoon that resonated with your audience more than others--that you can think of?
PY: The whole kneeling protest debacle with the NFL led to my most popular cartoon. It's The mango gordo yelling at a kneeling NFL player "YOU! Stop disrespecting our flag!" Whilst wiping his butt crack with the USA flag. It got more than 1600 likes in 24 hours! I was quite surprised! It also garnered me 600+ followers in that one day.

HPR: A daily cartoon is ambitious. Do you ever find it difficult to come up with material or do you find that the cartoons write themselves?
PY: Ha ha, yeah, sometimes he makes it real easy. He really is an embarrassment of riches. I'll usually mull over the day's material and write down notes or thumbnails of some ideas, for when I have time to sketch them out. Sometimes ideas don't come until I start drawing. If nothing else, I can draw him speaking one of his tweets, it's instant ridiculousness.
HPR: What's your art background?
PY: I always have been into visual arts, I remember taking art classes at the local community college summer "college for kids" program when I was very young. I was always drawing growing up. My room was plastered with drawings and cartoon characters (mostly Garfield!).
I took all the art classes I could in middle and high school, Then I pursued and received a Bachelor of Fine Arts from Moorhead State. After trying painting and sculpture, I settled into printmaking -- my concentration was primarily lithography. I also earned a minor in Art History. I really feel lucky that I was able to go to MSU in the late 90's and learn from such talented instructors like Deborah Mae Broad, Carl Oltvedt, Lyle Laskie, John Offut, Tim Ray and others that I'm ashamed I don't recall their names.
HPR: How have your comics been received--have you gotten much feedback on them?
PY: It's overwhelming positive, I get a good amount of likes and positive comments every day. Sometimes I'm shared or retweeted by some editorial cartoon pages. Which is nice. Hopefully with practice I'll be much better at them.
HPR: How often do you find yourself getting trolled on your IG account?
PY: Surprisingly not often, I've had a couple short-term ones, but my followers seem to chase them away with rational arguments. Haha. They are welcome to come try.
HPR: Do you have any Trump predictions for 2018?
PY: Beyond embarrassing our country? Word salads. The greatest and best very very good word salads that you and frankly anyone has ever seen. The best. Believe me.
YOU SHOULD KNOW
Instagram- #dailytrumptoon
Twitter - @dailytrumptoon