​Punchgut and Jeff Knight: Wandering Ghost Gallery
by John Showalter | .(JavaScript must be enabled to view this email address) | Arts | November 16th, 2016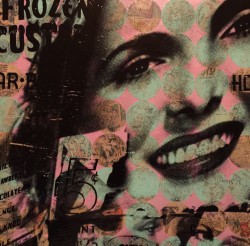 I'm sitting on a couch in the combination art studio/garage of local artist Matt Mastrud, aka Punchgut. We shoot the breeze about topics from horror movies to the tension in the air after the recent presidential election. He muses about how he thinks people would put aside their differences if they had a common enemy.
"Like Watchmen," I say.
"Yeah," he replies, then brings out his newest work of art, a stylized picture of an unquestionably hostile alien soldier with a shooting target underneath it as well as entreaties to join the military and crush the enemy, and tells me how he plans to have one "clean" copy as well as one he plans on shooting that afternoon for authenticity. Soon after his friend and fellow artist Jeff Knight arrives and we start the interview proper.
Punchgut and Jeff are the masterminds behind Wandering Ghost Gallery, a "pop-up" art gallery that made its debut during the spring at the site of the old Goodyear Tire Station Downtown (now Beers on Broadway). While the concept is Punchgut's, he says that his friend Jeff knows a lot of artists around the area, is better at organization, and "keeps me in line".
Its second appearance this year will be at Drekker Brewery. For those unable to attend the first event, a pop-up art gallery is a one day only art exhibition that is relatively spontaneous and, according to Jeff, practically kept a secret until the week of the event, in this case on Saturday, November 19.
News of the event is spread by word of mouth and social media, which is also how many of the artists to be featured find out about the show and decide to submit their art.
No work of art is rejected. The only stipulation is that all works of art must be put up for sale with the artist deciding the cost, and the event is first come, first served. A commission goes to Punchgut and Jeff so they can hold the next gallery, and the artist keeps the rest.
Events like this (which Jeff and Punchgut plan on holding twice a year) are an excellent opportunity for local and otherwise unrecognized artists to dip their toes in and get exposure.
There is no overriding theme to the artwork that inhabits the gallery, nor do particular artists have to have a certain number of pieces available to be part of the event. In this way, an event like Wandering Ghost Gallery sidesteps a lot of the issues that might face an unknown artist when they try to have their work shown in a professional gallery.
For example, the gallery offers a great opportunity for students of Jeff's, who teaches graphic design at Concordia, to show their work to the public.
This year there are at least thirty artists, some returning and some new, who are slated to have their work at the gallery. A full list of the artists featured is on the Wandering Ghost website, among whom are skateboard artist Todd Bratrud, Drekker's own Jesse Feigum, and HPR's own Sabrina Hornung.
There will be live music from a couple different bands, including the group Stepsons of Jim Morrison.
Of course, Punchgut and Jeff will have their own artwork exhibited at the event. For those unfamiliar with the work of Punchgut, his work often has a very raw, pop art feel to it. Works start as a rough sketch or collage work that he does on the computer. After these ideas are put to paper, he uses matte medium, which is similar to wallpaper glue, and spray paint, in order to transfer the work to a more durable medium, such as wood.
Jeff, on the other hand, tends to keep his work rather minimalistic, in keeping with his experience in graphic design. Punchgut points out that while his own artwork is very raw, Jeff's looks a lot more meticulous. Despite the differences in technique, the two have a great mutual respect.
The event is 21+ (it is being held at Drekker, after all). However, if you're looking to buy some art, or at the very least admire some work from talented local artists and perhaps knock back a couple brews while you're at it, you will hardly have a better opportunity than Wandering Ghost Gallery. And remember, if the event performs well, we have more to look forward to in the future.
IF YOU GO
Wandering Ghost Gallery
Saturday, November 19, noon to midnight
Drekker Brewing Co, 630 1st Ave N Ste 6, Fargo