​Sculptor Casey Hochhalter opens at Ecce
by Paige Johnson | .(JavaScript must be enabled to view this email address) | Arts | July 26th, 2017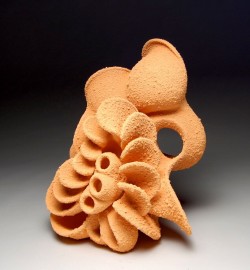 In his upcoming exhibit at Ecce Gallery, sculptor Casey Hochhalter explores the parallels between intertwined worlds: those of animals and plants. His surreal sculptures cross colors and shapes, making each a unique view of the world for the creator and the viewer.
"The forms themselves are not exclusively plant or animal," the artist said when explaining the pieces. "There are certain characteristics that are inherent in them, things like dimensions, surface, volume, shapes and symmetry that you find in living things. They have multiple identities from different vantage points. Walking around the sculpture can remind you of something or suggest something."
He continued by saying, "What I've done with this body of work is taken that a step further and bringing the idea of parallels. Plants and animals live together in an ecosystem. I've added to this, using form."
Each of the sculpted pieces are as varied as the nature that they represent.
"It's improvisational," he said. "It's about parallels that explore flora and fauna, life and death of nature's forms. There's a whole temporal process and significance of time and action and reaction and repetition, things that are essential to the continuation of life. Those things working together play such a big part in the world. I'm trying to do something new by bringing the human form, and trying to see how that interacts with the previous types of work."
Hochhalter said he chose clay because of how easy it is to use and shape. His process starts with a symmetrical form, then manipulating those forms to make them asymmetrical.
"What I'm trying to do is create a continuous line that I can draw from," he explained. "You're looking at the dynamics of something and you're building on it."
As Hochhalter said, things found in nature are often manipulated by the environment they grow in. Plants growing at the bottom of a stream, he said, are going to grow differently based on the current of the water. As Hochhalter continued to shape his sculptures around flora, he also saw the similarities to the human body.
"One of the [pieces] I'm hoping comes out of the kiln successfully glazed is based on firs, when they first come out in the spring," he said. "They do this thing where they curl up in a spiral and they start to open. It reminds me so much of the spine and the ribcage in the human form. There are links in nature from one animal to another, from one plant to another. It's adding multiple identities in multiple forms."
And while his pieces may look like something picked off of the sea floor, Hochhalter said that "very few pieces have been based out of the sea." Rather, the bright colors and rough textures and strange shapes "draw away from the actual object."
Rather than using traditional earth tones in his sculptures, Hochhalter said he's been glazing his pieces in diverse colors including orange, red, green and purple. Hochhalter said he usually works in monochromatic, using a single color.
"It's drawing away from the actual object," he explained. "Visually, it allows the viewer to investigate the form. All the shadows, the high points, the curves, the insides and the outsides. These are dynamics of the form that I think cause a lot more discovery involved in the form. It's striking, intense. It's one more thing to draw you in."
IF YOU GO
Casey Hochhalter Opening Reception
Friday, July 28, 5–7pm
Ecce Gallery, 216 Broadway N, Fargo
701-298-3223, ecce216.com