​State folklorist chosen as featured artist at capital
by Paige Johnson | .(JavaScript must be enabled to view this email address) | Arts | July 26th, 2017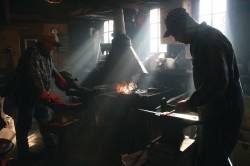 Within the borders of North Dakota lie many worlds that are each expressing themselves in traditional art and culture. During his time as the state folklorist, Troyd Geist has been documenting a diverse array of cultural identities that span art forms and cultures.
For the months of July, August and September, Geist's photographs from his work throughout the state will be on display at the North Dakota State Capitol. As part of his work, Geist documented traditional life and culture across the state, what Geist calls the "extraordinary, ordinary life."
"In North Dakota and small-town America, there are people doing extraordinary everyday things," said Geist, "like a blacksmith working on a farm in a small rural area. It's just passion, it's what he does for himself. There's not a lot of attention drawn to the people doing these things, but there should be because what they're doing is who we are. It's our culture. It's defining who we are as a state."
During his time as folklorist for North Dakota, Geist has been preserving and continuing the folk and traditional arts, heritage and culture throughout the state, including creating the Folk and Traditional Arts Apprenticeship Program and the North Dakota Art Council's "Art for Life" program. In addition, Geist coauthored a book with NDSU faculty Dr. Timothy J. Kloberdanz entitled "Sundogs and Sunflowers: Folklore and Folk Art of the Northern Great Plains."
In this show, Geist uses his art as a way to bring attention to the folk lore and folk art he's spent years documenting.
"There's a wide variety of art forms and ethnic backgrounds and geographic locations," Geist said. "There's someone from Fargo who is a Norwegian wood carver, a cowboy poet from the Badlands, a dancer from India and a dancer who is Dakota Sioux."
He also said, "Really, folklore and folk art defines who we are as people, it is connected to everything from our religious beliefs to our sense of community to how we engage others. It's related to so many different things that are part of our everyday lives."
Geist said it was humbling and gratifying to be chosen as the featured artist, especially when he said that "there are so many other artists who are doing amazing stuff, they should be featured."
However, Geist is using his featured status as a means to show the work that people all around the state are doing.
"I really like the idea that the work shows the extraordinary things that just ordinary people are doing," he explained. "To bring attention to them and to their traditions is important. I hope people take the time to really appreciate the people in our state and what they do, whether it's a Native American dancer or a cowboy poet, whatever it is. Sometimes people talk, especially about larger states and more populous cities, and they'll say they don't see anything. It's all around us, people just aren't taking the time to try and see it."
Most often, Geist said, these people don't do their work for recognition, rather they do it as a passion. These quietly amazing people permeate the state, and Geist's show takes their art and their lives and pulls it to the forefront.
Geist's show is currently on display at the Capital Building in Bismarck, North Dakota, in the Treasurer's third floor office, the Attorney General's first floor office and the First Lady's fourth floor office. For more information, visit nd.gov/arts.