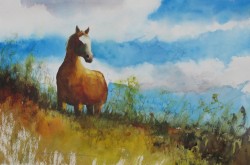 Art courtesy of Barbara Nagle
Next week marks the beginning of the 50th annual Hawley Art Show. Featuring food, music, people's choice judging events, and more. This year's show will really demonstrate the sense of community that has been fostered for fifty years.
The exhibit is free of charge and open to the public, and submissions from artists only require a small fee. Any artist can enter their work in the show, regardless of skill level, and children's submissions are also accepted.
For many, the Hawley Art Show is an opportunity to pass a passion for art to others. Barbara Nagle taught art for 15 years before becoming a full-time artist, and will be offering a watercolor demonstration during the show.
Nagle has created art since she was very young, using the pencil and paper her mother provided. One of her favorite aspects of the Hawley Art Show is the children's art component.
"The whole back section of the Community Center is youth art. It's kindergarten and on up through high school, and it really gives young people an opportunity to show their work in an official art show, which is great. To me, a sense of community means involving people of all ages."
M. Koskela has been involved with the Hawley Art Show for as long as she can remember and appreciates the fact that it accepts artists of all ages and skill levels.
"I've gone to the Hawley Art Show my entire life. I don't remember a year not going to it, really. You can be a student, you can be an amateur, you can be a professional, and you can be in grade school, and you can still enter the art show."
Koskela's art has evolved since she first submitted pictures of kitty cats when she was younger, featuring environmentally conscious pieces that reflect her attentive recycling practices.
"I really enjoy post-apocalyptic kind of things. A lot of my art is kind of environmentally aware, things like that. I like to recycle my canvases if I can. I make my own canvases out of window screens, and I like reusing paint whenever I can."
Some of the participants in the Hawley Art Show became involved only recently. M. Koskela introduced her spouse, Sophia, to the Hawley Art Show after they met in 2010. Sophia Koskela focuses on portraiture, especially of famous people that she admires.
"I've done Vincent Price, Johnny Depp, Jimi Hendrix, and David Bowie. I also did Prince when he passed away, and David Bowie. I've been doing a lot of tributes to people that have been passing away, so I kind of like to do portraits that are more realistic looking."
Judi Koehmstedt has been painting for around 50 years, and enjoys painting down-to-earth scenes inspired by her life in North Dakota.
"I really like to paint figures and people, everyday life type of things. Farm-y things, old cars, barns, stuff like that. The subject matter matters to me."
One piece of advice Koemstedt offers--in line with many of the lessons given by the other artists entering the show--is to work on one's skills of observation.
"I don't think people look at things like they should, just see the shapes and the shadows. Those of us that do that are very lucky."
Some of the artists involved in the show didn't at first expect to become artists.
Karen Bakke began taking art in seventh grade, not thinking it would lead her anywhere, but her teacher had different plans for her.
"I had an old German nun that demanded that I come back the next year, so I did, and there began my artistic journey. She saw something that I didn't even think about or know about that no one else saw."
Bakke eventually got her degree in graphic design before switching to fine art. Her inspiration leads her to create based on a variety of different subjects. "I love doing animals and portraits, but if I see a flower or landscape--I'm easily inspired, and I like to paint everything."
Bakke appreciates the Hawley Art Show for the ease of entry that it affords artists. "One thing I like is that you can decide last minute what paintings you want to put in, and you don't have to reserve them months in advance. You just walk in and give them your paintings. It's so uncomplicated compared to a lot of shows. They're so hospitable."
IF YOU GO
The 50th Annual Hawley Art Show
Thursday, April 6, 6:30pm to Sunday, April 9, at 4pm
Hawley Community Center, 137 Main St, Hawley, Minn.
Free admission, $5 fee for art submissions