​The nature of Eric Johnson
by Sabrina Hornung | .(JavaScript must be enabled to view this email address) | Arts | April 26th, 2017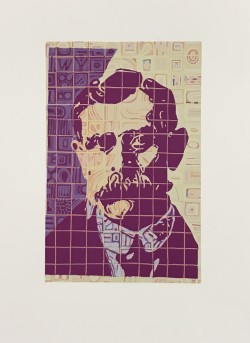 High Plains Reader: How long has "The Nature of things" been in the works?
Eric Johnson: I was asked in the fall of 2015 to exhibit. At that time, I was hoping to do an all-new body of work, but soon realized that at least with the reduction relief process I work too slowly. The last body of work I made that really stuck together took me seven years, so I should have known.
So what I decided to do was to take some work that I had completed in the last several years, and do my best to make as much new work as I could as well. So really the work has been in the works since 2012. Because of that, there is a wide variety of work in the show. I've framed over forty prints, probably two thirds of which will be exhibited for the first time. As of today, I'm not sure how many will be in the exhibit. We will be making some decisions about that this week, when the show is hung, so I'm excited to see how it goes.
HPR: Can you describe your creative process -- where do you draw your inspiration?
EJ: Inspiration for me comes from many places: music, positive and negative life experiences and memories, sometimes even things that happen in the news. Many times my creative process will be different, depending on what I'm working on.
Sometimes I sketch out ideas and come up with a partially developed drawing, then transfer it to a block and start working on it. Other times, I draw directly onto the block with little or no idea of what will come out. Often these are mostly non-representational, but more representational things will creep into the imagery.
Another way I have started to work recently is by starting with a photograph, transfer it to a block and then work the image from there, usually abstracting the image as I do.
That's just the starting point most of the time. The process of cutting and printing can have some impact on the end product. The colors are usually decided as I print and really depend a lot on the previous color. Many times I will add or change the original image as I work, often making it much more detailed.
I've been printmaking for more than twenty years now, and occasionally I need to change things up, otherwise I don't think I'd still be creating new work.
HPR: You're a busy guy. Last time we touched base you were commuting from Hillsboro to work at NDSU, Fergus Falls, and Mayville. How do you balance art, work, family, and time for yourself--what's your secret?
EJ: I'm currently an adjunct instructor at Mayville State & Minnesota State Community and Technical College. I'm an artist in resident through NDSU's Art Department and the PEARS (Printmaking Education and Research Studio) program, which keeps me busy as well! Since I'm adjunct, another thing I've been doing on the side are art fairs (mostly around Minnesota in the summers and fall). Balancing all this and being a husband and father is almost always a struggle.
I am lucky that I found my wife Dera, who not only makes sure I have time to create. She's also pushed me to be better at my "day jobs." In fact, I probably would not even be teaching if not for her. She and I sit down every semester and work out when I'll have studio time.
Honestly, it's hard, it can be very stressful on a relationship and I know it's been hard on my older children when I am spending so much time on art.
I do have days when I'll really question why I have spent so much time making art and how it's affected those around me. In the end though I really believe it's been a positive thing. As far as time for myself? I have plenty of time driving and making art, and those things are really my time for myself.
HPR: What kind of exposure to the arts did you have while growing up in Embden?
EJ: I had little or no exposure to art in Embden, and had no art classes in high school in Chaffee, N.D. Apparently one of my older sisters scared off the last art teacher they had. I was fortunate though to have a great music teacher, like top notch, and that was great, but I don't think I have the discipline for music. At one time in high school I remember thinking I might be able to be a writer, and had attempted some short stories, but I've never shared them with anyone.
HPR: Was there a particular moment that you remember identifying as an artist?
EJ: Not really until college at NDSU after several art classes. Before that I just knew I liked to draw, and had a very vivid imagination. I kind of thought I was just weird…
IF YOU GO
Eric Johnson: 'The Nature of Things'
Opening day: Sunday, April 30, 1:30-4pm; Artist talk: 2pm
Rourke Art Museum, 521 Main Ave, Moorhead