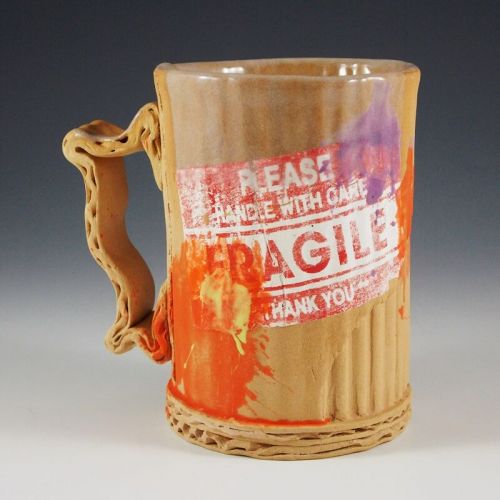 Plains Art Museum will feature a two-day class headed by ceramic artist Tim Kowalczyk, featuring his trompe l'oeil "cardboard" ceramic technique.
Trompe l'oeil is a French term meaning, "deceive the eye," and it is an art technique that uses a realistic image to create an optical illusion.
Kowalczyk explained what he learned from Ceramics: "Ceramics allowed me to have control and turn a seemingly lifeless ball of clay into anything I could think of. That challenge kept leading me down different avenues/techniques of creating ceramics objects."
Kowalczyk came from a background of crafts, arts people and makers. It led him to go to college for art, for a year after he graduated from high school. "I have been making projects for as long as I can remember. It has been a stumbling career of projected travel and constant re-adjustment of my career course. It was not until the September of 2017 that I decided to leave teaching in academia to become a full-time studio maker."
Kowalczyk gets inspired by looking in recycle bins, garbage cans, dumpsters and trash on the street. He likes thrift stores, yard sales, and flea markets as well.
In creating his artworks, he likes to emphasize the history of the object through wear and tear. Kowalczyk commented, "This helps create poetic little narratives within each piece. I want my audience to see garbage without the negative connotation. I want them to see the poetic little moments that show up in discarded objects."
His two-day class at Plains Art Museum was held on February 12 (Monday) and 14 (Wednesday). On Monday, he covered cardboard construction and two ways he applies images on to the surface of his mugs. On Wednesday, he talked about demonstration-glaze techniques and building new forms he has never tried making before, demonstrating template making and risk taking.
As another chance to appreciate his artworks, the exhibition "How Great I Am" goes on until March 3rd. "This is an exhibition of work based on Muhammad Ali's speech before the fight Rumble in the Jungle. Each piece is based on a line in this iconic speech of Ali's," Kowalczyk said.
He also shared upcoming events that he will be attending. At the National Clay Conference (NCECA), in Pittsburgh in March, he is going to do three demos and have work in 5 exhibitions.
At the end of April, he will be going to Goshen, Indiana to participate in his first and possibly last wood firing.
He has many other workshops, demonstrations and exhibitions throughout the U.S. scheduled into 2019.
If you're interested in his artwork, you can find it and more detail on his official website: www.timsceramics.com, or by following his daily posts on Facebook, Instagram and Twitter: @timsceramics.