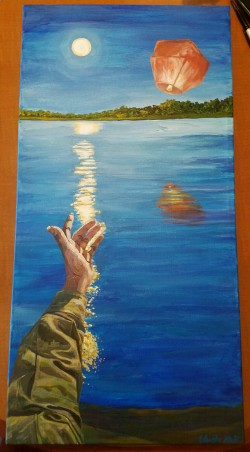 There is an interesting arts festival coming soon. When you imagine US veterans, what kinds of words do you think of? Intrepid, loyal, tough, brave, or you might imagine a general honorable feeling. This event will showcase the creative talents of many area veterans.
The Fargo VA Medical Center is hosting a Veterans Creative Arts Festival. All veterans who enrolled for VA (U.S. Department of Veterans Affairs) healthcare with the Fargo VA Medical Center are having a chance to be creative artists. Its clinics are invited to submit their artworks to join the event.
Veterans will not only show their artistic talents to Fargo-Moorhead area audiences, but also share their priceless experiences as veterans and artworks expressing the fight against their physical and emotional disabilities.
This unique arts festival is on February 15, Wednesday, from 10am to 2 pm on the thrid floor of the auditorium. The arts festival is pleasingly open to the general public. Please, come and enjoy veterans' amazing artworks.
"VA health care systems often use the creative arts as a form of rehabilitative treatment to help veterans recover from and cope with physical and emotional disabilities," said Lavonne Liversage, Fargo VA Health Care System Director, "This festival will not only provide area veterans an opportunity to be acknowledged for their incredible artistic abilities – it will also serve as a venue for them to share their unique experiences both as a service member and a veteran."
The festival features a competition with several categories of art and a panel of judges who are from the local art community will pick artworks and name category winners.
The chosen artworks will be submitted to the National Veterans Creative Arts Festival in Buffalo, N.Y. on October 23 – 29, 2017. Once the artworks are submitted to the national festival, judges there will select artworks to be shown for the event. Veterans who are selected will be invited to attend the national festival and have a chance to enjoy all the veterans artworks.
Categories include: painting, sculpture, carving, graphics, pastels, pottery, mosaic, collage, metalwork, glasswork, drawing, photography, woodworking, jewelry, and leatherwork. To learn more, call the Fargo VA's Recreational Therapy department at 701-239-3700, extension 92094 or extension 93260.
YOU SHOULD KNOW
U.S. Department of Veterans Affairs, https://www.va.gov/
Fargo VA, Veterans Creative Arts Festivals
February 15, Wednesday, 10am-2pm, 3rd floor of auditorium
National Veterans Creative Arts Festival
October 23–29, Buffalo NY