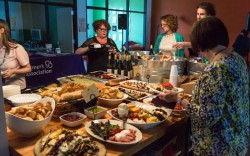 "I was devastated, scared, and lost. My family's world changed and our relationships with one another changed too." said Lonna Whiting.
Whiting, co-founder of Brains on the Plains, went on. "In addition to a dramatic shift in our family dynamics, we didn't know what the future would hold for my mom. All we know is it wouldn't be good and very far from what we expected for my mom reaching her retirement years."
Whiting's mother, Beth, was diagnosed with early-onset dementia in 2014 at age 60. As all we know, there is no treatment or cure for dementia. Whiting strongly wished to create an event that would bring the community together to raise awareness and funds for the Alzheimer's Association. The journey began and Brains on the Plains came into the world as the result of those efforts.
Whiting focuses on arts, music, and socializing for the awareness of Alzheimer and dementia. She explained, "music and art are the last points of recognition and joy in an Alzheimer's patient's life. Long after they've lost their own language and ability to speak, if they hear a familiar song, they will start to sing along.
It's an amazing experience for them and for their caregivers to see that the person they "lost" is still in there somewhere."
For the amazing moments, Brains on the Plains have live music by The Cropdusters and they intend to seek silent auction items that are artful, such as books, paintings, and photography. Whiting's partner, Kevin Carollo, will also read a few poems from his dementia collection.
It has been four years since Whiting held the initial event for the awareness of Alzheimer's and dementia.
There is a special activity called "Memory Share." Guests will write down or sketch a memory that they do not want to forget on a special card. Brains on the Plains has collected hundreds of memories and it will display at the event. "It's really great for people to come back the next year to see what they wrote they year previous. Interestingly, most people don't remember what they wrote,
Whiting said, "I am interested in helping families keep a loved one at home for as long as possible. The Brains on the Plains Foundation would assist that family with monetary funds and services that could make that happen."
The annual event is welcoming to all ages. It will be held on June 8 at Super Studio, Downtown Fargo from 5 to 8pm. You may purchase a ticket online or request a will-call paper ticket. There will be beer donated by Junkyard Brewery, appetizers by Chef's Table, dessert by Indulgence. Wine and silent auction table. There will be non-alcoholic beverages for those who don't drink and are under age 21.
YOU SHOULD KNOW
Brains on the Plains
Thursday, June 8, 5pm
Super Studio 630 1st Ave N, Ste D, Fargo