​You think you have problems?
by Sabrina Hornung | .(JavaScript must be enabled to view this email address) | Arts | December 14th, 2016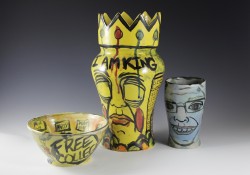 While researching the concept of his current solo exhibition at the Spirit Room, titled "#MillenialProbs," ceramicist Hayden Swanson did a bit of crowdsourcing by reaching out to his peers via social media. I couldn't help but ask what he thought the most serious problem was.
"I don't think I could say there is a single 'most serious problem' since they are all valid, but people were really concerned about opiate use, Dakota Access Pipeline, and the election. The tone people gave for those issues was pretty passionate and showed how it's directly affecting those people in a serious way," Swanson said.
"#MillenialProbs" is a collection of functional ceramic pieces steeped in the narrative of millennial culture. Swanson examines day to day issues they experience. Some pieces have roots in light-hearted satire, such as coffee mugs with the words "Here's to adulting!" adorning them, while others touch on the uncertainty of our current political climate. One plate references the current situation in Standing Rock with a crowd of people divided with the phrase "Water is life" floating above them.
"I use a lot of people to tell my narratives, but most of the faces don't have many identifying features, so the viewers can see themselves as the characters," Swanson says. "The pots all have phrases as well, describing the issue at hand. In a way, my work acts more as sculpture since the narrative takes you all the way around the piece."
The concept for the collection started as Swanson was planning the design process while creating a large dinner set. "All I knew was it was going to involve people and culture." Swanson said. "I had no idea what part of our vast culture I was going to cover. I was working at a bar in Valley City and I just stopped what I was doing and wrote down '#MillennialProbs' on a piece of paper, and the rest fell into place."
Swanson is not only a visual artist--he's also a hip hop artist. He goes by the name of the Artist Known As Hayden Swanson (AKAHS). "I make more of a positive story telling the type of hip hop where I speak of my life experiences. I focus on taking my bad life experiences, and use my lyrics to decipher my decisions to the world. I started when I was 13 making heavy metal music, and after I left my band I wanted to be the front man, but I'm an average singer. So I turned to hip hop."
Besides social media, Swanson cites a wide array of influences. "I watch a lot of cartoons, neo-expressionist painter Jean Michel Basquiat, and street art. I do, however, look at many historical pieces from various time periods for forms that I could simplify into my work."
Swanson had been exploring this style for the past year. The work started as allusions to his childhood and eventually evolved to imagery surrounding his present life. Within two months "#MillenialProbs" was finished and on exhibit at the Spirit Room.
"The gallery director Taryn Wallace knows me from VCSU, and knows my work ethic so she informed me of the deadline, and asked if it was possible. I jumped at the opportunity, and cranked out some work." said Swanson.
IF YOU GO
#MillenialProbs by Hayden Swanson
On display through January 13
The Spirit Room, 111 N Broadway, Fargo