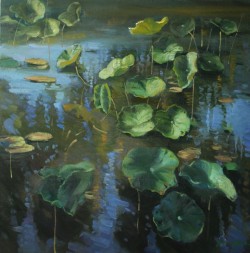 Zhimin Guan has been a professor of art at Minnesota State University since 1998. Guan's artworks have been exhibited throughout the United States and China and he has appeared in more than 200 selective professional exhibitions and received 25 art awards.
Guan grew up in one of China's ancient regions, called Anhui province, which is located in central China. Guan was influenced by the people around him and he explained the environment while growing up. "It seems that the people surrounding me all liked and appreciated art and culture. I was amazed by those talented elderly people who can paint, draw, sing, and do martial arts and calligraphy. There were few materials available but many people were very happy with the modest life."
In the last 18 years, Guan has created six series of paintings; Fossil Series (1995-2000), Landscape Series (1999-2002), American Dreamers Series (2002-2006), Abstract Series (2006-2007), Landscape on Metal Painting Series (2007-2012), and the Summit Series (2012-2014).
To complete all those inspirations as artworks, Guan explained what was most important in creating all the series, "According to my life experiences and emotional responses I got from my life and personal experiences such as travel, moving to a new place.
"There is an old Chinese saying; 'Words are sounds of one's mind, paintings are from one's heart.' As a painter, I feel I need to complete my thoughts about something that deeply inspires me; and that passion of love urges me to pick up my painting brush to express my feelings.
"Sometimes, I seek visual dynamics or symbols that match my feelings; other times the visual reality is so interesting that it leads me to conceptual consideration. Then I will come up with a series of paintings, so that it becomes an urge, inspiration, or a good reason to put so much time and effort to complete a series."
Guan's opening reception will be on Thursday, September 21, from 5 to 7pm at the Ecce Art Gallery. Admission is free. In the exhibition, Guan will be showing us his artworks of water and stone.
"There is a Chinese phrase; "A drop of water may penetrate and reshape stone (滴水穿石)." It is an analogy which means that a personal strong enduring will may change the most difficult thing on Earth over a long period of time. That analogy also encouraged me to challenge myself by taking on difficult tasks. If everyone does the same, the world will become a better place," Guan said.
For those who will be coming to the opening reception, Guan added a comment about a view of his art. "I was influenced by an eastern culture background. Also, I am deeply embracing western culture and personal expression. My painting often reveals both influences.
"I think eastern culture underscored the harmony between man and nature, universal beauty and harmony. Western believes the importance of personal, individual power. So in my paintings, viewers may sense that I try to find a balance zone that may contain both. I use universal, divine landscape themes or subject matter with personal, individual, confident brushstrokes to express my feelings – emotional responses to natural beauty and life-giving forces."
IF YOU GO
Zhimin Guan: Opening Reception
Thursday, September 21, 5-7pm
Ecce Art Gallery, 216 N Broadway, Fargo