​9th F-M LGBT Film Festival
by HPR Staff | .(JavaScript must be enabled to view this email address) | Cinema | September 6th, 2017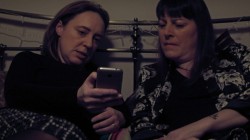 By Brittney Goodman and Tom Bixby
The Fargo-Moorhead LGBT Film Festival, now in its ninth year, will be showing a variety of LGBT-themed films starting this weekend but with an expanded program this year, September 11-16 with five screenings, each with distinct content.
The Festival "seeks to celebrate lesbian, gay, bisexual, and transgender lived experience through the visions of innovative film and video makers. We seek films and videos that enrich, entertain, and encourage a sense of community. This festival hopes to recognize the diversity of local, regional, national, and international LGBT communities."
Raymond Rea, film studies professor at Minnesota State University Moorhead, has been leading the festival since its inception in 2009. The festival brings people together from all segments, orientations, and persuasions of the Fargo-Moorhead community.
Rea sees the festival as important to our community because it "screens images and stories of LGBT-lived experience that can't be found anywhere else." He points out that most of the films are not yet available on Netflix or in stores.
Rea thinks that "seeing your own life reflected on screen empowers the viewer … something that straight and cisgender viewers take for granted," and that this festival offers that experience to the LGBT audience. He also appreciates that this LGBT cultural event is screened at the beloved, historic Fargo Theatre, and that it admits youth ages 17-21, as well as older adults.
This year's festival has an expanded program of five screenings with unique programming, and distinct content. Each program includes several short films, including animation, fiction and documentaries, in addition to a feature.
The first screening is at 7pm on Monday, September 11. In Dimitri Toulias's "Sis," two sisters, one religious and the other transgender, reconcile their differences. In "Heritage," Noam, a young gay guy, discovers his father had an affair with another married man. The feature "Transit Havana" asks if Cuba is becoming a queer paradise.
Tuesday, September 12, at 7pm, leads off with the winner of the Best Performance award, in "The Third Try." In "Flocker," Emmet and Seth want to get something going, but they are working at a Christmas tree farm, and boss and mother are watching them closely. In the documentary feature "The Untold Tales of Armistead Maupin," the subject and author of "Tales of the City" goes from the jungles of Vietnam to the bath houses of 1970s San Francisco.
Friday, September 15, 8pm. In "Dusk," young Chris struggles to fit into the gender roles dictated by society in 1950s England. In the Brazilian "Afterglow," David helps his boyfriend overcome depression. In "Merry Xmas," Syria is a transgender sex worker who fights every day against a hostile world, handing out smiles and tenderness.
We hope you see everything, but you should not miss the award-winning feature "Apricot Groves," about going back to the old country and finding disorientation.
On Saturday, September 16, at 2pm, are you ready for some black comedy? A scientist builds a mate for Frankenstein, with electrifying results, in "Bride of Frankie." "Mine" explores something we've wondered about: the non-donor father in a gay relationship struggles to come to terms with being the father of a child which is not biologically his. In the feature, "Hot Men Cold Dictatorships," has the situation for gays improved in Hungary since the fall of communism, or is homophobia even worse today?
On Saturday, September 16, at 8pm, be warned, the award-winning "Counting" will break your heart. In the cartoon that follows, a closeted boy's heart pops out and chases the boy of his dreams. Then an experienced drag queen tells it like it is. "Sisak," from India, is the winner of the Best of Show award. In "The Lavender Scare" documentary, President Dwight Eisenhower orders the immediate firing of any government employee discovered to be gay or lesbian, and ruins tens of thousands of lives.
That's a rough and ready list; there are others we couldn't do justice to. Go see them all and discover undescribed gems!
Throughout its history, the FM LGBT Film Festival has held special moments of significance for Professor Rea. He recalls how he felt when, in 2011, the festival gave Jared Kellerman its first local filmmaker award for his documentary "Being Me," about Kellerman's coming out process in North Dakota. "When I saw Jared's mother and father sitting with him in that loud audience, and knew that they had come to support him despite some discomfort, I was touched by it," says Rea. He also will never forget how he felt when he was standing up front as the lights came up after Stu Maddox's "Gen Silent." "You could have heard a pin drop."
Rea's advice for audience members is to "come with an open mind and come ready to see some great films." He asserts that all allies are welcome, saying, "You don't need to be GLB or T yourself to enjoy the festival. The community welcomes straight and cisgender allies. Always."
Tickets for individual screenings are $10; a pass for all five is $30 and more than reasonable. We recommend the $30 festival pass.
Check out their updated website for their full schedule, including film listings, synopses, stills, and award winners, http://fmlgbtff.com/ , and their facebook page for updates and trailers.
IF YOU GO
FM LGBT Film Festival
September 11-16
Fargo Theatre, 314 Broadway N, 701-239-8385