​Always Shine
by Greg Carlson | .(JavaScript must be enabled to view this email address) | Cinema | March 29th, 2017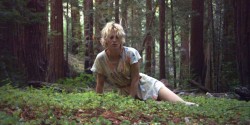 Sophia Takal's sophomore feature "Always Shine" deserves a spot among the best films of 2016. Razor sharp, spellbinding, and intense, the film is too slippery to be pigeonholed in a single genre, and to call it a "psychological thriller" fails to adequately capture the scope of its ambitions.
Showcasing superb performances by leads Mackenzie Davis and Caitlin FitzGerald, "Always Shine" teases cinephiles as a boiling, bubbling metafiction: a movie about the movies and the way we watch them.
More importantly, it is a document ready to expose the ugliness of misogynist industry practices and the toll exacted by competition among women in a strange and brutal occupation.
Takal works from a script by Lawrence Michael Levine (who also appears as an actor in the film), and the one-two punch of powerfully paired opening scenes alerts the viewer to the filmmaker's diabolical skill at upending our sense of equilibrium.
In the first, FitzGerald's Beth auditions for what quickly appears to be another thankless role in a torturous slasher flick, concealing any reservations she might have when told the part requires extensive nudity. Then, a tight close-up on the exasperated Anna, as she defends herself against the work of an unscrupulous auto mechanic sticking her with expensive charges, rhymes with Beth's on-camera job interview. Suddenly, everything is an act.
One of the pleasures of "Always Shine" resides in the carefully calculated manipulation of our sympathies as we try to work out which of the women to cheer and which to judge. Takal leads us in one direction only to apply a swift series of feints abetted by FitzGerald and Davis.
There are dozens of stories, and several recent movies -- including Alex Ross Perry's sparkling "Queen of Earth" -- that use a rural getaway shared by close friends as a way to excavate jealousies and construct emotionally charged reversals. In "Always Shine," the Big Sur setting provides Takal and cinematographer Mark Schwartzbard a plum palette to intensify the anxiety as Beth and Anna crank up their animosities.
One of the movie's choicest scenes shows the friends running lines together, with an increasingly fierce Anna hell-bent on proving her worth as an actor and dispelling any notions that she is somehow not capable of achieving Beth's ascendant success. The exchange indicates a turning point, and Takal pushes the vibe ever closer to something evocative of horror by way of Hitchcock.
The forthcoming ambiguities challenge the viewer to question events as they transpire, a delicious contour that obscures several seemingly critical narrative building blocks that take place in offscreen space.
Few critics have written about "Always Shine" without mentioning Ingmar Bergman's "Persona," and many others have noted parallels to David Lynch's "Mulholland Drive." The comparisons are apt, and Takal stages several scenes in which the physical similarities between Beth and Anna echo the serpentine twining that thematically interlaces them in what can only be a mutually parasitic symbiosis.
Takal and Levine handily realize the one-on-one resentments arising from insecurity, possessiveness, and the humiliation of perceived injustice. That they manage to do so in the realm of both the outside world where Anna and Beth must interact with men and in the privacy of a space where only the two women exist is noteworthy.
"Always Shine" received the award for Best Narrative Feature at the 2017 Fargo Film Festival.