Aronofsky wants you to love "Mother!"
by Greg Carlson | .(JavaScript must be enabled to view this email address) | Cinema | September 20th, 2017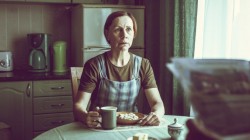 WARNING: The following review reveals plot information. Read only if you have seen "Mother!"
With a tongue-in-cheek exclamation point distinguishing it from the likes of Joon-ho Bong's superior 2009 film and the more than 180 other movies sharing the title, Darren Aronofsky's "Mother!" offers fair warning to the curious.
Eschewing proper names for characters and saddling them instead with the likes of Penitent, Defiler, Herald, Pilferer, Supplicant, Hewer, Lingerer, and Zealot, the moviemaker drinks deeply from the well that gave birth to the similar ecology-meets-religious-mythology themes of "Noah."
Fast-tracked once Jennifer Lawrence signed to play the lead, "Mother!" tells the story of a young woman married to a distant poet (Javier Bardem). No matter how much she offers of herself, her powerful husband keeps taking.
If that dynamic sounds suspiciously familiar, Aronofsky acknowledged in a "Vanity Fair" interview that the core of Lawrence's character was influenced by, of all things, the plot of Shel Silverstein's "The Giving Tree."
The Mother Earth symbol labors in vain to restore and refurbish the couple's spacious octagonal home ("I want to make a paradise"), but her efforts are perpetually interrupted, first by an ailing surgeon (Ed Harris) and his wife (Michelle Pfeiffer), and later by an unruly throng of the poet's admirers. Eventually, all hell figuratively breaks loose in a tour-de-force sequence certain to terrify anyone planning their next dinner party.
Even before the inevitable think pieces start to pile up, one anticipates the impending slugfest over Aronofsky's treatment, or mistreatment, of womanhood. Is the filmmaker offering a nuanced critique of the patriarchy's systematized marginalization and abuse of women or is he wallowing in the spectacle of violence visited on the sexualized female body?
Chelsea Phillips-Carr stakes out her position that the movie is "a work of pure misogyny," writing, "Films which depict extreme abuse in order to make a point that abuse exists are not effective: it's well known that violence against women exists, and the simple regurgitation of it on screen is not illuminating. The reproduction of misogyny, without thought or solid critique, can very rarely be effective beyond its lifelessly repetitive presentation, so often indistinguishable from works of more earnest hatred." And she's just getting started.
Defenders of the Aronofsky/Lawrence partnership argue that "Mother!" does, in fact, present that "solid critique" in several ways: recognition of the infuriating entitlements of the poet, the painful outcome of the pregnancy that inverts the nativity of "Rosemary's Baby," and the pleas for the sustainable treatment of the planet's resources are three options.
Additionally, Aronofsky's relentless viewer identification with Mother via tight framing and subjective camera merits further discussion. Even so, certain choices, like the use of the trope known as the Not If They Enjoyed It Rationalization, in which rape and sexual assault victims are made to appear as if initial resistance gives way to erotic pleasure, raise serious questions.
While the thunderous allegorical nonsense devoted to heavy-handed biblical and environmental metaphor is a hefty burden if not a millstone around Lawrence's capable neck, other layers of meaning and/or alternative readings yield far more pleasure.
The exasperation of the put-upon host, for example, ripples with terrific comedy when Mother cannot get the goddamned interlopers to stop perching their asses on her unbraced sink.
Audience members who claim the film works just as well as a commentary on celebrity culture, and the pressures of being in a relationship with someone famous, might have more fun than those looking only for parallels to scripture.