​Classic baseball movie now on Blu-ray
by Christopher P. Jacobs | .(JavaScript must be enabled to view this email address) | Cinema | April 26th, 2017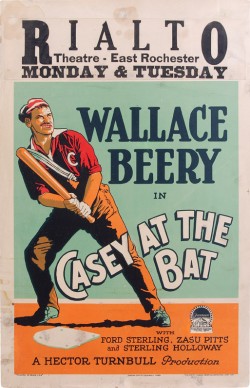 Besides income tax, April saw the beginning of baseball season, a game that has been considered America's "national pastime" for over 160 years.
The ritual became immortalized in 1888 with the publication of Ernest Thayer's famous comic poem "Casey at the Bat," which immediately became a popular text for public recitations, the most famous of which was by stage star DeWolf Hopper, then 30 years old, who delighted audiences with his melodramatic interpretation for the next 47 years, until his death.
By 1899, the Thomas Edison film studio used the poem's fame to promote its one-minute comedy about a batter named Casey starting to argue with an umpire and then getting into a fight that the rest of the team joins.
DeWolf Hopper made a 1906 audio recording of the poem, and recited it for a six-minute experimental early sound film in 1922. Both the Edison film and Hopper's early talkie film (among other baseball-themed movies) can be found on the "Reel Baseball" DVD set released by Kino Video ten years ago.
Naturally Hollywood had to tackle the subject, and 101 years ago Hopper played Casey in a now-lost 1916 silent feature film adaptation of the poem for Triangle Films, featuring former Grand Forks resident Carl Stockdale in a supporting role.
In 1927 Paramount Pictures made a feature-length comedy to exploit the title, though only loosely inspired by the poem. Earlier this year Grapevine Video released this film to Blu-ray in time for its 90th anniversary this March.
Paramount's 1927 production was supposedly set in the 1890s, not long after the poem had been written, according to a title card, although certain aspects indicate it should be 1900 or shortly thereafter (but when has Hollywood ever been accurate in period pictures?).
The film was designed to play just as much upon public nostalgia for the "good old days" of the "gay 90s" (long before the years of Prohibition and short skirts) as for love of baseball. Famed character actor Wallace Beery stars in the title role. Beery was equally at home playing sadistic villains but became beloved for sentimental comedy.
Early publicity for the film lists Edward Sutherland directing and his co-star as Raymond Hatton, who had recently teamed with Beery in several military comedies. However Monte Brice replaced Sutherland, the script was reworked, and the film recast with Sterling Holloway as Casey's business agent and scheming romantic rival, and Ford Sterling as an equally scheming talent agent for the New York Giants. Zasu Pitts, later best-known as flakey comedy relief, here plays the love interest.
Beery's Casey is an illiterate and rather crude small-town junk dealer, who on his day off is the home run-hitting star of the local baseball team. After a scout for the New York Giants signs him, it's off to the big city where Casey naturally becomes blinded by his success, using his fame and fortune to indulge in the saloon life. Meanwhile the agent has falsely told Casey that his girlfriend has dumped him due to his carousing, which only makes Casey drink even harder and woo the female cast members of a Broadway show.
It eventually gets to the point where the two agents gamble all their money on the rival Pittsburgh team for the championship game, but then they're shocked and dismayed when Casey shows up sober and ready to win. When he refuses to throw the game for them, they must resort to other tricks to protect their bets in the last-minute ninth-inning showdown. As expected for a major studio film, there is a "Hollywood ending" to satisfy audiences.
Grapevine's Blu-ray (a BD-R) of "Casey at the Bat" runs 69 minutes and is very sharp and clear overall, but has certain issues that people unfamiliar with analog film technology might find distracting. It seems to be mastered from a very good 16mm print reduced from an excellent 35mm print, but the first third to half of the film has quite a few, often severe scratches marring the image. These subside by the last half of the film.
It also was printed using a sound-era "Academy" aperture that masks off the left edge of the picture where a soundtrack would be, as well as a small bit off the top and bottom of the picture, but this is only noticeable during the opening titles. Most of the title cards are freeze-framed for clarity, but a few have some electronic video artifacts related to interlacing.
The audio quality is extremely good, with a new pipe organ score recorded by Fargo-Moorhead organist David Knudtson, matching the action very well throughout. There are no bonus features.
CASEY AT THE BAT on Blu-ray -- Movie: B+ / Video: B+ / Audio: A / Extras: F