​Classic romances explore still-timely social issues
by Christopher P. Jacobs | .(JavaScript must be enabled to view this email address) | Cinema | April 5th, 2017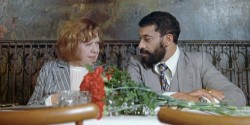 Todd Haynes' Oscar-nominated period romantic melodrama "Far from Heaven" (2002) will have its 15th anniversary this fall. The film has a socially-conscious edge that earned it widespread acclaim, yet it is still not available on Blu-ray in the United States (there are Blu-rays from Canada, France, and Spain, however). Those who appreciated his story of a 1950s New England housewife's awakening to the hypocrisy, racism, and homophobia of her apparently perfect little world may want to check out the two films that heavily influenced Haynes.
Douglas Sirk's "All That Heaven Allows" (1955) and Rainer Werner Fassbinder's sort-of semi-remake "Ali: Fear Eats the Soul" (1974) both came out on Blu-ray from the Criterion Collection in mid-2014. And both are as timely today as ever, especially the Fassbinder variation.
When "All That Heaven Allows" first played theatrically, it was largely dismissed as just another "women's picture" or a "weepie," a domestic drama depicting typical small-town activities, with a star-crossed romance carefully calculated to reduce its target audience to tears. Jane Wyman (ex-wife of Ronald Reagan) stars as Cary Scott, a well-off middle-aged but still-attractive widow who gradually falls for her working-class and more free-spirited gardener Ron Kirby (Rock Hudson), who is about ten to fifteen years younger.
The shock and disapproval of her shallow, gossipy country-club friends and especially her two snobbish college-age children, however, cause her great distress. Everyone insists she should marry an urbane but unexciting aging widower she can take care of, or should simply watch television to satisfy her loneliness. Cary's conflicted and shifting feelings about whether to pursue love and happiness or conform to society's expectations drive the plot through the rest of the film.
It's easy to view the film as a simple romantic melodrama and a vivid Technicolor time capsule of 1950s life. By a decade or two after its release, however, a number of film critics and other directors started to notice its strong social commentary, both obvious and subtly ironic, on class prejudice and the hypocrisy of middle-class American values, as well as its focus on a female protagonist who thinks and grows emotionally rather than merely reacting to what happens.
While not unusual today, it was remarkable for a genre film produced within the heavily-standardized studio system, aimed squarely at a target audience that critics of its era disdained, critics who rejected its unashamed sentimentalism and perhaps identified too closely with the elite establishment Sirk was criticizing.
Sirk skillfully manipulates audience emotions and simultaneously reveals character qualities as well as his ironic subtext through symbolic use of colors, settings, costume designs, lighting, positioning of actors, and camera framing. His expert control over the cinematic elements and incorporation of a lush and emotional musical score (hence the origin of the term "melo-drama") complement and intensify the performances, as well as providing subtext for deeper interpretation.
Criterion's Blu-ray, transferred at the 1.75:1 aspect ratio, looks amazing, with richly saturated colors and a film-like image that shows only minor traces of age. The mono audio sounds very good. Bonus features include a booklet with an essay by Rainer Werner Fassbinder, an insightful audio commentary, 1970s and 80s interviews with Sirk for British and French television, an interview with one of the actors who worked in some of Sirk's films, a trailer, and an interesting hour-long documentary on how star Rock Hudson's sexuality was hinted at in many of his films.
ALL THAT HEAVEN ALLOWS on Blu-ray -- Movie: A- / Video: A / Audio: A / Extras: A
In 1974, prolific and controversial young German writer-director Rainer Werner Fassbinder created one of his most memorable films and first major international hit with "Ali: Fear Eats the Soul," inspired greatly by Sirk and "All That Heaven Allows." His touching story of two lonely, alienated people also was a powerful indictment of xenophobic social attitudes in Germany (and elsewhere).
Fassbinder turns his film's widow into an older working-class cleaning-lady named Emmi in her 50s or 60s, and makes the unexpected object of her affections into a dark-skinned immigrant Moroccan laborer about half her age.
Fassbinder contrasts the isolation felt by his protagonists: that of the aging woman whose Polish immigrant husband has died and whose children rarely visit, and that of the exotic foreigner forced to move to Germany to find work where he's faced with having no friends (only a few Arab drinking buddies from work) as well as the racial prejudice, animosity, and suspicion from the society he's now living in.
The two meet by chance in a bar on a rainy night and somehow feel a strange connection with each other. When they impulsively decide to get married, the entire neighborhood is as shocked and upset as Emmi's children.
In a nod to Sirk's film, Emmi's enraged son even kicks in the screen of her TV set when he finds out. Fassbinder himself plays her obnoxious son-in-law. Again the couple must get through numerous ups and downs before their acquaintances start to accept them and they can fully accept each other. Again a deep thread of irony permeates various incidents and reactions with the staging and camera framing helping to intensify their feelings for the viewer.
Criterion's Blu-ray looks and sounds great, as usual. Bonus features include a leaflet, a 20-minute discussion by filmmaker Todd Haynes, interviews with the star and film editor, a short related to the film, a clip from an earlier Fasssbinder film that helped shape this story, a 1976 documentary about New German Cinema, and a trailer.
ALI: FEAR EATS THE SOUL on Blu-ray – Movie: A- / Video: A / Audio: A / Extras: A-