​Classic romantic comedies: melodrama and wild farce
by Christopher P. Jacobs | .(JavaScript must be enabled to view this email address) | Cinema | September 20th, 2017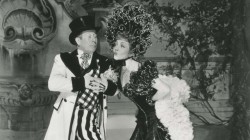 Rom-coms are a staple of modern movies and have been for well over a century. This summer two very different variations on the genre spotlighting iconic 20th-century superstars made their Blu-ray debuts from Kino-Lorber.
One is a classic updating of a popular 19th-century stage play, the other a wacky cartoon-like sequel to a western comedy musical.
"Zaza" (1923) was a vehicle for popular and rising silent legend Gloria Swanson, directed by prolific and versatile Hollywood veteran Alan Dwan. The original 1890s stage production had been a serious melodrama, but the film moves the time period to just before, during, and after World War I, while changing it into a romantic comedy that gradually shifts into romantic melodrama to showcase the acting range of Swanson.
Swanson's early career included comedy shorts for Mack Sennett, then sophisticated, glamorous characters for Cecil B. DeMille at Paramount Pictures, often highlighting fashionable clothing.
As her popularity rose, Paramount capitalized on her success with films to develop her dramatic and comic talents. "Zaza" was her first of several films directed by Alan Dwan and in her autobiography, Swanson recalls that it was the most fun she had ever had making a movie.
In the first part of the film she comes off as rather silly and overwrought, playing a wildly temperamental provincial music hall star who rose to local fame from the streets, but then that is also part of the character.
As the story progresses she is able to demonstrate much stronger acting skills, as her character at one point is severely injured, and later realizes that the wealthy diplomat she loves is already married and has a young daughter.
The changes from the original play allow Swanson's character and others to grow and evolve while providing a satisfying if not heavily overdone variation on a Hollywood ending.
The expert staging and direction by Dwan combined with the effective cinematography by Hal Rosson, keep the story moving constantly with coverage and editing to show the viewer exactly what needs to be seen, when and for how long.
Kino's Blu-ray has excellent contrast, but unfortunately sharpness varies throughout from quite crisp at times but frequently very soft. A fine piano score by Jeff Rapsis accompanies the action closely.
Bonus features include an illustrated pamphlet with a good essay by Imogen Sara Smith, and a really excellent audio commentary by historian Frederic Lombardi, who wrote a book on Dwan. He presents an amazing array of detail on the careers and lives of Dwan, Swanson, and others in the cast, the Hollywood of the era, earlier and later film versions of the play, and frequently analyzes the performances and directing techniques as we see them on the screen. Commentaries like this really increase appreciation of the film.
ZAZA on Blu-ray -- Movie: B+ / Video: A-/B+ / Audio: A / Extras: B
Director Frank Tashlin's "Son of Paleface" (1952) is an off-the-wall sequel to the popular 1948 Bob Hope-Jane Russell comedy western "The Paleface," on which Tashlin had been one of the writers.
Tashlin started out directing cartoons, and brings his surreal, free-wheeling cartoon-like style to the live-action antics in "Son of Paleface." It may not be quite as coherent as "The Paleface," but the numerous in-jokes, surprise cameos, and bizarre gags (visual and dialogue) make it a lot of fun, if distinctly non-PC much of the time.
Bob Hope plays the egocentric Harvard-educated son of the dentist from the original film, hoping to claim his inheritance out west. Jane Russell (Calamity Jane in the original film) here plays a popular saloon-owner/entertainer as well as the brains behind a gang of elusive bandits who have been robbing stagecoaches. Roy Rogers plays himself as a Federal Agent disguised as a singing cowboy. Naturally Hope and Rogers are both attracted to Russell, but she's got her own agenda.
There's just enough plot to carry the film, with the focus being on the seemingly random comedy and a few songs (including a reprise of the pop hit "Buttons and Bows" featured in the first film). Viewers looking for a typical, well-structured romantic-comedy or western action film may be disappointed.
On the other hand, the main reason for watching is Tashlin's attitude that certain weird things and gags can only be done in the movies, so why not do them! Here, of course, they're designed primarily around Hope's comic timing and screen persona, as well as the established screen images of Jane Russell and Roy Rogers.
Kino's Blu-ray has a beautifully sharp and colorful HD transfer of the rich Technicolor image, one of the better-looking film-like Blu-rays of any film, new or old. There is also very good sound.
One of the bonus features is a reconstruction of an odd but fun, partly-lost Tashlin 1946 musical short he made using stop-motion puppet animation, "The Lady Said No." It's very much in the vein of George Pal's classic "Puppetoons." There are no trailers, but there is a 4-minute montage of scenes from all five of the Bob Hope classics Kino released to Blu-ray this summer.
There's also an enthusiastic audio commentary by Frank Tashlin fan Greg Ford. He discusses the film and major stars to some extent, but concentrates mostly on Tashlin's career in detail, from cartoonist and animated filmmaker through his transition to gagman and script doctor to directing live-action films on his own, while adapting his taste for wacky cartoon-style humor to live actors (and animals, like Roy Rogers' horse Trigger).
SON OF PALEFACE on Blu-ray -- Movie: B+ / Video: A+ / Audio: A / Extras: B