​Controversial epic now on Blu-ray
by Christopher P. Jacobs | .(JavaScript must be enabled to view this email address) | Cinema | September 13th, 2017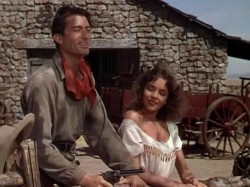 With 2017 so far one of the lowest summers for movie attendance this century, the year 1946 was perhaps the all-time peak year of movie attendance, with close to 60% of Americans providing 90 million individual ticket sales, according to statistics from "Variety" and other sources. The number two-grossing movie released that year (which actually premiered in late December but played throughout 1947) was producer David O. Selznick's trouble-plagued "Duel in the Sun." Its then-unprecedented $8 million budget plus $2 million advertising campaign made it barely break even for many years, and its $18.4 million earnings ($443.40 in today's dollars) include later reissue income.
Last month Kino-Lorber released the original 144-minute "roadshow" edition of "Duel in the Sun" to Blu-ray, complete with pre-show musical prologue of themes from Dmitry Tiomkin's lush score, followed by a musical overture with narration by Orson Welles to set up the period and plot, and closing with three more minutes of exit music after the end title. The movie itself from opening to end titles runs about 129 minutes.
"Duel in the Sun" is a blend of genres. On the surface it's a western in 1880s Texas that's mostly a saga of a dysfunctional ranching family, the coming of the railroad, and the coming-of-age of an orphan half-breed girl who has to deal with the bigotry of race and class. The film's frank exploitation of sex and violence may seem pretty tame to modern audiences, but caused severe censorship issues at the time and earned it the widespread dismissive nickname of "Lust in the Dust" by critics and viewers unable to comprehend some of the psychological issues the film was trying to express. Due to complaints by the Production Code and religious pressure groups, numerous scenes were deleted or drastically shortened before the film even premiered, and several more scenes were forced to be cut after the premiere.
Other problems faced by the film were in the production itself, with several forced delays and budget overruns, and at least a half-dozen or more directors after the main director King Vidor (who received sole directing credit on screen) finally walked off the movie in summer of 1945 due to too much personal interference from Selznick on the set, who also kept adding new scenes to his screenplay. Major new scenes were directed by William Dieterle, Sidney Franklin, Otto Brower, William Cameron Menzies, Josef von Sternberg, and Selznick himself, besides the second-unit directors who handled action sequences.
Selznick was always hoping to recapture the success and prestige of his "Gone With the Wind," which also revolved around a strong but flawed female anti-hero, and "Duel in the Sun" is probably the closest he came to it. But "Gone With the Wind" uses tastefully sanitized historical epic as the background for its passionate love-hate romance, "Duel in the Sun" is unashamedly over-the-top high melodrama that many critics have described as "operatic" with its intense emotions driving the action. After the war, audiences were ready for such edgier, "adult" films.
Teenage Pearl Chavez (Jennifer Jones) struggles with her dual-ethnicity and blossoming sexuality. She wants to live up to the ideals of her aristocratic, unhappy father (Herbert Marshall) and is ashamed of her wild, sensual, and promiscuous mother (Tilly Losch) whose latest lover has already made a pass at her under the assumption that her race and class make her sexually experienced and available. After her father kills his wife and her lover he sends Pearl to live with his cousin and one-time fiancée Laura Belle McCanles (Lillian Gish) to start a better life.
There she encounters Laura Belle's refined and gentle if ineffectual son Jesse (Joseph Cotton), who takes an interest in her, as well as Jesse's self-centered and ruthless but romantically alluring brother Lewt (Gregory Peck), who immediately lusts after Pearl. The bitter and bigoted patriarch of the family ranching empire, Senator Jackson McCanles (Lionel Barrymore) hates Pearl from the start as both the daughter of his former romantic rival and as a half-breed unfit for serious consideration as part of the family.
Pearl is torn between her love for the refined Jesse and her attraction to the wild Lewt, especially after Lewt rapes her one night and Jesse discovers them with disgust and disappointment. Her love-hate feelings grow more complex as she realizes Lewt's capacity for cold-blooded murder, sabotage, and casual betrayal of his professed feelings for her. All this builds to the climactic title sequence (which Selznick refused to cut at the demands of censors).
Part of the film's attraction, especially at the time, was Selznick's casting of Jones and Peck against type. Jones had recently won "Best Actress" as St. Bernadette, while Peck's first major role as a missionary priest earned him a Best Actor nomination. Jennifer Jones' portrayal got her another nomination for Best Actress and Lillian Gish earned a Best Supporting Actress nomination, the film's only two Oscar nominations. The all-star cast includes Walter Huston as a comically-lustful preacher, Harry Carey Sr., Charles Bickford, Otto Kruger, and Butterfly McQueen as the somewhat ditzy but sympathetic and often thoughtful maid.
Kino's Blu-ray has gorgeously rich color shot by Oscar-winners Lee Garmes, Ray Rennahan, and Harold Rosson, although certain shots appear slightly washed-out. Except for some of the closeups, the overall picture is also a bit on the soft side when projected onto a large screen, but on standard HDTV from a typical viewing distance it looks fine. Audio is reasonably decent if not outstanding in dynamics.
Bonus features include an interview with Peck's children, several trailers and promo tags for the film (all standard-definition), plus trailers to two other Gregory Peck films on Blu-ray from Kino: "The Big Country" (in HD) and "Yellow Sky" (in SD). An excellent audio commentary by historian Gaylyn Studlar provides a valuable context of background information, analysis, and appreciative discussion.
DUEL IN THE SUN on Blu-ray -- Movie: A / Video: A-/B+ / Audio: B+ / Extras: B