​First 3-D musical now on 3-D Blu-ray
by Christopher P. Jacobs | .(JavaScript must be enabled to view this email address) | Cinema | May 31st, 2017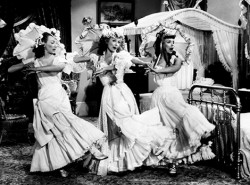 After reviving the 3-D craze in the mid-2000s, Hollywood is still making some movies in 3-D (or converting movies shot in 2-D into 3-D), especially digital animated movies.
However, for some reason after ballyhooing 3-D television sets since 2010, HDTV manufacturers have been quietly dropping 3-D models from their 2017 lines over the past several months, so anyone thinking of switching to 3-D should consider buying a 2016 or older model as soon as possible, or (perhaps a better choice) investing in a 3-D capable HD projector, plus a 3-D Blu-ray player.
Probably not coincidentally, major studios and retailers alike have been much less aggressive in marketing 3-D Blu-rays the past couple of years, as well, although they are still usually available for recent movies shown theatrically in 3-D.
Ironically, the past couple of years and for the foreseeable future, new 3-D Blu-ray releases of classic films originally made in 3-D have been on the upswing. The first Hollywood 3-D movie craze lasted from late 1952 through early 1955, with 50 full-length 3-D features released to theatres during that period.
Out of those 50, all but two still survive in 3-D right/left pairs. Of the 48 surviving, about 30 have been recently restored and 12 are currently available on 3-D Blu-ray, with another one or two planned for later this year. A few 3-D films from the 1960s and 70s are also on 3-D Blu-ray.
"Those Redheads from Seattle" (1953) is a period melodrama with romance and several lively songs that can be viewed as pleasantly diverting entertainment but might quickly fade from memory or blend in with any number of other films with similar plot lines. However, this film took advantage of all the modern movie technology that was available at the time to create a memorable impression and draw moviegoers away from their television sets at a time when TV ownership was growing rapidly.
Paramount Pictures chose this musical to be their first film designed from the outset to be shown in widescreen (at the 1.66 to 1 aspect ratio). It was also filmed in color using three-dimensional cinematography and had a three-channel stereo soundtrack, all of which add greatly to the impact and enjoyment of the story.
The year 1953 was the height of 3-D in movies, comic books and amateur photography. Unfortunately when this film was originally released in fall of 1953, the initial 3-D craze was subsiding, due mainly to poor quality control in the theatres that had to synchronize two projectors perfectly, one showing the left-eye image and the other the right-eye image projected through polaroid filters.
Despite carefully designed 3-D photography, faulty projection frequently resulted in viewer headaches (which led to some bad reviews by critics attending substandard presentations). Thus only a tiny fraction (about two percent) of the theatres that played "Those Redheads from Seattle" decided to run it in 3-D, and even fewer with its stereo soundtrack. (MGM's 3-D musical comedy "Kiss Me Kate" opened about a month later to better success.)
Thanks to the efforts of the 3-D Film Archive, the original left and right 35mm film elements were scanned in high-definition so the faded color could be digitally restored and various alignment and steadiness issues could be corrected.
An expert audio technician was able to recreate the long-lost stereo soundtrack by isolating individual frequencies and reassigning sounds to left, center, and right the way they would have originally been placed.
The restored color widescreen 3-D stereophonic sound version premiered at the TCM Classic Film Festival this April, and came out on 3-D Blu-ray last week.
The plot unfolds during the 1890s gold rush in the Yukon with four spunky sisters and their straitlaced Victorian mother traveling north to join their newspaper-editor father. Rhonda Fleming, Teresa Brewer, and the musical duo the Bell Sisters play the sisters, and noted character actress Agnes Moorhead is their mother.
They get a ride from a saloon owner (Gene Barry) who is bringing his new stage entertainer (recording artist Guy Mitchell), but when they reach the town they discover their father has been murdered and the saloon owner they've befriended might be implicated.
Of course various romances develop along the way, complicated by incomplete understanding and mistaken assumptions, but the Hollywood happy ending is not unexpected.
The disc will play in 2-D on a normal Blu-ray player, but the 3-D is a primary reason for watching. The attractive color, vivid 3-D, and effective stereo sound raise the film's entertainment value substantially. Staging and camerawork provide beautifully-composed three-dimensional images with several notable out-of-the-screen moments (particularly dancing girls).
Most of the 3-D concentrates on depicting a natural depth and roundness to things in the scene, with some very nice outdoor 3-D work showing buildings, trees, and mountains on different planes. Even the opening titles use clever 3-D effects, with some titles floating in front of the screen on different levels from other titles, while the background picture recedes into the screen.
There are many grainy sections from dupe footage (mainly around optical effects) but many shots are very sharp.
For some reason the stereo sound has much lower volume in the center dialogue channel, but is otherwise amazingly realistic with believable musical presence and nice occasional use of directional dialogue and sound effects. The original mono audio most viewers heard is available as an option.
Kino's Blu-ray has an informative and nearly non-stop audio commentary discussing the 3-D process, the production, and some of the actors, as well as the difficulties in restoring the surviving film elements. An interesting bonus restoration demo shows some of the severe problems with fading, jitter, and 3-D alignment in the original negative. There's also a 2006 interview with star Rhonda Fleming.
THOSE REDHEADS FROM SEATTLE on 3-D Blu-ray -- Movie: A- (or B without the 3-D or stereo sound) / Video: A- / 3-D: A+ / Audio: A- / Extras: B+