​Friends try to weather changing circumstances
by Christopher P. Jacobs | .(JavaScript must be enabled to view this email address) | Cinema | February 22nd, 2017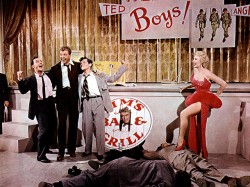 The weather has been unseasonably fair this past week, although it probably won't last.
MGM's classic Gene Kelly-Cyd Charisse musical "It's Always Fair Weather" (1955), a film perhaps more timely today than it was when first shown theatrically, made its Blu-ray debut last November. Not a big hit when it came out over six decades ago, the basic plot and characters have a timelessness that helped it last through two or three generations and still seem fresh, while other musical films of its vintage frequently come off as dated.
Apparently it's a favorite of "La La Land" director Damien Chazelle, whose own musical throwback is up for 14 Academy Awards this Sunday.
A major reason "It's Always Fair Weather" feels relatively modern in the 21st century is likely the same reason it turned off many audiences in the 1950s. It's quite a bit darker in tone and more cynical than typical Hollywood musicals, which at the time were expected to be nothing but light escapism without the postwar angst that pervaded film noir, social issue dramas and sci-fi thrillers popular about the same time.
Gene Kelly, Dan Dailey, and Michael Kidd play three best friends who served together through major World War II battles and have just gotten back to the United States in the fall of 1945. The "lifelong" buddies are elated with their freedom and future potential, celebrate their safe return with a night of drinking and dancing across New York, and go their separate ways to live their lives after a pledge to meet again exactly a decade later.
When the ten years are up they reluctantly get back together, only to find that all have changed in ways they didn't expect. The once-energetic optimism of the three protagonists turns to bitter disillusionment at their reunion, none of them having achieved the dreams they were expecting after the war ended. Each now feels out of place with the other two, thinking the others are happy and fulfilled, whereas all of them are just going through the motions of living.
Dailey's character hoped to be an artist but sold out to advertising and is now an unhappy Chicago ad executive on the verge of divorce. Kidd's character thought of himself as a great Italian chef, but wound up with a hamburger joint in Schenectady. Everyone expected Kelly's character to become a lawyer, politician, or some celebrity, but after he learns his girlfriend got married during the war he drifts into gambling, womanizing, and the shady world of managing a pro boxer. Then he learns his big fight is being "fixed" by a notorious local gangster (J. C. Flippen).
Eventually, of course there is an inevitably happy (but actually somewhat bittersweet) conclusion, after several intervening episodes that help to lighten the darker edge somewhat (but not entirely).
A major plot thread, which leads to the film's resolution, is a wickedly funny satire of television programming and advertising (major rivals of movies at the time), that prefigures Frank Tashlin's hysterical "Will Success Spoil Rock Hunter" two years later.
Stage star Dolores Gray makes her movie debut as a musically talented but self-centered reality-TV hostess, hoping to boost ratings by reuniting the three soldiers on her live network show without telling them in advance. Dancer Cyd Charisse plays a single-minded and self-assured TV program coordinator who works to make it happen, but not before a knockout dance number with the veteran boxers at Kelly's gym. Later, the gangster shows up at the broadcast looking for Kelly, and everything finally all comes together.
This last film co-directed by Gene Kelly and Stanley Donen saw numerous behind-the-scenes disagreements that damaged their friendship, and strained some of the cast relationships, but never show up on screen and may have even added to the realism of the uneasy reunion scenes. The film uses the wide screen very effectively, with a clever split-screen trio of the three men synchronously dancing and singing together, but in different locations.
"It's Always Fair Weather" garnered some critical acclaim and its literate screenplay was nominated for both an Oscar and a Writers Guild Award, but the story likely hit too close to home for too many people, despite the baby boom era of relative prosperity. The same premise might easily apply to present-day high school and college reunions some ten, twenty, or fifty years after graduation.
Even though the songs are not as memorable as most MGM musicals, this is a highly entertaining romantic comedy loaded with great dance numbers and some fun songs. Besides the exhilarating "binge" trio of the soldiers at the beginning, and Charisse's boxing-ring number, Kelly does a show-stopping roller-skate tap-dance in the streets at one point.
The Oscar-nominated music score is by Andre Previn with lyrics by screenplay writers Betty Comden and Adolph Green (who also wrote "Singin' in the Rain" a few years earlier for Kelly and Donan, among other hit musicals).
Warner Archives' Blu-ray has fine-looking picture quality when its extra-wide 2.55 to 1 CinemaScope image is blown up to ten feet wide, except for the usual grainy brief dissolves and optical effects and two ultra-grainy optical zooms.
The original four-channel stereo soundtrack, remixed to DTS-HD 5.1, has wonderful fullness and frequency range, though it helps to turn up the subwoofer slightly.
There's also a decent selection of bonus features including a 16-minute documentary (in SD), two TV promotional bits for the film (in SD) a 1955 Droopy cartoon (in SD), the eerily timely Oscar-nominated 1955 Christmas cartoon "Good Will to Men" (HD), a trailer (HD), and four musical outtakes. One of these is the audio recording only. The other three have HD picture transfers, but the only sound is a partial rehearsal track, one of which lets you hear the choreography beat numbers being called out.
IT'S ONLY FAIR WEATHER on Blu-ray -- Movie: A / Video: A / Audio: A / Extras: B