​Fun and dysfunction in Baumbach's 'The Meyerowitz Stories'
by Greg Carlson | .(JavaScript must be enabled to view this email address) | Cinema | November 1st, 2017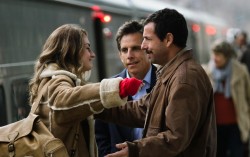 Noah Baumbach's "The Meyerowitz Stories (New and Selected)" comforts fans of the filmmaker like a favorite quilt or a pair of old slippers. Sterling production and an all-star cast could attract the uninitiated to the film's home on Netflix, and longtime appreciators will laugh and wince at many of Baumbach's favorite observations on family rivalries, aging (un)gracefully, and personal and professional failures.
Centered around a meaty performance by Dustin Hoffman that soothes the sting of the majority of the legendary actor's work over the past decade plus -- including multiple Fockers and Kung Fu Panda turns -- "The Meyerowitz Stories" smartly balances the universal and the specific.
Hoffman's Harold Meyerowitz, a cantankerous sculptor who never received the level of fame he thought he deserved, stares down the twilight. An oft-wed professor enthralled by the sound of his own voice and the weight of his opinionated pronouncements, "the Dad" -- as he is called by his current wife -- withholds affection, plays favorites, and repeats old jokes with the expectation of slavish devotion.
Son Danny (Adam Sandler in his most heartfelt and affecting performance since "Punch-Drunk Love" in 2002) and daughter Jean (Elizabeth Marvel), are used to living in Harold's shadow. Half-sibling Matthew (Ben Stiller) returns to New York after years of self-exile in California.
Several critics have pointed out the superficial similarities between the "bad dads" patriarchy of Hoffman's Meyerowitz and Gene Hackman in Baumbach collaborator Wes Anderson's "The Royal Tenenbaums." The structural parallels manifest most acutely in the heartache experienced by adult children coming home and still seeking love and approval from their father. The Meyerowitz kids don't share the stylized expressionism of Anderson's one-time child geniuses, whose brilliance "had been erased by two decades of betrayal, failure and despair," but Baumbach has long explored the rough terrain of broken marriages and difficult parenting.
Despite the dominating presence of the Hoffman, Stiller, Sandler trio, many of the great joys of "The Meyerowitz Stories" are attached to Grace Van Patten as Danny's daughter Eliza, Marvel's Jean, and Emma Thompson as Harold's dipsomaniac spouse Maureen. None of the women are granted the screen time or depth of characterization afforded the central group of men, but each makes the most of what's on offer. Van Patten, whose impressive work in Adam Leon's captivating "Tramps" hinted at things to come, radiates an insouciance that secretly masks Eliza's desire to follow in her grandfather's artistic footsteps (Anthony Lane calls her "a sort of cool Cordelia" to Harold's "neighborhood Lear").
Eliza's first-year Bard film class assignments, a series of experimental hard-R shorts ripe with tongue-in-cheek pretentiousness and pissed-off critiques of sexual double standards, provide one of the movie's funniest running gags. As art school parody and source of awkward group viewing, Eliza's movies -- populated with Little Red Riding Hood, the Big Bad Wolf, and the hermaphroditic superhero Pagina-Man -- comment indirectly on the theme of growing up and moving on.
Later, in a fascinating scene that Anne Cohen has incisively deconstructed, Jean reveals a secret from the past that triggers a curious reaction by her brothers. That chapter of the film introduces additional food for thought on issues of gender dynamics, and will bring some viewers back for second and third looks.