​Glad I spent it with you: "Trainspotting" sequel 20 years in the making
by Greg Carlson | .(JavaScript must be enabled to view this email address) | Cinema | April 19th, 2017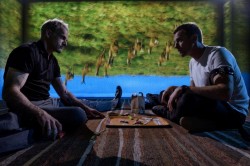 The seemingly ill-advised sequel to Danny Boyle's 1996 pop culture tidal wave "Trainspotting" arrives with a definitely ill-advised title in "T2 Trainspotting." Shouldn't it be "T2: Trainspotting" or just "Trainspotting 2" or even "Porno," after Irvine Welsh's literary follow-up?
If the T stands for "Trainspotting," the movie is "Trainspotting 2 Trainspotting," which I suppose could function as a kind of grammatical bridging of the old to the new, but the whole thing ends up pointing squarely at the already taken "Terminator 2: Judgment Day."
In any case, the movie is a surprise: a melancholy, middle-aged nostalgia trip that reunites four of our favorite Edinburgh addicts as they come to terms with the disappearance of their youth.
That intersection of past and present has already divided viewers into the group let down by the new round's lack of interest in pursuing/revisiting the cosmic rush of addiction and those resigned to the reality that two decades of punishment can really take something out of you.
Renton's "choose life" speech that so brilliantly detonated Welsh's critique of consumption via its simple explanation of heroin has been updated to include social networks, reality, TV, slut shaming, and revenge porn. The heart of the monologue remains: it is difficult to escape the system, and like so many (from William James to Rush) have told us, when you decide not to choose you have still made a choice.
The success of "T2" depends almost entirely on viewer familiarity with the original, and Boyle, working now with the kinetic fireball of a cinematographer Anthony Dod Mantle instead of Brian Tufano, crams in as many visual and auditory allusions to "Trainspotting" as possible, scaffolding another layer of freshly designed movie references on top of the callbacks to the first film.
The links are not there merely to, as Mike Laws laments, "ape, echo, or literally splice in twenty-year-old footage from its formidable forerunner." Instead, they function as painful reminders that the clock can't run in reverse. Mark lifting the needle of his turntable after a split second of "Lust for Life" registers a shudder we've all experienced, a signifier of the irrecoverable inherent in yearning for what was but can no longer be.
Not all of the sequel's ties to its prototype deliver. Even though the story is principally masculinist, "Trainspotting" included scenes that examined gender through maternity, sexual desire, and monogamy, commenting also on generational differences and similarities between heterosexual men and women in partnerships and relationships -- even if filtered through a patriarchal point of view.
Kelly Macdonald's Diane Coulston, the only woman featured in the "Trainspotting" one-sheet and promotional campaign (#2 of five on the famous quad poster!), is now relegated to a disappointing cameo. Female invisibility or diminishment extends to Renton's mother and to Shirley Henderson's Gail Houston.
Many admirers of "Trainspotting" swooned over Boyle's marriage of style to subject, and in that sense, as well as through the director's homages to Scorsese and Kubrick, among others, the movie operated on a plane of metafiction.
"T2" also traffics in metanarrative, evolving through Spud's handwritten chronicles into the very stories it once told and is now still telling.
Incidentally, Ewen Bremner continues to get payback for losing the role he played on stage to Ewan McGregor. Daniel "Spud" Murphy is the glue that bonds together the lives of Rents, Sick Boy, and Franco, and Bremner capably transcends the outwardly comic inclinations of the character's clownish position to locate some dignity and grace.