​Hedy Lamarr Doc Makes TV Premiere on American Masters
by Greg Carlson | .(JavaScript must be enabled to view this email address) | Cinema | May 23rd, 2018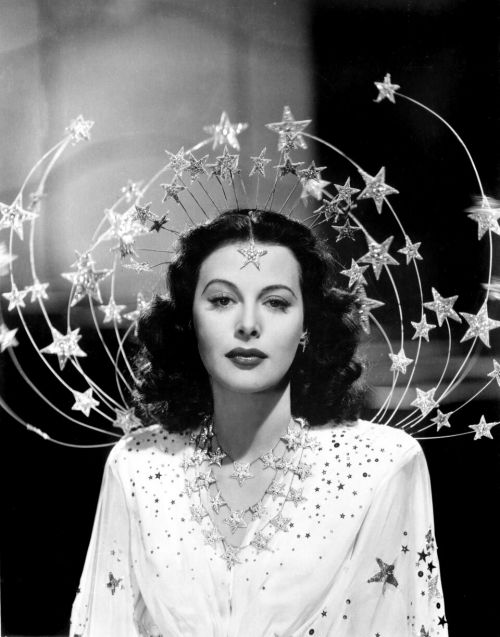 Writer-director Alexandra Dean's "Bombshell" recounts the remarkable life and achievements of Hedy Lamarr, the Golden Age screen goddess whose physical beauty and career as a Hollywood actor long overshadowed her groundbreaking technological inventions. The documentary, which premiered at the 2017 Tribeca Film Festival, will be broadcast on PBS as an installment of "American Masters" on May 18, 2018. The cult of Lamarr, which flowered following a 1990 "Forbes" profile by Fleming Meeks, has more recently taken up residence on the internet -- including an appearance in a 2015 Google Doodle honoring the 101st anniversary of Lamarr's birth.
Dean's straightforward presentational style, which relies heavily on talking head interviews and a wealth of archival content, presents the key events of Lamarr's life in chronological order. Thematically, the director privileges Lamarr's offscreen work, even though the arc of her tumultuous filmography supplies the movie with a parade of clips. The movie's key section details Lamarr's collaboration with the avant garde composer George Antheil, with whom she developed her ideas on the subject of frequency hopping. The two friends filed a patent, and offered their tech to aid the war effort, but it was shelved by the United States Navy. The foundations of Lamarr's work with spread spectrum frequency eventually proved important in the development of Bluetooth, GPS, and Wi-Fi.
Dean has so much raw material, an opening montage flashes past several anecdotes that would have merited a deeper dive had Lamarr's resume been less crowded. Claims that Disney's animated Snow White and DC Comics' Catwoman were directly inspired by Lamarr zip past, and Mel Brooks more or less credits his entire career to Lamarr, cracking that the star's unique allure in "Algiers" drew him to Los Angeles. Later, Dean highlights a suggestion that Louis B. Mayer's inability to see past Lamarr's sex appeal negatively affected her film opportunities.
Along with luminaries like Brooks, Robert Osborne, Diane Kruger, and Peter Bogdanovich, Lamarr's family members participate in the project, but Dean struggles to find the right balance. Lamarr's daughter Denise makes a number of insightful comments, but is overshadowed by the presence of her younger brother Anthony. Anthony, whose commitment to his mother's legacy can be seen in the volume of preserved and catalogued press clippings, photographs, magazines, and correspondence he has archived, emerges as the de facto spokesperson. Curiously, Dean only devotes a cursory mention to Lamarr's other son. James Loder speaks briefly on his own behalf, as Dean attempts to reconcile the grim reality of a fraught relationship with a mother who publicly claimed James was adopted.
Dean directly addresses other aspects of Lamarr's personal life that might be construed as dream factory cliche, most notably the subject's six marriages (all of which ended in divorce), drug addictions, and Lamarr's later penchant for frequent visits to the plastic surgeon. The filmmaker relies on a few key interviews to revise the narrative, pointedly noting that Lamarr certainly did not want to be perceived as a joke in parodies like Lucille Ball's "I am Tondelayo" shimmy. Lamarr's status as an iconoclastic original is enhanced by her string of unsuccessful partnerships, as her inability to enjoy lasting love is explained by son Anthony as stemming from trust issues exacerbated by men who only cared about the way she looked. The documentary opens with Lamarr's quotable epigraph/lament, "Any girl can be glamorous. All you have to do is stand still and look stupid."